Significantly Elevated
FMR1

mRNA and Mosaicism for Methylated Premutation and Full Mutation Alleles in Two Brothers with Autism Features Referred for Fragile X Testing

1

Genetics of Learning Disability Service, Hunter Genetics, Waratah, NSW 2298, Australia

2

Grow-up Well Priority Research Centre, University of Newcastle, Newcastle, NSW 2308, Australia

3

Diagnosis and Development, Murdoch Children's Research Institute, Royal Children's Hospital, Parkville, VIC 3052, Australia

4

Department of Paediatrics, Faculty of Medicine, Dentistry and Health Sciences, University of Melbourne, Parkville, VIC 3052, Australia

5

School of Psychology and Public Health, La Trobe University, Bundoora, VIC 3086, Australia

6

Victorian Clinical Genetics Services, Murdoch Children's Research Institute, Royal Children's Hospital, Parkville, VIC 3052, Australia

7

Psychology Service, The Royal Children's Hospital, Parkville, VIC 3052, Australia

8

Melbourne School of Psychological Sciences, University of Melbourne, Parkville, VIC 3052, Australia

*

Author to whom correspondence should be addressed.

†

These authors contributed equally to the work.

Received: 2 July 2019 / Revised: 4 August 2019 / Accepted: 7 August 2019 / Published: 11 August 2019
Abstract
Although fragile X syndrome (FXS) is caused by a hypermethylated full mutation (FM) expansion with ≥200 cytosine-guanine-guanine (CGG) repeats, and a decrease in
FMR1
mRNA and its protein (FMRP), incomplete silencing has been associated with more severe autism features in FXS males. This study reports on brothers (B1 and B2), aged 5 and 2 years, with autistic features and language delay, but a higher non-verbal IQ in comparison to typical FXS. CGG sizing using AmplideX PCR only identified premutation (PM: 55–199 CGGs) alleles in blood. Similarly, follow-up in B1 only revealed PM alleles in saliva and skin fibroblasts; whereas, an FM expansion was detected in both saliva and buccal DNA of B2. While Southern blot analysis of blood detected an unmethylated FM, methylation analysis with a more sensitive methodology showed that B1 had partially methylated PM alleles in blood and fibroblasts, which were completely unmethylated in buccal and saliva cells. In contrast, B2 was partially methylated in all tested tissues. Moreover, both brothers had
FMR1
mRNA ~5 fold higher values than those of controls, FXS and PM cohorts. In conclusion, the presence of unmethylated FM and/or PM in both brothers may lead to an overexpression of toxic expanded mRNA in some cells, which may contribute to neurodevelopmental problems, including elevated autism features.
View Full-Text
►

▼

Figures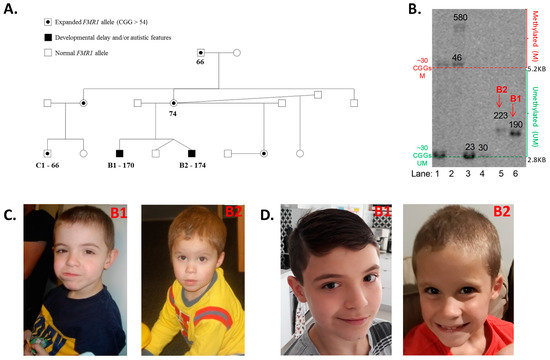 Figure 1
This is an open access article distributed under the
Creative Commons Attribution License
which permits unrestricted use, distribution, and reproduction in any medium, provided the original work is properly cited (CC BY 4.0).

Share & Cite This Article
MDPI and ACS Style
Field, M.; Dudding-Byth, T.; Arpone, M.; Baker, E.K.; Aliaga, S.M.; Rogers, C.; Hickerton, C.; Francis, D.; Phelan, D.G.; Palmer, E.E.; Amor, D.J.; Slater, H.; Bretherton, L.; Ling, L.; Godler, D.E. Significantly Elevated FMR1 mRNA and Mosaicism for Methylated Premutation and Full Mutation Alleles in Two Brothers with Autism Features Referred for Fragile X Testing. Int. J. Mol. Sci. 2019, 20, 3907.
Note that from the first issue of 2016, MDPI journals use article numbers instead of page numbers. See further details here.
Related Articles
Comments
[Return to top]