Label-Free Proteomic Analysis of Molecular Effects of 2-Methoxy-1,4-naphthoquinone on
Penicillium italicum
1
Guangdong Provincial Key Laboratory of Food Quality and Safety, College of Food Science, South China Agricultural University, Guangzhou 510642, China
2
Joint Laboratory of Guangdong Province and Hong Kong Region on Marine Bioresource Conservation and Exploitation, College of Marine Sciences, South China Agricultural University, Guangzhou 510642, China
3
Guangdong Provincial Key Laboratory of Applied Botany, South China Botanical Garden, Chinese Academy of Sciences, Guangzhou 510650, China
4
College of Veterinary Medicine, South China Agricultural University, Guangzhou 510642, China
*
Authors to whom correspondence should be addressed.
Received: 22 May 2019 / Revised: 6 July 2019 / Accepted: 10 July 2019 / Published: 14 July 2019
Abstract
Penicillium italicum
is the principal pathogen causing blue mold of citrus. Searching for novel antifungal agents is an important aspect of the post-harvest citrus industry because of the lack of higher effective and low toxic antifungal agents. Herein, the effects of 2-methoxy-1,4-naphthoquinone (MNQ) on
P. italicum
and its mechanism were carried out by a series of methods. MNQ had a significant anti-
P. italicum
effect with an MIC value of 5.0 µg/mL. The label-free protein profiling under different MNQ conditions identified a total of 3037 proteins in the control group and the treatment group. Among them, there were 129 differentially expressed proteins (DEPs, up-regulated > 2.0-fold or down-regulated < 0.5-fold,
p
< 0.05), 19 up-regulated proteins, 26 down-regulated proteins, and 67 proteins that were specific for the treatment group and another 17 proteins that were specific for the control group. Of these, 83 proteins were sub-categorized into 23 hierarchically-structured GO classifications. Most of the identified DEPs were involved in molecular function (47%), meanwhile 27% DEPs were involved in the cellular component and 26% DEPs were involved in the biological process. Twenty-eight proteins identified for differential metabolic pathways by KEGG were sub-categorized into 60 classifications. Functional characterization by GO and KEGG enrichment results suggests that the DEPs are mainly related to energy generation (mitochondrial carrier protein, glycoside hydrolase, acyl-CoA dehydrogenase, and ribulose-phosphate 3-epimerase), NADPH supply (enolase, pyruvate carboxylase), oxidative stress (catalase, glutathione synthetase), and pentose phosphate pathway (ribulose-phosphate 3-epimerase and xylulose 5-phosphate). Three of the down-regulated proteins selected randomly the nitro-reductase family protein, mono-oxygenase, and cytochrome P450 were verified using parallel reaction monitoring. These findings illustrated that MNQ may inhibit
P. italicum
by disrupting the metabolic processes, especially in energy metabolism and stimulus response that are both critical for the growth of the fungus. In conclusion, based on the molecular mechanisms, MNQ can be developed as a potential anti-fungi agent against
P. italicum
.
View Full-Text
►

▼

Figures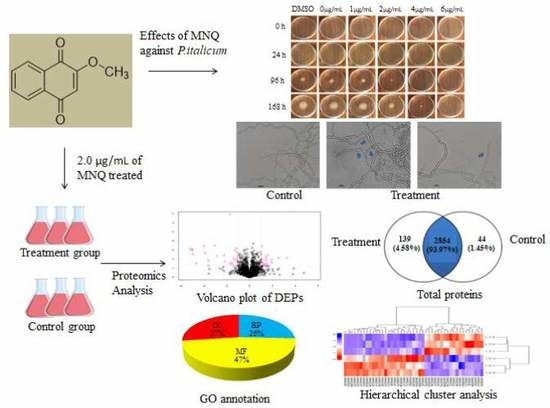 Graphical abstract
This is an open access article distributed under the
Creative Commons Attribution License
which permits unrestricted use, distribution, and reproduction in any medium, provided the original work is properly cited (CC BY 4.0).

Share & Cite This Article
MDPI and ACS Style
Guo, M.; Zhang, X.; Li, M.; Li, T.; Duan, X.; Zhang, D.; Hu, L.; Huang, R. Label-Free Proteomic Analysis of Molecular Effects of 2-Methoxy-1,4-naphthoquinone on Penicillium italicum. Int. J. Mol. Sci. 2019, 20, 3459.
Note that from the first issue of 2016, MDPI journals use article numbers instead of page numbers. See further details here.
Related Articles
Comments
[Return to top]