Insights into the Periplasmic Proteins of
Acinetobacter baumannii

AB5075 and the Impact of Imipenem Exposure: A Proteomic Approach

1

Department of Public Health and Infectious Diseases, Sapienza University of Rome, 00185 Rome, Italy

2

Dani Di Giò Foundation–Onlus, 00193 Rome, Italy

3

Unit of Human Microbiome, Bambino Gesù Children's Hospital, IRCCS, 00146 Rome, Italy

4

Department of Public Health and Infectious Diseases, Sapienza University of Rome, Laboratory Affiliated to Institute Pasteur Italia, Cenci-Bolognetti Foundation, 00185 Rome, Italy

5

Microbiology Research Center (MRC), Pasteur Institute of Iran, Pasteur Ave 69, 1316943551 Tehran, Iran

6

Units of Parasitology and Human Microbiome, Bambino Gesù Children's Hospital, IRCCS, 00146 Rome, Italy

7

San Raffaele Pisana, IRCCS, Telematic University, 00163 Rome, Italy

*

Author to whom correspondence should be addressed.

Received: 17 June 2019 / Revised: 9 July 2019 / Accepted: 10 July 2019 / Published: 13 July 2019
Abstract
Carbapenem-resistant
Acinetobacter baumannii
strains cause life-threatening infections due to the lack of therapeutic options. Although the main mechanisms underlying antibiotic-resistance have been extensively studied, the general response to maintain bacterial viability under antibiotic exposure deserves to be fully investigated. Since the periplasmic space contains several proteins with crucial cellular functions, besides carbapenemases, we decided to study the periplasmic proteome of the multidrug-resistant (MDR)
A. baumannii
AB5075 strain, grown in the absence and presence of imipenem (IMP). Through the proteomic approach, 65 unique periplasmic proteins common in both growth conditions were identified: eight proteins involved in protein fate, response to oxidative stress, energy metabolism, antibiotic-resistance, were differentially expressed. Among them, ABUW_1746 and ABUW_2363 gene products presented the tetratricopeptide repeat motif, mediating protein-protein interactions. The expression switch of these proteins might determine specific protein interactions to better adapt to changing environmental conditions. ABUW_2868, encoding a heat shock protein likely involved in protection against oxidative stress, was upregulated in IMP-exposed bacteria. Accordingly, the addition of periplasmic proteins from
A. baumannii
cultured with IMP increased bacterial viability in an antioxidant activity assay. Overall, this study provides the first insights about the composition of the periplasmic proteins of a MDR
A. baumannii
strain, its biological response to IMP and suggests possible new targets to develop alternative antibiotic drugs.
View Full-Text
►

▼

Figures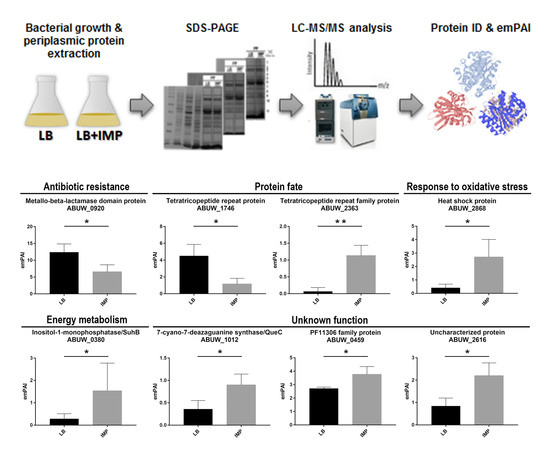 Graphical abstract
This is an open access article distributed under the
Creative Commons Attribution License
which permits unrestricted use, distribution, and reproduction in any medium, provided the original work is properly cited (CC BY 4.0).

Share & Cite This Article
MDPI and ACS Style
Scribano, D.; Marzano, V.; Levi Mortera, S.; Sarshar, M.; Vernocchi, P.; Zagaglia, C.; Putignani, L.; Palamara, A.T.; Ambrosi, C. Insights into the Periplasmic Proteins of Acinetobacter baumannii AB5075 and the Impact of Imipenem Exposure: A Proteomic Approach. Int. J. Mol. Sci. 2019, 20, 3451.
Note that from the first issue of 2016, MDPI journals use article numbers instead of page numbers. See further details here.
Related Articles
Comments
[Return to top]