MMP-12, Secreted by Pro-Inflammatory Macrophages, Targets Endoglin in Human Macrophages and Endothelial Cells
1
Centro de Investigaciones Biológicas, Consejo Superior de Investigaciones Científicas (CSIC), 28040 Madrid, Spain
2
Centro de Investigación Biomédica en Red de Enfermedades Raras (CIBERER), 28040 Madrid, Spain
3
Department of Biological and Medical Sciences, Faculty of Pharmacy in Hradec Kralove, Charles University, 500 05 Hradec Kralove, Czech Republic
*
Author to whom correspondence should be addressed.
†
These authors contributed equally to this work.
‡
Present address: Department of Biochemistry and Molecular Biology (III) and Immunology, School of Medicine, Universidad de Granada, and Instituto Universitario de Investigación en Biopatología y Medicina Regenerativa, Centro de Investigación Biomédica, Universidad de Granada, 18016 Granada, Spain.
§
Equal senior contribution.
Received: 30 April 2019 / Revised: 7 June 2019 / Accepted: 18 June 2019 / Published: 25 June 2019
Abstract
Upon inflammation, monocyte-derived macrophages (MΦ) infiltrate blood vessels to regulate several processes involved in vascular pathophysiology. However, little is known about the mediators involved. Macrophage polarization is crucial for a fast and efficient initial response (GM-MΦ) and a good resolution (M-MΦ) of the inflammatory process. The functional activity of polarized MΦ is exerted mainly through their secretome, which can target other cell types, including endothelial cells. Endoglin (CD105) is a cell surface receptor expressed by endothelial cells and MΦ that is markedly upregulated in inflammation and critically involved in angiogenesis. In addition, a soluble form of endoglin with anti-angiogenic activity has been described in inflammation-associated pathologies. The aim of this work was to identify components of the MΦ secretome involved in the shedding of soluble endoglin. We find that the GM-MΦ secretome contains metalloprotease 12 (MMP-12), a GM-MΦ specific marker that may account for the anti-angiogenic activity of the GM-MΦ secretome. Cell surface endoglin is present in both GM-MΦ and M-MΦ, but soluble endoglin is only detected in GM-MΦ culture supernatants. Moreover, MMP-12 is responsible for the shedding of soluble endoglin in vitro and in vivo by targeting membrane-bound endoglin in both MΦ and endothelial cells. These data demonstrate a direct correlation between GM-MΦ polarization, MMP-12, and soluble endoglin expression and function. By targeting endothelial cells, MMP-12 may represent a novel mediator involved in vascular homeostasis.
View Full-Text
►

▼

Figures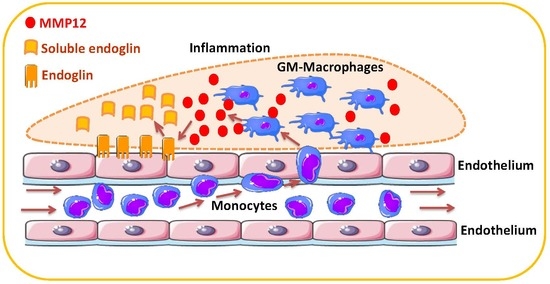 Graphical abstract
This is an open access article distributed under the
Creative Commons Attribution License
which permits unrestricted use, distribution, and reproduction in any medium, provided the original work is properly cited (CC BY 4.0).

Share & Cite This Article
MDPI and ACS Style
Aristorena, M.; Gallardo-Vara, E.; Vicen, M.; de Las Casas-Engel, M.; Ojeda-Fernandez, L.; Nieto, C.; Blanco, F.J.; Valbuena-Diez, A.C.; Botella, L.M.; Nachtigal, P.; Corbi, A.L.; Colmenares, M.; Bernabeu, C. MMP-12, Secreted by Pro-Inflammatory Macrophages, Targets Endoglin in Human Macrophages and Endothelial Cells. Int. J. Mol. Sci. 2019, 20, 3107.
Note that from the first issue of 2016, MDPI journals use article numbers instead of page numbers. See further details here.
Related Articles
Comments
[Return to top]