Metabolomics Studies on Cytoplasmic Male Sterility during Flower Bud Development in Soybean
1
Soybean Research Institute, National Center for Soybean Improvement, Key Laboratory of Biology and Genetic Improvement of Soybean (General, Ministry of Agriculture), State Key Laboratory of Crop Genetics and Germplasm Enhancement, Jiangsu Collaborative Innovation Center for Modern Crop Production, College of Agriculture, Nanjing Agricultural University, Nanjing 210095, China
2
Soybean Genomics and Improvement Laboratory, Beltsville Agricultural Research Center, USDA-ARS, Beltsville, MD 20705, USA
*
Author to whom correspondence should be addressed.
Received: 26 April 2019 / Revised: 3 June 2019 / Accepted: 10 June 2019 / Published: 12 June 2019
Abstract
Abnormal reactive oxygen species (ROS) may mediate cytoplasmic male sterility (CMS). To observe the effect of ROS on soybean CMS, metabolite content and antioxidant enzyme activity in the flower buds between soybean N8855-derived CMS line and its maintainer were compared. Of the 612 metabolites identified, a total of 74 metabolites were significantly differentiated in flower buds between CMS line and its maintainer. The differential metabolites involved 32 differential flavonoids, 13 differential phenolamides, and 1 differential oxidized glutathione (GSSG) belonging to a non-enzymatic ROS scavenging system. We observed lower levels of flavonoids and antioxidant enzyme activities in flower buds of the CMS line than in its maintainer. Our results suggest that deficiencies of enzymatic and non-enzymatic ROS scavenging systems in soybean CMS line cannot eliminate ROS in anthers effectively, excessive accumulation of ROS triggered programmed cell death and ultimately resulted in pollen abortion of soybean CMS line.
View Full-Text
►

▼

Figures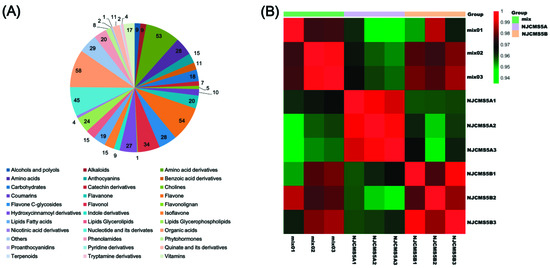 Figure 1
This is an open access article distributed under the
Creative Commons Attribution License
which permits unrestricted use, distribution, and reproduction in any medium, provided the original work is properly cited (CC BY 4.0).

Share & Cite This Article
MDPI and ACS Style
Ding, X.; Wang, X.; Li, Q.; Yu, L.; Song, Q.; Gai, J.; Yang, S. Metabolomics Studies on Cytoplasmic Male Sterility during Flower Bud Development in Soybean. Int. J. Mol. Sci. 2019, 20, 2869.
Note that from the first issue of 2016, MDPI journals use article numbers instead of page numbers. See further details here.
Related Articles
Comments
[Return to top]