Zingerone Suppresses Tumor Development through Decreasing Cyclin D1 Expression and Inducing Mitotic Arrest
1
Department of Anatomy and Neurobiology, College of Medicine, Kyung Hee University, Seoul 02447, Korea
2
Department of Biomedical Science, Graduate School, Kyung Hee University, Seoul 02447, Korea
3
Department of Health Sciences and Technology, Gachon Advanced Institute for Health Sciences and Technology, Gachon University, Incheon 21936, Korea
4
Department of Genome Medicine and Science, College of Medicine, Gachon University, Incheon 21936, Korea
5
Department of Life Sciences, Gachon University, Seongnam 13120, Korea
6
Gachon Institute of Genome Medicine and Science, Gachon University Gil Medical Center, Incheon 21936, Korea
7
Department of Pharmacology, College of Medicine, Kyung Hee Univeristy, Seoul 02447, Korea
*
Authors to whom correspondence should be addressed.
Received: 31 July 2018 / Revised: 14 September 2018 / Accepted: 15 September 2018 / Published: 19 September 2018
Abstract
Cancer cells undergo uncontrolled proliferation resulting from aberrant activity of various cell-cycle proteins. Therefore, despite recent advances in intensive chemotherapy, it is difficult to cure cancer completely. Recently, cell-cycle regulators became attractive targets in cancer therapy. Zingerone, a phenolic compound isolated from ginger, is a nontoxic and inexpensive compound with varied pharmacological activities. In this study, the therapeutic effect of zingerone as an anti-mitotic agent in human neuroblastoma cells was investigated. Following treatment of BE(2)-M17 cells with zingerone, we performed a 3-(4,5-dimethylthiazol-2-yl)-2,5- diphenyltetrazolium bromide (MTT) assay and colony-formation assay to evaluate cellular proliferation, in addition to immunofluorescence cytochemistry and flow cytometry to examine the mitotic cells. The association of gene expression with tumor stage and survival was analyzed. Furthermore, to examine the anti-cancer effect of zingerone, we applied a BALB/c mouse-tumor model using a BALB/c-derived adenocarcinoma cell line. In human neuroblastoma cells, zingerone inhibited cellular viability and survival. Moreover, the number of mitotic cells, particularly those in prometaphase, increased in zingerone-treated neuroblastoma cells. Regarding specific molecular mechanisms, zingerone decreased cyclin D1 expression and induced the cleavage of caspase-3 and poly (ADP-ribose) polymerase 1 (PARP-1). The decrease in cyclin D1 and increase in histone H3 phosphorylated (p)-Ser10 were confirmed by immunohistochemistry in tumor tissues administered with zingerone. These results suggest that zingerone induces mitotic arrest followed by inhibition of growth of neuroblastoma cells. Collectively, zingerone may be a potential therapeutic drug for human cancers, including neuroblastoma.
View Full-Text
►

▼

Figures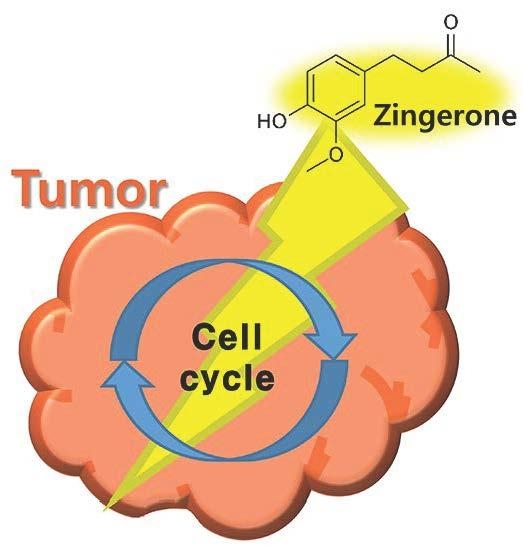 Graphical abstract
This is an open access article distributed under the
Creative Commons Attribution License
which permits unrestricted use, distribution, and reproduction in any medium, provided the original work is properly cited (CC BY 4.0).

Share & Cite This Article
MDPI and ACS Style
Choi, J.-S.; Ryu, J.; Bae, W.-Y.; Park, A.; Nam, S.; Kim, J.-E.; Jeong, J.-W. Zingerone Suppresses Tumor Development through Decreasing Cyclin D1 Expression and Inducing Mitotic Arrest. Int. J. Mol. Sci. 2018, 19, 2832.
Note that from the first issue of 2016, MDPI journals use article numbers instead of page numbers. See further details here.
Related Articles
Comments
[Return to top]