Targeting the NLRP3 Inflammasome-Related Pathways via Tianeptine Treatment-Suppressed Microglia Polarization to the M1 Phenotype in Lipopolysaccharide-Stimulated Cultures
1
Department of Experimental Neuroendocrinology, Institute of Pharmacology, Polish Academy of Sciences, 12 Smetna St., 31-343 Krakow, Poland
2
Department of Pharmacology of Pain, Institute of Pharmacology, Polish Academy of Sciences, 12 Smetna Str., 31-343 Krakow, Poland
*
Author to whom correspondence should be addressed.
Received: 9 May 2018 / Revised: 29 June 2018 / Accepted: 3 July 2018 / Published: 5 July 2018
Abstract
An increasing body of evidence postulates that microglia are the main mediators of inflammation-related disorders, including depression. Since activated microglia produce a wide range of pro- and anti-inflammatory factors, the modulation of M1/M2 microglial polarization by antidepressants may be crucial in the treatment of depression. The current paper aimed to investigate the impact of tianeptine on the microglia's viability/death parameters, and on M1/M2 microglial activation in response to lipopolysaccharide (LPS) stimulation. Furthermore, the molecular mechanisms via which tianeptine affected the LPS-evoked changes were investigated. The results revealed that tianeptine had partially protective effects on the changes in microglia viability/death evoked by LPS. Tianeptine attenuated microglia activation by decreasing the expression of cluster of differentiation 40 (CD40), and major histocompatibility complex class II (MHC II) markers, as well as the release of pro-inflammatory factors: interleukin (IL)-1β, IL-18, IL-6, tumor necrosis factor alpha (TNF-α), and chemokine CC motif ligand 2 (CCL2), and the production of nitric oxide and reactive oxygen species. In contrast, we did not observe an impact of tianeptine on M2 microglia measured by IL-4, IL-10, TGF-β, and insulin-like growth factor 1 (IGF-1) expression. Moreover, we demonstrated an inhibitory effect of tianeptine on the LPS-induced activation of the nucleotide-binding oligomerization domain-like (NOD-like) receptor pyrin-containing 3 inflammasome (NLRP3) inflammasome subunits, NLRP3 and caspase-1, as well as the ability of tianeptine to reduce Toll-like receptor 4 (TLR4) levels, as well as the phosphorylation of extracellular signal-related kinases 1 and 2 (ERK1/2) and of the nuclear factor kappa-light-chain-enhancer of activated B cells (NF-κB). Collectively, we demonstrated that tianeptine has protective properties and inhibits M1 polarization, thus attenuating the production of inflammatory mediators. Moreover, we found that M1 microglia suppression may be related to the NLRP3 inflammasome and TLR4 signaling. These findings suggest that a better understanding of the multifaceted mechanisms of tianeptine action on microglia may increase the effectiveness of therapy, where inflammation is a central hallmark.
View Full-Text
►

▼

Figures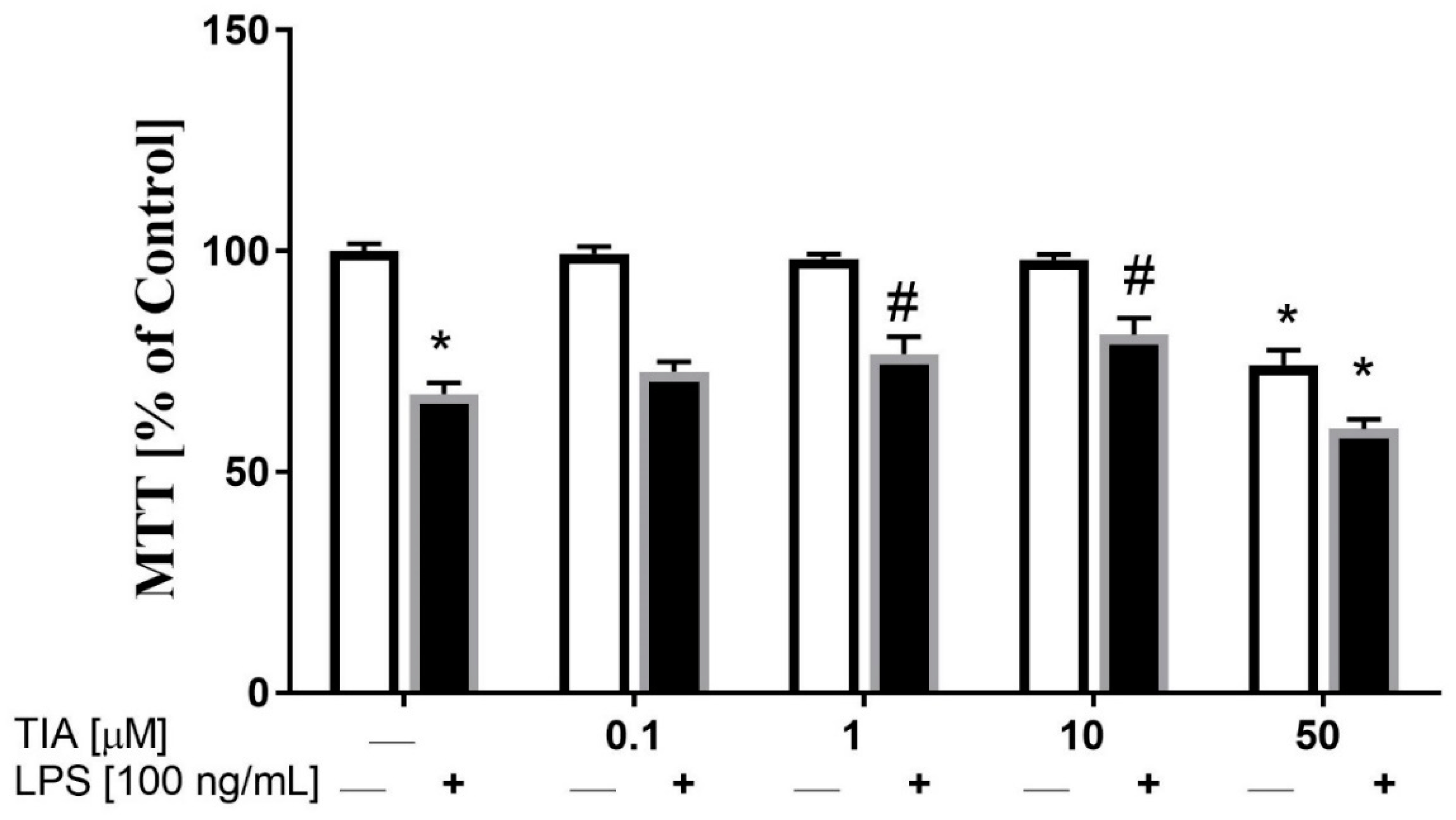 Figure 1
This is an open access article distributed under the
Creative Commons Attribution License
which permits unrestricted use, distribution, and reproduction in any medium, provided the original work is properly cited (CC BY 4.0).

Share & Cite This Article
MDPI and ACS Style
Ślusarczyk, J.; Trojan, E.; Głombik, K.; Piotrowska, A.; Budziszewska, B.; Kubera, M.; Popiołek-Barczyk, K.; Lasoń, W.; Mika, J.; Basta-Kaim, A. Targeting the NLRP3 Inflammasome-Related Pathways via Tianeptine Treatment-Suppressed Microglia Polarization to the M1 Phenotype in Lipopolysaccharide-Stimulated Cultures. Int. J. Mol. Sci. 2018, 19, 1965.
Note that from the first issue of 2016, MDPI journals use article numbers instead of page numbers. See further details here.
Related Articles
Comments
[Return to top]