Role of Bone Morphogenetic Protein 7 (BMP7) in the Modulation of Corneal Stromal and Epithelial Cell Functions
1
Department of Ophthalmology, Rostock University Medical Center, 18057 Rostock, Germany
2
Department of Medical Biochemistry, Jessenius Faculty of Medicine in Martin, Comenius University in Bratislava, 03601 Martin, Slovakia
3
Institute for Immunology, Rostock University Medical Center, 18057 Rostock, Germany
4
Institute for Anatomy, Rostock University Medical Center, 18057 Rostock, Germany
*
Author to whom correspondence should be addressed.
Received: 12 April 2018 / Revised: 2 May 2018 / Accepted: 7 May 2018 / Published: 9 May 2018
Abstract
In the cornea, healing of the wounded avascular surface is an intricate process comprising the involvement of epithelial, stromal and neuronal cell interactions. These interactions result to the release of various growth factors that play prominent roles during corneal wound healing response. Bone morphogenetic proteins (BMPs) are unique multi-functional potent growth factors of the transforming growth factor-beta (TGF-β) superfamily. Treatment of corneal epithelial cells with substance P and nerve growth factor resulted to an increase in the expression of BMP7 mRNA. Since BMP7 is known to modulate the process of corneal wound healing, in this present study, we investigated the influence of exogenous rhBMP7 on human corneal epithelial cell and stromal cell (SFs) function. To obtain a high-fidelity expression profiling of activated biomarkers and pathways, transcriptome-wide gene-level expression profiling of epithelial cells in the presence of BMP7 was performed. Gene ontology analysis shows BMP7 stimulation activated TGF-β signaling and cell cycle pathways, whereas biological processes related to cell cycle, microtubule and intermediate filament cytoskeleton organization were significantly impacted in corneal epithelial cells. Scratch wound healing assay showed increased motility and migration of BMP7 treated epithelial cells. BMP7 stimulation studies show activation of MAPK cascade proteins in epithelial cells and SFs. Similarly, a difference in the expression of claudin, Zink finger E-box-binding homeobox 1 was observed along with phosphorylation levels of cofilin in epithelial cells. Stimulation of SFs with BMP7 activated them with increased expression of α-smooth muscle actin. In addition, an elevated phosphorylation of epidermal growth factor receptor following BMP7 stimulation was also observed both in corneal epithelial cells and SFs. Based on our transcriptome analysis data on epithelial cells and the results obtained in SFs, we conclude that BMP7 contributes to epithelial-to-mesenchymal transition-like responses and plays a role equivalent to TGF-β in the course of corneal wound healing.
View Full-Text
►

▼

Figures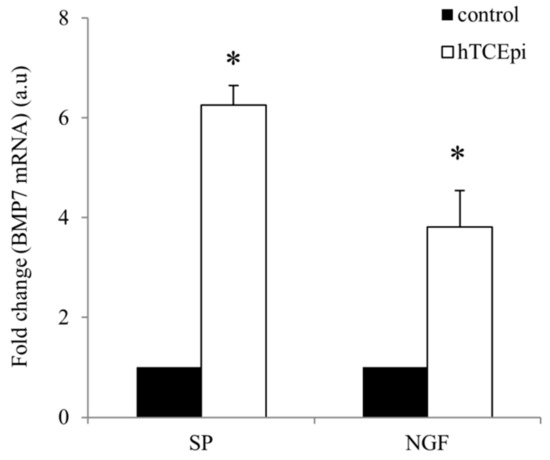 Figure 1
This is an open access article distributed under the
Creative Commons Attribution License
which permits unrestricted use, distribution, and reproduction in any medium, provided the original work is properly cited (CC BY 4.0).

Share & Cite This Article
MDPI and ACS Style
Kowtharapu, B.S.; Prakasam, R.K.; Murín, R.; Koczan, D.; Stahnke, T.; Wree, A.; Jünemann, A.G.M.; Stachs, O. Role of Bone Morphogenetic Protein 7 (BMP7) in the Modulation of Corneal Stromal and Epithelial Cell Functions. Int. J. Mol. Sci. 2018, 19, 1415.
Note that from the first issue of 2016, MDPI journals use article numbers instead of page numbers. See further details here.
Related Articles
Comments
[Return to top]