Co-Culture with Human Osteoblasts and Exposure to Extremely Low Frequency Pulsed Electromagnetic Fields Improve Osteogenic Differentiation of Human Adipose-Derived Mesenchymal Stem Cells
1
Siegfried Weller Institute for Trauma Research, Eberhard-Karls-Universität Tübingen, 72076 Tübingen, Germany
2
Experimental Trauma Surgery, Klinikum rechts der Isar, Technical University of Munich, 81675 München, Germany
3
Sachtleben GmbH, 20251 Hamburg, Germany
†
These authors contributed equally to this work.
*
Author to whom correspondence should be addressed.
Received: 14 February 2018 / Revised: 11 March 2018 / Accepted: 19 March 2018 / Published: 27 March 2018
Abstract
Human adipose-derived mesenchymal stem cells (Ad-MSCs) have been proposed as suitable option for cell-based therapies to support bone regeneration. In the bone environment, Ad-MSCs will receive stimuli from resident cells that may favor their osteogenic differentiation. There is recent evidence that this process can be further improved by extremely low frequency pulsed electromagnetic fields (ELF-PEMFs). Thus, the project aimed at (i) investigating whether co-culture conditions of human osteoblasts (OBs) and Ad-MSCs have an impact on their proliferation and osteogenic differentiation; (ii) whether this effect can be further improved by repetitive exposure to two specific ELF-PEMFs (16 and 26 Hz); (iii) and the effect of these ELF-PEMFs on human osteoclasts (OCs). Osteogenic differentiation was improved by co-culturing OBs and Ad-MSCs when compared to the individual mono-cultures. An OB to Ad-MSC ratio of 3:1 had best effects on total protein content, alkaline phosphatase (AP) activity, and matrix mineralization. Osteogenic differentiation was further improved by both ELF-PEMFs investigated. Interestingly, only repetitive exposure to 26 Hz ELF-PEMF increased Trap5B activity in OCs. Considering this result, a treatment with gradually increasing frequency might be of interest, as the lower frequency (16 Hz) could enhance bone formation, while the higher frequency (26 Hz) could enhance bone remodeling.
View Full-Text
►

▼

Figures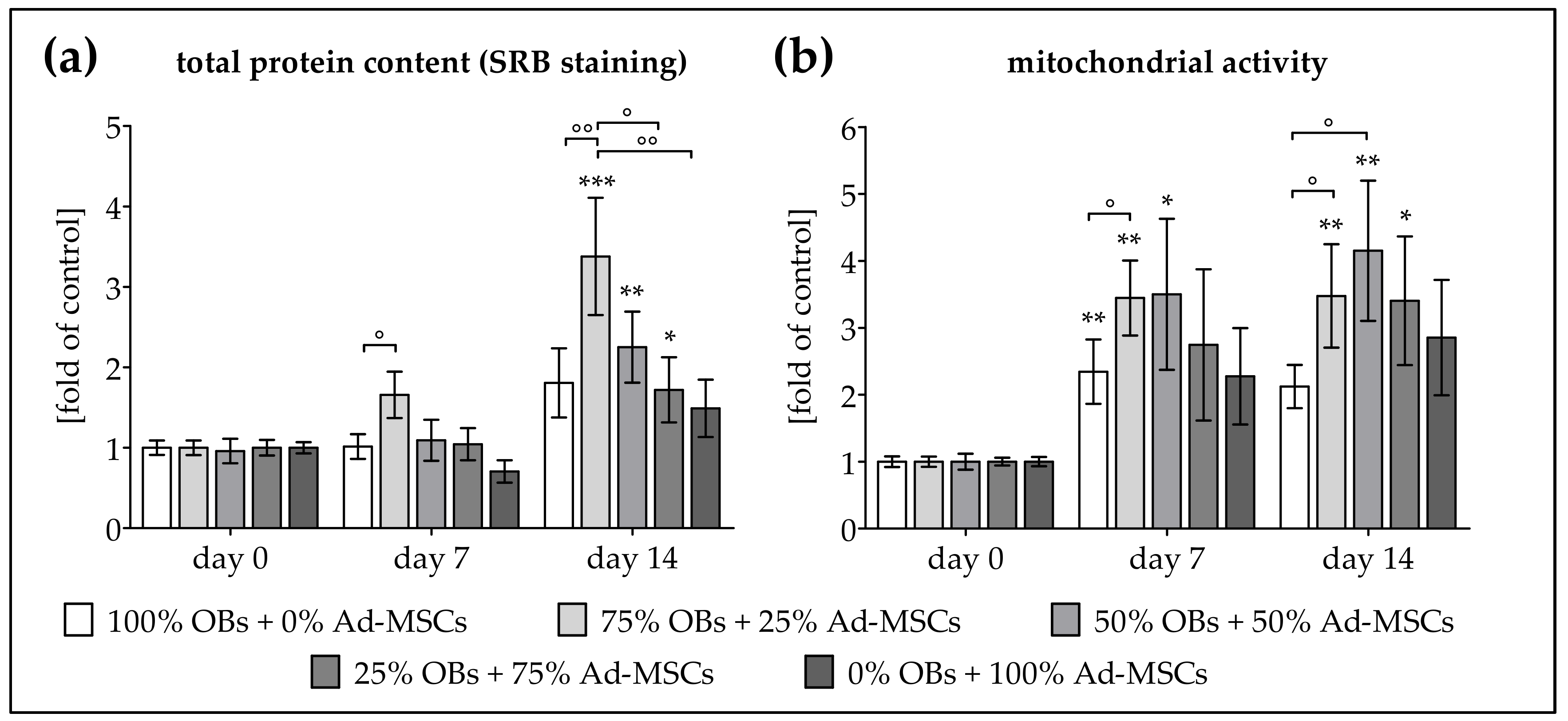 Figure 1
This is an open access article distributed under the
Creative Commons Attribution License
which permits unrestricted use, distribution, and reproduction in any medium, provided the original work is properly cited (CC BY 4.0).

Share & Cite This Article
MDPI and ACS Style
Ehnert, S.; Van Griensven, M.; Unger, M.; Scheffler, H.; Falldorf, K.; Fentz, A.-K.; Seeliger, C.; Schröter, S.; Nussler, A.K.; Balmayor, E.R. Co-Culture with Human Osteoblasts and Exposure to Extremely Low Frequency Pulsed Electromagnetic Fields Improve Osteogenic Differentiation of Human Adipose-Derived Mesenchymal Stem Cells. Int. J. Mol. Sci. 2018, 19, 994.
Note that from the first issue of 2016, MDPI journals use article numbers instead of page numbers. See further details here.
Related Articles
Comments
[Return to top]