Sex Hormone Receptors in Benign and Malignant Salivary Gland Tumors: Prognostic and Predictive Role
1
Pathology Unit, Istituto Nazionale per lo Studio e la Cura dei Tumori, "Fondazione G. Pascale", IRCCS, Naples 80131, Italy
2
Head and Neck Surgery Unit, Istituto Nazionale per lo Studio e la Cura dei Tumori, "Fondazione G. Pascale", IRCCS, Naples, 80131, Italy
3
Department of Clinical and Experimental Medicine, Pathological Anatomy Unit—University of Foggia, Foggia 71100, Italy
*
Author to whom correspondence should be addressed.
Received: 21 November 2017 / Revised: 3 January 2018 / Accepted: 19 January 2018 / Published: 30 January 2018
Abstract
The role of sex hormone receptors in human cancer development and progression has been well documented in numerous studies, as has the success of sex hormone antagonists in the biological therapy of many human tumors. In salivary gland tumors (SGTs), little and conflicting information about the role of the estrogen receptor alpha (ERα), progesterone receptor (PgR) and androgen receptor (AR) has been described and in most cases the use of sex hormone antagonists is not contemplated in clinical practice. In this study, we analyzed a panel of sex hormone receptors that have not been widely investigated in SGTs—ERα, PgR, AR, but also ERβ and GPR30—to define their expression pattern and their prognostic and predictive value in a case series of 69 benign and malignant SGTs. We showed the aberrant expression of AR in mucoepidermoid and oncocytic carcinoma, a strong relation between cytoplasmic ERβ expression and tumor grade, and a strong correlation between nuclear GPR30 expression and disease-free survival (DFS) of SGT patients.
View Full-Text
►

▼

Figures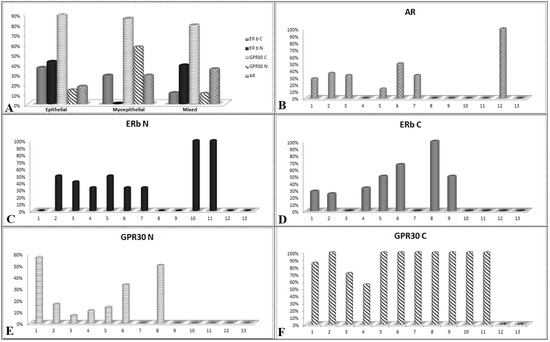 Figure 1
This is an open access article distributed under the
Creative Commons Attribution License
which permits unrestricted use, distribution, and reproduction in any medium, provided the original work is properly cited (CC BY 4.0).

Share & Cite This Article
MDPI and ACS Style
Aquino, G.; Collina, F.; Sabatino, R.; Cerrone, M.; Longo, F.; Ionna, F.; Losito, N.S.; De Cecio, R.; Cantile, M.; Pannone, G.; Botti, G. Sex Hormone Receptors in Benign and Malignant Salivary Gland Tumors: Prognostic and Predictive Role. Int. J. Mol. Sci. 2018, 19, 399.
Note that from the first issue of 2016, MDPI journals use article numbers instead of page numbers. See further details here.
Related Articles
Comments
[Return to top]