Multifunctional Tannic Acid/Silver Nanoparticle-Based Mucoadhesive Hydrogel for Improved Local Treatment of HSV Infection: In Vitro and In Vivo Studies
1
Department of Pharmaceutical Technology, Medical University of Białystok, Mickiewicza 2c, 15-222 Białystok, Poland
2
Military Institute of Hygiene and Epidemiology, Kozielska 4, 01-163 Warsaw, Poland
3
Department of Materials Technology and Chemistry, Faculty of Chemistry, University of Łódź, Pomorska 163, 90-236 Łódź, Poland
4
Department of Preclinical Sciences, Faculty of Veterinary Medicine, Warsaw University of Life Sciences, Ciszewskiego 8, 02-786 Warsaw, Poland
5
Institute of Chemistry, University of Białystok, Ciołkowskiego 1K, 15-245 Białystok, Poland
6
Wrocław Research Centre EIT+, Stablowicka 147, 54-066 Wrocław, Poland
*
Authors to whom correspondence should be addressed.
Received: 11 December 2017 / Revised: 16 January 2018 / Accepted: 23 January 2018 / Published: 28 January 2018
Abstract
Mucoadhesive gelling systems with tannic acid modified silver nanoparticles were developed for effective treatment of herpes virus infections. To increase nanoparticle residence time after local application, semi solid formulations designed from generally regarded as safe (GRAS) excipients were investigated for their rheological and mechanical properties followed with ex vivo mucoadhesive behavior to the porcine vaginal mucosa. Particular effort was made to evaluate the activity of nanoparticle-based hydrogels toward herpes simplex virus (HSV) type 1 and 2 infection in vitro in immortal human keratinocyte cell line and in vivo using murine model of HSV-2 genital infection. The effect of infectivity was determined by real time quantitative polymerase chain reaction, plaque assay, inactivation, attachment, penetration and cell-to-cell assessments. All analyzed nanoparticle-based hydrogels exhibited pseudoplastic and thixotropic properties. Viscosity and mechanical measurements of hydrogels were found to correlate with the mucoadhesive properties. The results confirmed the ability of nanoparticle-based hydrogels to affect viral attachment, impede penetration and cell-to-cell transmission, although profound differences in the activity evoked by tested preparations toward HSV-1 and HSV-2 were noted. In addition, these findings demonstrated the in vivo potential of tannic acid modified silver nanoparticle-based hydrogels for vaginal treatment of HSV-2 genital infection.
View Full-Text
►

▼

Figures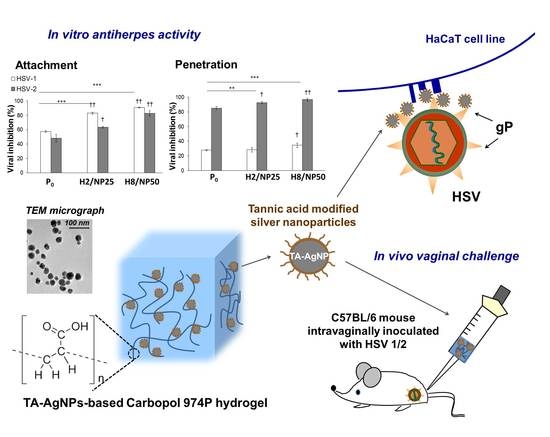 Graphical abstract
This is an open access article distributed under the
Creative Commons Attribution License
which permits unrestricted use, distribution, and reproduction in any medium, provided the original work is properly cited (CC BY 4.0).

Share & Cite This Article
MDPI and ACS Style
Szymańska, E.; Orłowski, P.; Winnicka, K.; Tomaszewska, E.; Bąska, P.; Celichowski, G.; Grobelny, J.; Basa, A.; Krzyżowska, M. Multifunctional Tannic Acid/Silver Nanoparticle-Based Mucoadhesive Hydrogel for Improved Local Treatment of HSV Infection: In Vitro and In Vivo Studies. Int. J. Mol. Sci. 2018, 19, 387.
Note that from the first issue of 2016, MDPI journals use article numbers instead of page numbers. See further details here.
Related Articles
Comments
[Return to top]