Lipid Identification and Transcriptional Analysis of Controlling Enzymes in Bovine Ovarian Follicle
1
UMR PRC, INRA 85, CNRS 7247, Université de Tours, IFCE, 37380 Nouzilly, France
2
UMR ISP, INRA 1282, Université de Tours, 37380 Nouzilly, France
3
UMR BDR, ENVA, INRA, Université Paris-Saclay, 78350 Jouy-en-Josas, France
4
PAIB (Pôle d'Analyse et d'Imagerie des Biomolécules), Plate-forme CIRE (Chirurgie et Imagerie pour la Recherche et l'Enseignement, INRA, Université de Tours, CHRU de Tours, 37380 Nouzilly, France
5
Profilomic SA, F-92100 Boulogne-Billancourt, France
*
Author to whom correspondence should be addressed.
Received: 30 September 2018 / Revised: 16 October 2018 / Accepted: 18 October 2018 / Published: 20 October 2018
Abstract
Ovarian follicle provides a favorable environment for enclosed oocytes, which acquire their competence in supporting embryo development in tight communications with somatic follicular cells and follicular fluid (FF). Although steroidogenesis in theca (TH) and granulosa cells (GC) is largely studied, and the molecular mechanisms of fatty acid (FA) metabolism in cumulus cells (CC) and oocytes are emerging, little data is available regarding lipid metabolism regulation within ovarian follicles. In this study, we investigated lipid composition and the transcriptional regulation of FA metabolism in 3–8 mm ovarian follicles in bovine. Using liquid chromatography and mass spectrometry (MS), 438 and 439 lipids were identified in FF and follicular cells, respectively. From the MALDI-TOF MS lipid fingerprints of FF, TH, GC, CC, and oocytes, and the MS imaging of ovarian sections, we identified 197 peaks and determined more abundant lipids in each compartment. Transcriptomics revealed lipid metabolism-related genes, which were expressed constitutively or more specifically in TH, GC, CC, or oocytes. Coupled with differential lipid composition, these data suggest that the ovarian follicle contains the metabolic machinery that is potentially capable of metabolizing FA from nutrient uptake, degrading and producing lipoproteins, performing de novo lipogenesis, and accumulating lipid reserves, thus assuring oocyte energy supply, membrane synthesis, and lipid-mediated signaling to maintain follicular homeostasis.
View Full-Text
►

▼

Figures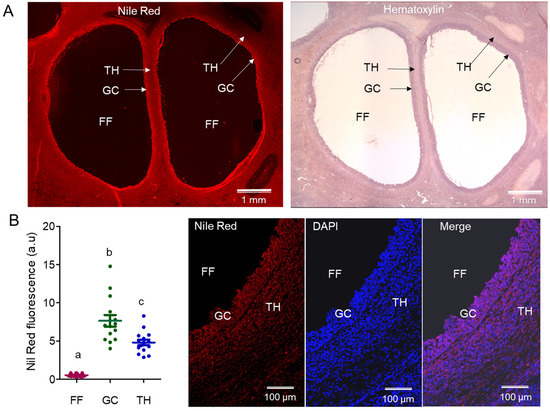 Figure 1
This is an open access article distributed under the
Creative Commons Attribution License
which permits unrestricted use, distribution, and reproduction in any medium, provided the original work is properly cited (CC BY 4.0).

Share & Cite This Article
MDPI and ACS Style
Bertevello, P.S.; Teixeira-Gomes, A.-P.; Seyer, A.; Vitorino Carvalho, A.; Labas, V.; Blache, M.-C.; Banliat, C.; Cordeiro, L.A.V.; Duranthon, V.; Papillier, P.; Maillard, V.; Elis, S.; Uzbekova, S. Lipid Identification and Transcriptional Analysis of Controlling Enzymes in Bovine Ovarian Follicle. Int. J. Mol. Sci. 2018, 19, 3261.
Note that from the first issue of 2016, MDPI journals use article numbers instead of page numbers. See further details here.
Related Articles
Comments
[Return to top]