Exosomes Secreted from Induced Pluripotent Stem Cell-Derived Mesenchymal Stem Cells Accelerate Skin Cell Proliferation
1
Stem Cell Center, Asan Institute for Life Science, Asan Medical Center, Seoul 05505, Korea
2
Graduate School of International Agricultural Technology and Institute of Green-Bio Science and Technology, Pyeongchang Daero 1447, Seoul National University, Pyeongchang, Gangwon-do 25354, Korea
*
Author to whom correspondence should be addressed.
Received: 20 August 2018 / Revised: 2 October 2018 / Accepted: 5 October 2018 / Published: 11 October 2018
Abstract
Induced pluripotent stem cell (iPSC)-derived mesenchymal stem cells (iMSCs) serve as a unique source for cell therapy. We investigated whether exosomes from iMSCs promote the proliferation of human keratinocytes (HaCaT) and human dermal fibroblasts (HDFs). iPSCs were established from human Wharton's jelly MSCs and were allowed to differentiate into iMSCs. Exosomes were collected from the culture supernatant of MSCs (MSC-exo) and iMSCs (iMSC-exo), and their characteristics were investigated. Both exosome types possessed basic characteristics of exosomes and were taken up by skin cells in vitro and in vivo. A significant increase in HaCaT proliferation was observed with iMSC-exo, although both exosomes increased the viability and cell cycle progression in HaCaT and HDFs. No significant difference was observed in the closure of wound scratch and the expression of reparative genes between cells treated with the two exosome types. Both exosomes enhanced the secretion of collagen in HaCaT and HDFs; however, an increase in fibronectin level was observed only in HaCaT, and this effect was better with iMSC-exo treatment. Only iMSC-exo increased the phosphorylation of extracellular signal-regulated kinase (ERK)-1/2. Our results indicate that iMSC-exo promote the proliferation of skin cells by stimulating ERK1/2 and highlight the application of iMSCs for producing exosomes.
View Full-Text
►

▼

Figures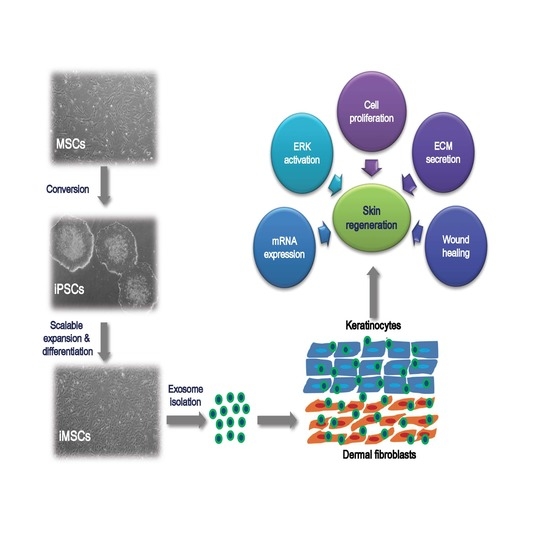 Graphical abstract
This is an open access article distributed under the
Creative Commons Attribution License
which permits unrestricted use, distribution, and reproduction in any medium, provided the original work is properly cited (CC BY 4.0).

Share & Cite This Article
MDPI and ACS Style
Kim, S.; Lee, S.K.; Kim, H.; Kim, T.M. Exosomes Secreted from Induced Pluripotent Stem Cell-Derived Mesenchymal Stem Cells Accelerate Skin Cell Proliferation. Int. J. Mol. Sci. 2018, 19, 3119.
Note that from the first issue of 2016, MDPI journals use article numbers instead of page numbers. See further details here.
Related Articles
Comments
[Return to top]