Hydrophilic Astragalin Galactoside Induces T Helper Type 1-Mediated Immune Responses via Dendritic Cells
1
Department of Life Sciences, College of Life Sciences and Biotechnology, Korea University, Seoul 02841, Korea
2
Graduate School of International Agricultural Technology, Seoul National University, Pyeongchang 25354, Korea
3
Institute of Convergence Science, Korea University, Seoul 02841, Korea
*
Author to whom correspondence should be addressed.
Received: 20 August 2018 / Revised: 22 September 2018 / Accepted: 9 October 2018 / Published: 11 October 2018
Abstract
A flavonoid Astragalin (kaempferol-3-
O
-β-
d
-glucopyranoside, Ast) has several biological activities including anti-oxidant, anti-HIV, and anti-allergic effects. Nonetheless, its insolubility in hydrophilic solvents imposes restrictions on its therapeutic applications. In this study, we investigated the effects of water-soluble astragalin-galactoside (kaempferol-3-
O
-β-
d
-isomaltotrioside, Ast-Gal) on murine bone marrow-derived dendritic cell (DC) maturation and T helper (Th) cell-mediated immune responses. Ast-Gal significantly increased maturation and activation of DCs through the upregulation of surface markers, such as cluster of differentiation (CD)80, CD86, and Major histocompatibility complex (MHC) II in a dose-dependent manner, while Ast had little effects. Additionally, Ast-Gal-treated DCs markedly secreted immune-stimulating cytokines such as interleukin (IL)-1β, IL-6, and IL-12. Importantly, Ast-Gal strongly increased expression of IL-12, a polarizing cytokine of Th1 cells. In a co-culture system of DCs and CD4
+
T cells, Ast-Gal-treated DCs preferentially differentiates naïve CD4
+
T cells into Th1 cells. The addition of neutralizing IL-12 monoclonal antibody (mAb) to cultures of Ast-Gal-treated DCs and CD4
+
T cells significantly decreased interferon (IFN)-γ production, thereby indicating that Ast-Gal-stimulated DCs enhance the Th1 response through IL-12 production by DCs. Injection with Ast-Gal-treated DCs in mice increased IFN-γ-secreting Th1 cell population. Collectively, these findings indicate that hydrophilically modified astragalin can enhance Th1-mediated immune responses via DCs and point to a possible application of water-soluble astragalin-galactoside as an immune adjuvant.
View Full-Text
►

▼

Figures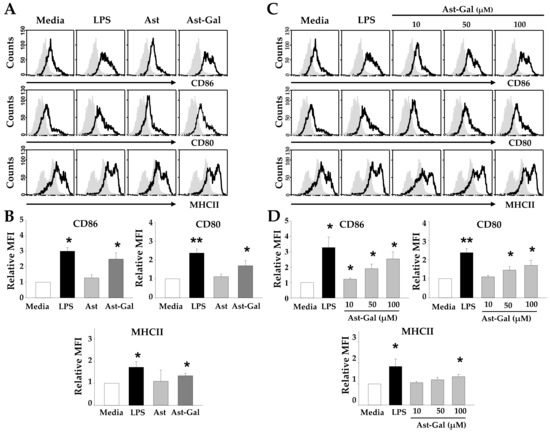 Figure 1
This is an open access article distributed under the
Creative Commons Attribution License
which permits unrestricted use, distribution, and reproduction in any medium, provided the original work is properly cited (CC BY 4.0).

Share & Cite This Article
MDPI and ACS Style
Jeon, J.H.; Lee, B.-C.; Kim, D.; Cho, D.; Kim, T.S. Hydrophilic Astragalin Galactoside Induces T Helper Type 1-Mediated Immune Responses via Dendritic Cells. Int. J. Mol. Sci. 2018, 19, 3120.
Note that from the first issue of 2016, MDPI journals use article numbers instead of page numbers. See further details here.
Related Articles
Comments
[Return to top]