Rhein Induces Oxidative Stress and Apoptosis in Mouse Blastocysts and Has Immunotoxic Effects during Embryonic Development
1
Department of Obstetrics and Gynecology, Tao-Yuan Hospital, Ministry of Health & Welfare, Taoyuan City 33004, Taiwan
2
Department of Bioscience Technology and Center for Nanotechnology, Chung Yuan Christian University, Taoyuan City 32023, Taiwan
3
Department of Medical Research, China Medical University Hospital, China Medical University, Taichung 40402, Taiwan
*
Author to whom correspondence should be addressed.
Received: 14 August 2017 / Revised: 18 September 2017 / Accepted: 18 September 2017 / Published: 20 September 2017
Abstract
Rhein, a glucoside chemical compound found in a traditional Chinese medicine derived from the roots of rhubarb, induces cell apoptosis and is considered to have high potential as an antitumor drug. Several previous studies showed that rhein can inhibit cell proliferation and trigger mitochondria-related or endoplasmic reticulum (ER) stress-dependent apoptotic processes. However, the side effects of rhein on pre- and post-implantation embryonic development remain unclear. Here, we show that rhein has cytotoxic effects on blastocyst-stage mouse embryos and induces oxidative stress and immunotoxicity in mouse fetuses. Blastocysts incubated with 5–20 μM rhein showed significant cell apoptosis, as well as decreases in their inner cell mass cell numbers and total cell numbers. An in vitro development assay showed that rhein affected the developmental potentials of both pre- and post-implantation embryos. Incubation of blastocysts with 5–20 μM rhein was associated with increased resorption of post-implantation embryos and decreased fetal weight in an embryo transfer assay. Importantly, in an in vivo model, intravenous injection of dams with rhein (1, 3, and 5 mg/kg body weight/day) for four days resulted in apoptosis of blastocyst-stage embryos, early embryonic developmental injury, and decreased fetal weight. Intravenous injection of dams with 5 mg/kg body weight/day rhein significantly increased the total reactive oxygen species (ROS) content of fetuses and the transcription levels of antioxidant proteins in fetal livers. Additional work showed that rhein induced apoptosis through ROS generation, and that prevention of apoptotic processes effectively rescued the rhein-induced injury effects on embryonic development. Finally, the transcription levels of the innate-immunity related genes,
CXCL1
,
IL-1
β
and
IL-8
, were down-regulated in the fetuses of dams that received intravenous injections of rhein. These results collectively show that rhein has the potential to induce embryonic cytotoxicity and induce oxidative stress and immunotoxicity during the development of mouse embryos.
View Full-Text
►

▼

Figures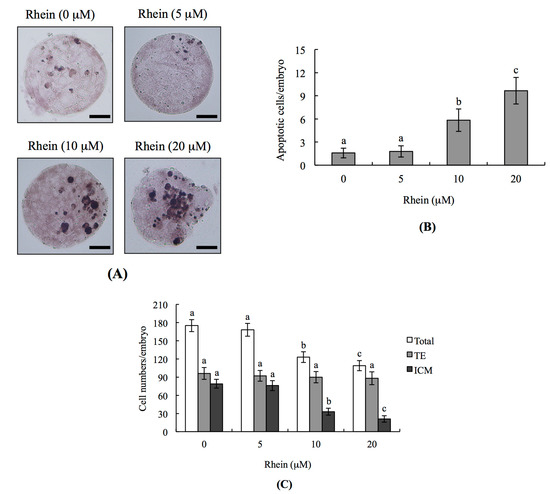 Figure 1
This is an open access article distributed under the
Creative Commons Attribution License
which permits unrestricted use, distribution, and reproduction in any medium, provided the original work is properly cited (CC BY 4.0).

Share & Cite This Article
MDPI and ACS Style
Huang, C.-H.; Chan, W.-H. Rhein Induces Oxidative Stress and Apoptosis in Mouse Blastocysts and Has Immunotoxic Effects during Embryonic Development. Int. J. Mol. Sci. 2017, 18, 2018.
Note that from the first issue of 2016, MDPI journals use article numbers instead of page numbers. See further details here.
Related Articles
Comments
[Return to top]