Hepatocyte Growth Factor Mediates Enhanced Wound Healing Responses and Resistance to Transforming Growth Factor-β1-Driven Myofibroblast Differentiation in Oral Mucosal Fibroblasts
1
Stem Cells, Wound Repair & Regeneration, Oral & Biomedical Sciences, School of Dentistry, Cardiff University, Cardiff CF14 4XY, UK
2
Cardiff Institute of Tissue Engineering & Repair (CITER), Cardiff University, Cardiff CF10 3AX, UK
3
Wales Kidney Research Unit (WKRU), Systems Immunity Research Institute, Division of Infection and Immunity, College of Biomedical & Life Sciences, Cardiff University, Cardiff CF14 4XN, UK
*
Author to whom correspondence should be addressed.
Received: 2 August 2017 / Revised: 21 August 2017 / Accepted: 23 August 2017 / Published: 24 August 2017
Abstract
Oral mucosal wounds are characterized by rapid healing with minimal scarring, partly attributable to the "enhanced" wound healing properties of oral mucosal fibroblasts (OMFs). Hepatocyte growth factor (HGF) is a pleiotropic growth factor, with potential key roles in accelerating healing and preventing fibrosis. HGF can exist as full-length or truncated (HGF-NK), NK1 and NK2 isoforms. As OMFs display elevated HGF expression compared to dermal fibroblasts (DFs), this study investigated the extent to which HGF mediates the preferential cellular functions of OMFs, and the influence of pro-fibrotic, transforming growth factor-β
1
(TGF-β
1
) on these responses. Knockdown of HGF expression in OMFs by short-interfering RNA (siHGF) significantly inhibited OMF proliferative and migratory responses. Supplementation with exogenous TGF-β
1
also significantly inhibited proliferation and migration, concomitant with significantly down-regulated HGF expression. In addition, knockdown abrogated OMF resistance to TGF-β
1
-driven myofibroblast differentiation, as evidenced by increased α-smooth muscle actin (α-SMA) expression, F-actin reorganisation, and stress fibre formation. Responses were unaffected in siHGF-transfected DFs. OMFs expressed significantly higher full-length HGF and NK1 levels compared to patient-matched DFs, whilst NK2 expression was similar in both OMFs and DFs. Furthermore, NK2 was preferentially expressed over NK1 in DFs. TGF-β
1
supplementation significantly down-regulated full-length HGF and NK1 expression by OMFs, while NK2 was less affected. This study demonstrates the importance of HGF in mediating "enhanced" OMF cellular function. We also propose that full-length HGF and HGF-NK1 convey desirable wound healing properties, whilst fibroblasts preferentially expressing more HGF-NK2 readily undergo TGF-β
1
-driven differentiation into myofibroblasts.
View Full-Text
►

▼

Figures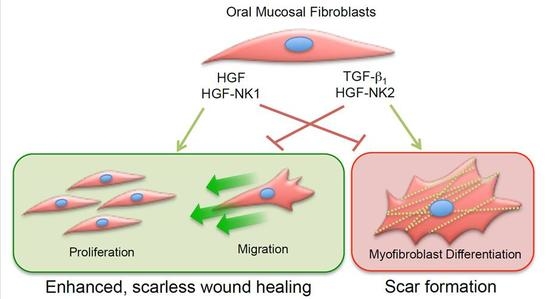 Graphical abstract
This is an open access article distributed under the
Creative Commons Attribution License
which permits unrestricted use, distribution, and reproduction in any medium, provided the original work is properly cited (CC BY 4.0).

Share & Cite This Article
MDPI and ACS Style
Dally, J.; Khan, J.S.; Voisey, A.; Charalambous, C.; John, H.L.; Woods, E.L.; Steadman, R.; Moseley, R.; Midgley, A.C. Hepatocyte Growth Factor Mediates Enhanced Wound Healing Responses and Resistance to Transforming Growth Factor-β1-Driven Myofibroblast Differentiation in Oral Mucosal Fibroblasts. Int. J. Mol. Sci. 2017, 18, 1843.
Note that from the first issue of 2016, MDPI journals use article numbers instead of page numbers. See further details here.
Related Articles
Comments
[Return to top]