Arabidopsis

E3 Ubiquitin Ligases PUB22 and PUB23 Negatively Regulate Drought Tolerance by Targeting ABA Receptor PYL9 for Degradation

1

National Key Facility for Crop Gene Resources and Genetic Improvement, Institute of Crop Sciences, Chinese Academy of Agricultural Sciences, Beijing 100081, China

2

College of Life Sciences, Liaocheng University, Liaocheng 252059, China

3

College of Agriculture, Northeast Agricultural University, Harbin 150030, China

4

Heilongjiang Academy of Agricultural Sciences, Industrial Crop Institute, Harbin 150086, China

*

Author to whom correspondence should be addressed.

Received: 19 June 2017 / Revised: 26 July 2017 / Accepted: 21 August 2017 / Published: 24 August 2017
Abstract
Drought causes osmotic stress and rapidly triggers abscisic acid (ABA) accumulation in plants. The roles of various ABA receptors in drought tolerance and molecular mechanisms regulating ABA receptor stability needs to be elucidated. Here, we report that Arabidopsis plants overexpressing PYL9, one of the 14 pyrabactin resistance (PYR)/pyrabactin resistance-like (PYL)/regulatory component of ABA receptors (RCAR) family ABA receptors, gained drought tolerance trait. Osmotic stress induced accumulation of the PYL9 protein, which was regulated by the 26S proteasome. PYL9 interacted with two highly homologous plant U-box E3 ubiquitin ligases PUB22 and PUB23. In the cell-free degradation assay, the degradation of GST-PYL9 was accelerated in protein extract from plants overexpressing PUB22 but slowed down in protein extract from the
pub22 pub23
double mutant. The in vivo decay of Myc-PYL9 was significantly reduced in the
pub22 pub23
double mutant as compared with the wild-type. Additionally, PUB22 also interacted with other ABA receptors such as PYL5, PYL7 and PYL8. Considering the improved drought tolerance in the
pub22 pub23
double mutant in previous studies, our results suggest that PUB22 and PUB23 negatively regulate drought tolerance in part by facilitating ABA receptors degradation.
View Full-Text
►

▼

Figures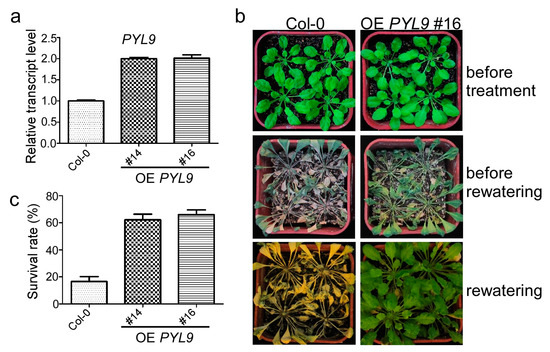 Figure 1
This is an open access article distributed under the
Creative Commons Attribution License
which permits unrestricted use, distribution, and reproduction in any medium, provided the original work is properly cited (CC BY 4.0).

Share & Cite This Article
MDPI and ACS Style
Zhao, J.; Zhao, L.; Zhang, M.; Zafar, S.A.; Fang, J.; Li, M.; Zhang, W.; Li, X. Arabidopsis E3 Ubiquitin Ligases PUB22 and PUB23 Negatively Regulate Drought Tolerance by Targeting ABA Receptor PYL9 for Degradation. Int. J. Mol. Sci. 2017, 18, 1841.
Note that from the first issue of 2016, MDPI journals use article numbers instead of page numbers. See further details here.
Related Articles
Comments
[Return to top]