The Effects of Selective Hematopoietic Expression of Human IL-37 on Systemic Inflammation and Atherosclerosis in LDLr-Deficient Mice
1
Department of Medicine, Division of Endocrinology, Leiden University Medical Center, Post Zone C7Q, P.O. Box 9600, 2300 RC Leiden, The Netherlands
2
Einthoven Laboratory for Experimental Vascular Medicine, P.O. Box 9600, 2300 RC Leiden, The Netherlands
3
Department of Pulmonology, Leiden University Medical Center, Leiden P.O. Box 9600, 2300 RC Leiden, The Netherlands
4
Department of General Internal Medicine and Radboud Center for Infectious Diseases, Radboud University Nijmegen Medical Center, 6525 HP Nijmegen, The Netherlands
5
Department of Immunohematology and Blood Transfusion, Leiden University Medical Center, P.O. Box 9600, 2300 RC Leiden, The Netherlands
6
Division of Human Nutrition, Wageningen University, 6708 PB Wageningen, The Netherlands
7
Department for Genomics & Immunoregulation, Life and Medical Sciences Institute (LIMES), University of Bonn, 53113 Bonn, Germany
8
Department of Medicine, University of Colorado, Aurora, CO 80045, USA
†
These authors contributed equally to this study.
*
Author to whom correspondence should be addressed.
Received: 29 June 2017 / Revised: 21 July 2017 / Accepted: 28 July 2017 / Published: 9 August 2017
Abstract
The human cytokine interleukin (IL)-37 has potent anti-inflammatory capacities, and hematopoietic cell-specific transgenic overexpression of IL-37 in mice protects against septic shock and colitis. In the present study we investigated the effect of hematopoietic expression of IL-37 on atherosclerosis development under low-grade inflammatory conditions. Low-density lipoprotein receptor (LDLr)-deficient mice were lethally irradiated and transplanted with bone marrow from IL-37-transgenic or control wild-type mice and fed a Western-type diet (WTD; 1% cholesterol) for eight weeks. Metabolic and inflammatory parameters were monitored and atherosclerosis was assessed in the aortic valve area. Hematopoietic IL-37 expression did not influence body weight, food intake and plasma cholesterol levels during the study. Plasma soluble E-selectin levels were increased with WTD-feeding as compared to chow-feeding, but were not influenced by IL-37 expression. IL-37 expression reduced the inflammatory state as indicated by reduced white blood cell counts and by reduced basal and lipopolysaccharide-induced cytokine response by peritoneal macrophages ex vivo. IL-37 expression did not influence the atherosclerotic lesion area. Lesion composition was marginally affected. Smooth muscle cell content was decreased, but macrophage and collagen content were not different. We conclude that under low-grade inflammatory conditions, hematopoietic IL-37 expression reduces the inflammatory state, but does not influence atherosclerosis development in hyperlipidemic LDLr-deficient mice.
View Full-Text
►

▼

Figures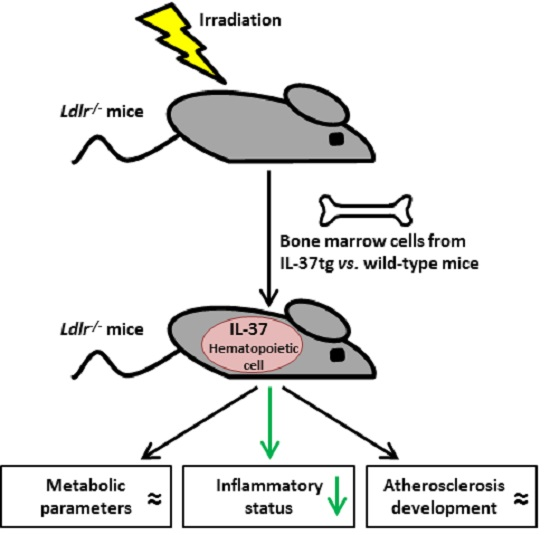 Graphical abstract
This is an open access article distributed under the
Creative Commons Attribution License
which permits unrestricted use, distribution, and reproduction in any medium, provided the original work is properly cited (CC BY 4.0).

Share & Cite This Article
MDPI and ACS Style
Hoeke, G.; Khedoe, P.P.S.; Van Diepen, J.A.; Pike-Overzet, K.; Van de Ven, B.; Vazirpanah, N.; Mol, I.; Hiemstra, P.S.; Staal, F.J.; Stienstra, R.; Netea, M.G.; Dinarello, C.A.; Rensen, P.C.; Berbée, J.F. The Effects of Selective Hematopoietic Expression of Human IL-37 on Systemic Inflammation and Atherosclerosis in LDLr-Deficient Mice. Int. J. Mol. Sci. 2017, 18, 1672.
Note that from the first issue of 2016, MDPI journals use article numbers instead of page numbers. See further details here.
Related Articles
Comments
[Return to top]