Inhibition of Autophagy Promotes Salinomycin-Induced Apoptosis via Reactive Oxygen Species-Mediated PI3K/AKT/mTOR and ERK/p38 MAPK-Dependent Signaling in Human Prostate Cancer Cells
1
Department of Herbal Formula, Medical Research Center (MRC-GHF), College of Oriental Medicine, Daegu Haany University, Gyeongsan 38610, Korea
2
Department of Microbiology & Immunology, Pusan National University School of Medicine, Yangsan 50612, Korea
3
Korean Medicine (KM)-Application Center, Korea Institute of Oriental Medicine (KIOM), Daegu 41062, Korea
4
School of Life Sciences, Ulsan National Institute of Science and Technology, Ulsan 44919, Korea
5
Immunoregulatory Therapeutics Group in Brain Busan 21 Project, Pusan National University, Yangsan 50612, Korea
*
Author to whom correspondence should be addressed.
†
These authors contributed equally to this work.
Academic Editor: Terrence Piva
Received: 3 April 2017 / Revised: 15 May 2017 / Accepted: 16 May 2017 / Published: 18 May 2017
Abstract
Recently, the interplay between autophagy and apoptosis has become an important factor in chemotherapy for cancer treatment. Inhibition of autophagy may be an effective strategy to improve the treatment of chemo-resistant cancer by consistent exposure to chemotherapeutic drugs. However, no reports have clearly elucidated the underlying mechanisms. Therefore, in this study, we assessed whether salinomycin, a promising anticancer drug, induces apoptosis and elucidated potential antitumor mechanisms in chemo-resistant prostate cancer cells. Cell viability assay, Western blot, annexin V/propidium iodide assay, acridine orange (AO) staining, caspase-3 activity assay, reactive oxygen species (ROS) production, and mitochondrial membrane potential were assayed. Our data showed that salinomycin alters the sensitivity of prostate cancer cells to autophagy. Pretreatment with 3-methyladenine (3-MA), an autophagy inhibitor, enhanced the salinomycin-induced apoptosis. Notably, salinomycin decreased phosphorylated of AKT and phosphorylated mammalian target of rapamycin (mTOR) in prostate cancer cells. Pretreatment with LY294002, an autophagy and PI3K inhibitor, enhanced the salinomycin-induced apoptosis by decreasing the AKT and mTOR activities and suppressing autophagy. However, pretreatment with PD98059 and SB203580, an extracellular signal-regulated kinases (ERK), and p38 inhibitors, suppressed the salinomycin-induced autophagy by reversing the upregulation of ERK and p38. In addition, pretreatment with
N
-acetyl-
l
-cysteine (NAC), an antioxidant, inhibited salinomycin-induced autophagy by suppressing ROS production. Our results suggested that salinomycin induces apoptosis, which was related to ROS-mediated autophagy through regulation of the PI3K/AKT/mTOR and ERK/p38 MAPK signaling pathways.
View Full-Text
►

▼

Figures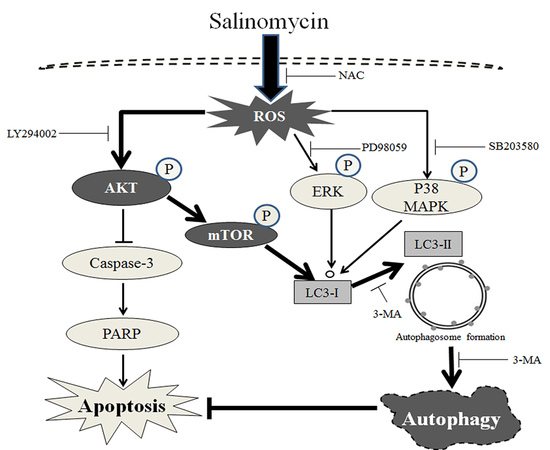 Graphical abstract
This is an open access article distributed under the
Creative Commons Attribution License
which permits unrestricted use, distribution, and reproduction in any medium, provided the original work is properly cited (CC BY 4.0).

Share & Cite This Article
MDPI and ACS Style
Kim, K.-Y.; Park, K.-I.; Kim, S.-H.; Yu, S.-N.; Park, S.-G.; Kim, Y.W.; Seo, Y.-K.; Ma, J.-Y.; Ahn, S.-C. Inhibition of Autophagy Promotes Salinomycin-Induced Apoptosis via Reactive Oxygen Species-Mediated PI3K/AKT/mTOR and ERK/p38 MAPK-Dependent Signaling in Human Prostate Cancer Cells. Int. J. Mol. Sci. 2017, 18, 1088.
Note that from the first issue of 2016, MDPI journals use article numbers instead of page numbers. See further details here.
Related Articles
Comments
[Return to top]