Role of RHEB in Regulating Differentiation Fate of Mesenchymal Stem Cells for Cartilage and Bone Regeneration
1
Department of Biomedical Science, CHA University, Seongnam-si 463-400, Korea
2
School of Integrative Engineering, Chung-Ang University, Seoul 156-863, Korea
3
Department of Neurosurgery, Bundang Medical Center, CHA University, Seongnam-si 463-400, Korea
*
Authors to whom correspondence should be addressed.
Academic Editor: Cory J. Xian
Received: 19 February 2017 / Revised: 18 April 2017 / Accepted: 19 April 2017 / Published: 24 April 2017
Abstract
Advances in mesenchymal stem cells (MSCs) and cell replacement therapies are promising approaches to treat cartilage and bone defects since substantial differentiation capacities of MSCs match the demands of tissue regeneration. Our understanding of the dynamic process requiring indispensable differentiation of MSCs remains limited. Herein, we describe the role of RHEB (Ras homolog enriched in brain) regulating gene signature for differentiation of human adipose derived mesenchymal stem cells (ASCs) into chondrogenic, osteogenic, and adipogenic lineages. RHEB-overexpression increases the proliferation of the ASCs. RHEB enhances the chondrogenic differentiation of ASCs in 3D culture via upregulation of SOX9 with concomitant increase in glycosaminoglycans (GAGs), and type II collagen (COL2). RHEB increases the osteogenesis via upregulation of runt related transcription factor 2 (RUNX2) with an increase in the calcium and phosphate contents. RHEB also increases the expression of osteogenic markers, osteonectin and osteopontin. RHEB knockdown ASCs were incapable of expressing sufficient SRY (Sex determining region Y)-box 9 (SOX9) and RUNX2, and therefore had decreased chondrogenic and osteogenic differentiation. RHEB-overexpression impaired ASCs differentiation into adipogenic lineage, through downregulation of CCAAT/enhancer binding protein beta (C/EBPβ). Conversely, RHEB knockdown abolished the negative regulation of adipogenesis. We demonstrate that RHEB is a novel regulator, with a critical role in ASCs lineage determination, and RHEB-modulated ASCs may be useful as a cell therapy for cartilage and bone defect treatments.
View Full-Text
►

▼

Figures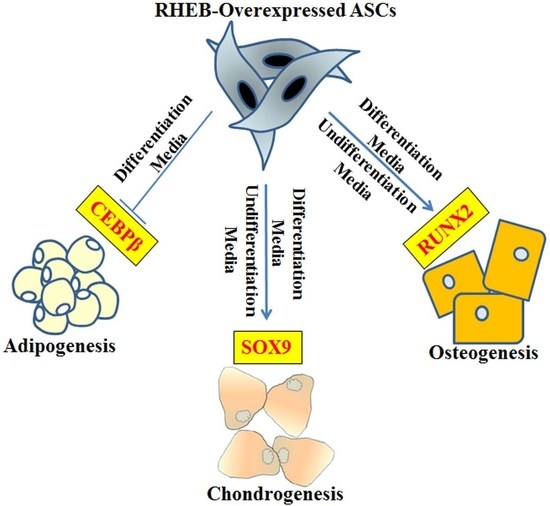 Graphical abstract
This is an open access article distributed under the
Creative Commons Attribution License
which permits unrestricted use, distribution, and reproduction in any medium, provided the original work is properly cited (CC BY 4.0).

Share & Cite This Article
MDPI and ACS Style
Ashraf, S.; Han, I.-B.; Park, H.; Lee, S.-H. Role of RHEB in Regulating Differentiation Fate of Mesenchymal Stem Cells for Cartilage and Bone Regeneration. Int. J. Mol. Sci. 2017, 18, 880.
Note that from the first issue of 2016, MDPI journals use article numbers instead of page numbers. See further details here.
Related Articles
Comments
[Return to top]