Retinoids Regulate Adipogenesis Involving the TGFβ/SMAD and Wnt/β-Catenin Pathways in Human Bone Marrow Mesenchymal Stem Cells
Department of Biochemistry and Molecular Biology, School of Basic Medical Sciences, Wuhan University, Wuhan 430071, China
*
Author to whom correspondence should be addressed.
Academic Editor: Peter J. Richards
Received: 6 March 2017 / Revised: 31 March 2017 / Accepted: 6 April 2017 / Published: 15 April 2017
Abstract
Retinoids may regulate cell differentiation as ligands of retinoic acid receptors (RARs) and/or retinoid X receptors (RXRs). We showed that RAR agonists promoted adipogenesis by upregulating the expression of CCAAT/enhancer-binding protein β (C/EBPβ) in the early stages, but blocked adipogenesis at a later stage in human bone marrow mesenchymal stem cells (hBMSCs). RXR agonists promoted adipogenesis at all time points in hBMSCs. The effect of RAR agonists was mediated mainly by the RARβ subtype. RAR agonists, in contrast to RXR agonists, significantly promoted the expression of RARβ. Knockdown of the RARβ gene via small hairpin RNA (shRNA) attenuated the inhibition of RAR agonists toward adipogenesis. Furthermore, we found that RAR agonists upregulated the transforming growth factor β (TGFβ)/SMAD pathway and Wnt/β-catenin pathway on adipogenesis in hBMSCs, and the stimulating effects were noticeably decreased with the RARβ gene knockdown. Both RAR agonists and RXR agonists inhibited adipogenesis and blocked the promoter activity of C/EBPβ and peroxisome proliferator-activated receptor γ (PPARγ) in SW872 cell. These results indicated the RAR agonists perform dual roles in adipogenesis in hBMSCs, and the TGFβ/SMAD pathway and Wnt/β-catenin pathway may involve the inhibitory effect of RAR agonists. RARβ is the main receptor subtype mediating the effect. The roles of RXR agonists in adipogenesis exhibited cell type-specific differences, and may be based on the integration of signals from different RXR dimers.
View Full-Text
►

▼

Figures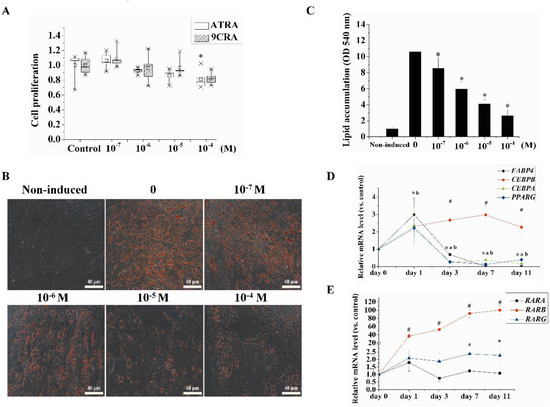 Figure 1
This is an open access article distributed under the
Creative Commons Attribution License
which permits unrestricted use, distribution, and reproduction in any medium, provided the original work is properly cited (CC BY 4.0).

Share & Cite This Article
MDPI and ACS Style
Cao, J.; Ma, Y.; Yao, W.; Zhang, X.; Wu, D. Retinoids Regulate Adipogenesis Involving the TGFβ/SMAD and Wnt/β-Catenin Pathways in Human Bone Marrow Mesenchymal Stem Cells. Int. J. Mol. Sci. 2017, 18, 842.
Note that from the first issue of 2016, MDPI journals use article numbers instead of page numbers. See further details here.
Related Articles
Comments
[Return to top]