High-Level γ-Glutamyl-Hydrolase (GGH) Expression is Linked to Poor Prognosis in ERG Negative Prostate Cancer
1
Institute of Pathology, University Medical Center Hamburg-Eppendorf, Hamburg D-20246, Germany
2
General, Visceral and Thoracic Surgery Department and Clinic, University Medical Center Hamburg-Eppendorf, Hamburg D-20246, Germany
3
Martini-Clinic, Prostate Cancer Center, University Medical Center Hamburg-Eppendorf, Hamburg D-20246, Germany
4
Department of Urology, Section for translational Prostate Cancer Research, University Medical Center Hamburg-Eppendorf, Hamburg D-20246, Germany
†
These authors contributed equally to this work.
*
Author to whom correspondence should be addressed.
Academic Editor: William Chi-shing Cho
Received: 5 January 2017 / Revised: 23 January 2017 / Accepted: 25 January 2017 / Published: 29 January 2017
Abstract
γ-glutamyl-hydrolase (GGH) is a ubiquitously-expressed enzyme that regulates intracellular folate metabolism for cell proliferation, DNA synthesis, and repair. Employing GGH immunohistochemistry on a tissue microarray with 12,427 prostate cancers, we found that GGH expression was negative to low in normal prostate epithelium, whereas 88.3% of our 10,562 interpretable cancers showed GGH expression. GGH staining was considered as low intensity in 49.6% and as high intensity in 38.6% of cancers. High GGH expression was linked to the TMPRSS2:ERG-fusion positive subset of cancers (
p
< 0.0001), advanced pathological tumor stage, and high Gleason grade (
p
< 0.0001 each). Further analysis revealed that these associations were merely driven by the subset of ERG-negative cancers, High GGH expression was weakly linked to early biochemical recurrence in ERG negative cancers (
p
< 0.0001) and independent from established histo-pathological parameters. Moreover, GGH expression was linked to features of genetic instability, including presence of recurrent deletions at 3p, 5q, 6q, and 10q (PTEN,
p
≤ 0.01 each), as well as to accelerated cell proliferation as measured by Ki67 immunohistochemistry (
p
< 0.0001). In conclusion, the results of our study identify GGH as an ERG subtype specific molecular marker with modest prognostic relevance, which may have clinical relevance if analyzed in combination with other molecular markers.
View Full-Text
►

▼

Figures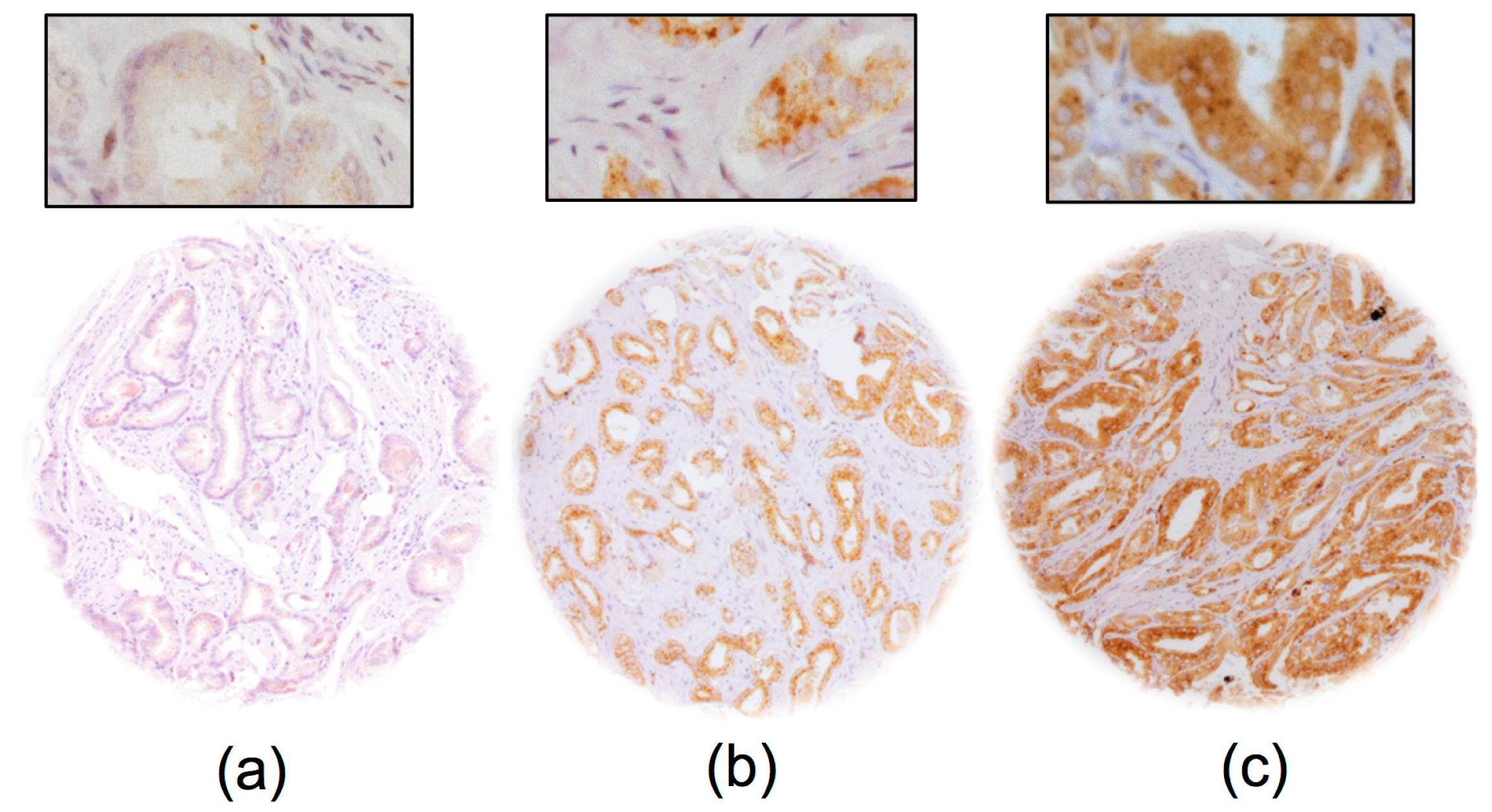 Figure 1
This is an open access article distributed under the
Creative Commons Attribution License
which permits unrestricted use, distribution, and reproduction in any medium, provided the original work is properly cited (CC BY 4.0).

Share & Cite This Article
MDPI and ACS Style
Melling, N.; Rashed, M.; Schroeder, C.; Hube-Magg, C.; Kluth, M.; Lang, D.; Simon, R.; Möller-Koop, C.; Steurer, S.; Sauter, G.; Jacobsen, F.; Büscheck, F.; Wittmer, C.; Clauditz, T.; Krech, T.; Tsourlakis, M.C.; Minner, S.; Huland, H.; Graefen, M.; Budäus, L.; Thederan, I.; Salomon, G.; Schlomm, T.; Wilczak, W. High-Level γ-Glutamyl-Hydrolase (GGH) Expression is Linked to Poor Prognosis in ERG Negative Prostate Cancer. Int. J. Mol. Sci. 2017, 18, 286.
Note that from the first issue of 2016, MDPI journals use article numbers instead of page numbers. See further details here.
Related Articles
Comments
[Return to top]