Genome-Wide Identification, Evolutionary and Expression Analyses of the
GALACTINOL SYNTHASE

Gene Family in Rapeseed and Tobacco

1

College of Agronomy and Biotechnology, Southwest University, Chongqing 400715, China

2

Academy of Agricultural Sciences, Southwest University, Chongqing 400715, China

3

Key Laboratory of Molecular Genetics, China National Tobacco Corporation, Guizhou Academy of Tobacco Science, Guiyang 550081, China

4

Upland Flue-Cured Tobacco Quality and Ecology Key Laboratory of China Tobacco, Guizhou Academy of Tobacco Science, Guiyang 550081, China

*

Authors to whom correspondence should be addressed.

†

These authors contributed equally to this work.

Received: 30 September 2017 / Revised: 16 November 2017 / Accepted: 17 December 2017 / Published: 20 December 2017
Abstract
Galactinol synthase (GolS) is a key enzyme in raffinose family oligosaccharide (RFO) biosynthesis. The finding that GolS accumulates in plants exposed to abiotic stresses indicates RFOs function in environmental adaptation. However, the evolutionary relationships and biological functions of GolS family in rapeseed (
Brassica napus
) and tobacco (
Nicotiana tabacum
) remain unclear. In this study, we identified 20
BnGolS
and 9
NtGolS
genes. Subcellular localization predictions showed that most of the proteins are localized to the cytoplasm. Phylogenetic analysis identified a lost event of an ancient GolS copy in the Solanaceae and an ancient duplication event leading to evolution of
GolS4/7
in the Brassicaceae. The three-dimensional structures of two GolS proteins were conserved, with an important DxD motif for binding to UDP-galactose (uridine diphosphate-galactose) and inositol. Expression profile analysis indicated that
BnGolS
and
NtGolS
genes were expressed in most tissues and highly expressed in one or two specific tissues. Hormone treatments strongly induced the expression of most
BnGolS
genes and homologous genes in the same subfamilies exhibited divergent-induced expression. Our study provides a comprehensive evolutionary analysis of
GolS
genes among the Brassicaceae and Solanaceae as well as an insight into the biological function of
GolS
genes in hormone response in plants.
View Full-Text
►

▼

Figures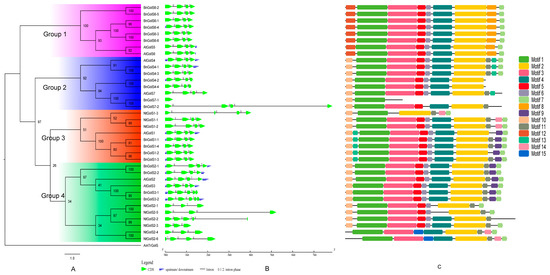 Figure 1
This is an open access article distributed under the
Creative Commons Attribution License
which permits unrestricted use, distribution, and reproduction in any medium, provided the original work is properly cited (CC BY 4.0).

Share & Cite This Article
MDPI and ACS Style
Fan, Y.; Yu, M.; Liu, M.; Zhang, R.; Sun, W.; Qian, M.; Duan, H.; Chang, W.; Ma, J.; Qu, C.; Zhang, K.; Lei, B.; Lu, K. Genome-Wide Identification, Evolutionary and Expression Analyses of the GALACTINOL SYNTHASE Gene Family in Rapeseed and Tobacco. Int. J. Mol. Sci. 2017, 18, 2768.
Note that from the first issue of 2016, MDPI journals use article numbers instead of page numbers. See further details here.
Related Articles
Comments
[Return to top]