Achiral Mannich-Base Curcumin Analogs Induce Unfolded Protein Response and Mitochondrial Membrane Depolarization in PANC-1 Cells
1
Avidin Ltd., Alsó kikötő sor 11/D, H-6726 Szeged, Hungary
2
Laboratory of Functional Genomics, Institute of Genetics, Biological Research Centre, Hungarian Academy of Sciences, Temesvári krt. 62, H-6726 Szeged, Hungary
3
Cellular Imaging Laboratory, Institute of Plant Biology, Biological Research Centre, Hungarian Academy of Sciences, Temesvári krt. 62, H-6726 Szeged, Hungary
4
Artificial Chromosome and Stem Cell Research Laboratory, Institute of Genetics, Biological Research Centre, Hungarian Academy of Sciences, Temesvári krt. 62, H-6726 Szeged, Hungary
*
Author to whom correspondence should be addressed.
Received: 26 September 2017 / Revised: 3 October 2017 / Accepted: 3 October 2017 / Published: 7 October 2017
Abstract
Achiral Mannich-type curcumin analogs have been synthetized and assayed for their cytotoxic activity. The anti-proliferative and cytotoxic activity of curcuminoids has been tested on human non-small-cell lung carcinoma (A549), hepatocellular carcinoma (HepG2) and pancreatic cancer cell line (PANC-1). Based on the highest anti-proliferative activity nine drug candidates were further tested and proved to cause phosphatidylserine exposure as an early sign of apoptosis. Curcumin analogs with the highest apoptotic activity were selected for mechanistic studies in the most sensitive PANC-1 cells. Cytotoxic activity was accompanied by cytostatic effect since curcumin and analogs treatment led to G
0
/G
1
cell cycle arrest. Moreover, cytotoxic effect could be also detected via the accumulation of curcuminoids in the endoplasmic reticulum (ER) and the up-regulation of ER stress-related unfolded protein response (UPR) genes:
HSPA5
,
ATF4, XBP1
, and
DDIT3
. The activated UPR induced mitochondrial membrane depolarization, caspase-3 activation and subsequent DNA breakdown in PANC-1 cells. Achiral curcumin analogs, C509, C521 and C524 possessed superior, 40-times more potent cytotoxic activity compared to natural dihydroxy-dimetoxycurcumin in PANC-1 cells.
View Full-Text
►

▼

Figures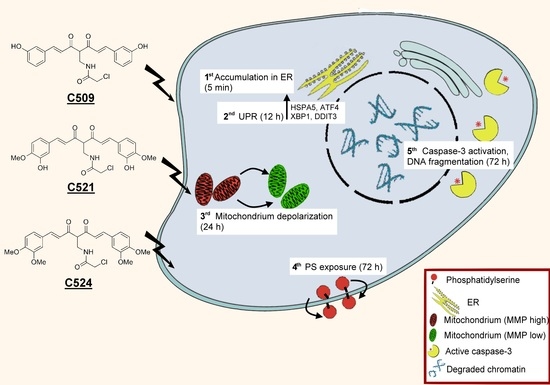 Graphical abstract
This is an open access article distributed under the
Creative Commons Attribution License
which permits unrestricted use, distribution, and reproduction in any medium, provided the original work is properly cited (CC BY 4.0).

Share & Cite This Article
MDPI and ACS Style
Szebeni, G.J.; Balázs, Á.; Madarász, I.; Pócz, G.; Ayaydin, F.; Kanizsai, I.; Fajka-Boja, R.; Alföldi, R.; Hackler Jr., L.; Puskás, L.G. Achiral Mannich-Base Curcumin Analogs Induce Unfolded Protein Response and Mitochondrial Membrane Depolarization in PANC-1 Cells. Int. J. Mol. Sci. 2017, 18, 2105.
Note that from the first issue of 2016, MDPI journals use article numbers instead of page numbers. See further details here.
Related Articles
Comments
[Return to top]