Changes in Air CO2 Concentration Differentially Alter Transcript Levels of
NtAQP1

and

NtPIP2;

1 Aquaporin Genes in Tobacco Leaves

Dipartimento di Scienze Agrarie, Forestali e Alimentari (DISAFA), ULF Colture arboree e Fisiologia Vegetale, Largo Paolo Braccini 2, 10095 Grugliasco (TO), Italy

*

Author to whom correspondence should be addressed.

Academic Editor: Jianhua Zhu

Received: 26 February 2016 / Revised: 31 March 2016 / Accepted: 1 April 2016 / Published: 14 April 2016
Abstract
The aquaporin specific control on water
versus
carbon pathways in leaves is pivotal in controlling gas exchange and leaf hydraulics. We investigated whether
Nicotiana tabacum
aquaporin
1
(
NtAQP1
) and
Nicotiana tabacum
plasma membrane intrinsic protein 2;1 (
NtPIP2;1
) gene expression varies in tobacco leaves subjected to treatments with different CO
2
concentrations (ranging from 0 to 800 ppm), inducing changes in photosynthesis, stomatal regulation and water evaporation from the leaf. Changes in air CO
2
concentration ([CO
2
]) affected net photosynthesis (Pn) and leaf substomatal [CO
2
] (Ci). Pn was slightly negative at 0 ppm air CO
2
; it was one-third that of ambient controls at 200 ppm, and not different from controls at 800 ppm. Leaves fed with 800 ppm [CO
2
] showed one-third reduced stomatal conductance (g
s
) and transpiration (E), and their g
s
was in turn slightly lower than in 200 ppm– and in 0 ppm–treated leaves. The 800 ppm air [CO
2
] strongly impaired both
NtAQP1
and
NtPIP2;1
gene expression, whereas 0 ppm air [CO
2
], a concentration below any
in vivo
possible conditions and specifically chosen to maximize the gene expression alteration, increased only the
NtAQP1
transcript level. We propose that
NtAQP1
expression, an aquaporin devoted to CO
2
transport, positively responds to CO
2
scarcity in the air in the whole range 0–800 ppm. On the contrary, expression of
NtPIP2;1
, an aquaporin not devoted to CO
2
transport, is related to water balance in the leaf, and changes in parallel with g
s
. These observations fit in a model where upregulation of leaf aquaporins is activated at low Ci, while downregulation occurs when high Ci saturates photosynthesis and causes stomatal closure.
View Full-Text
►

▼

Figures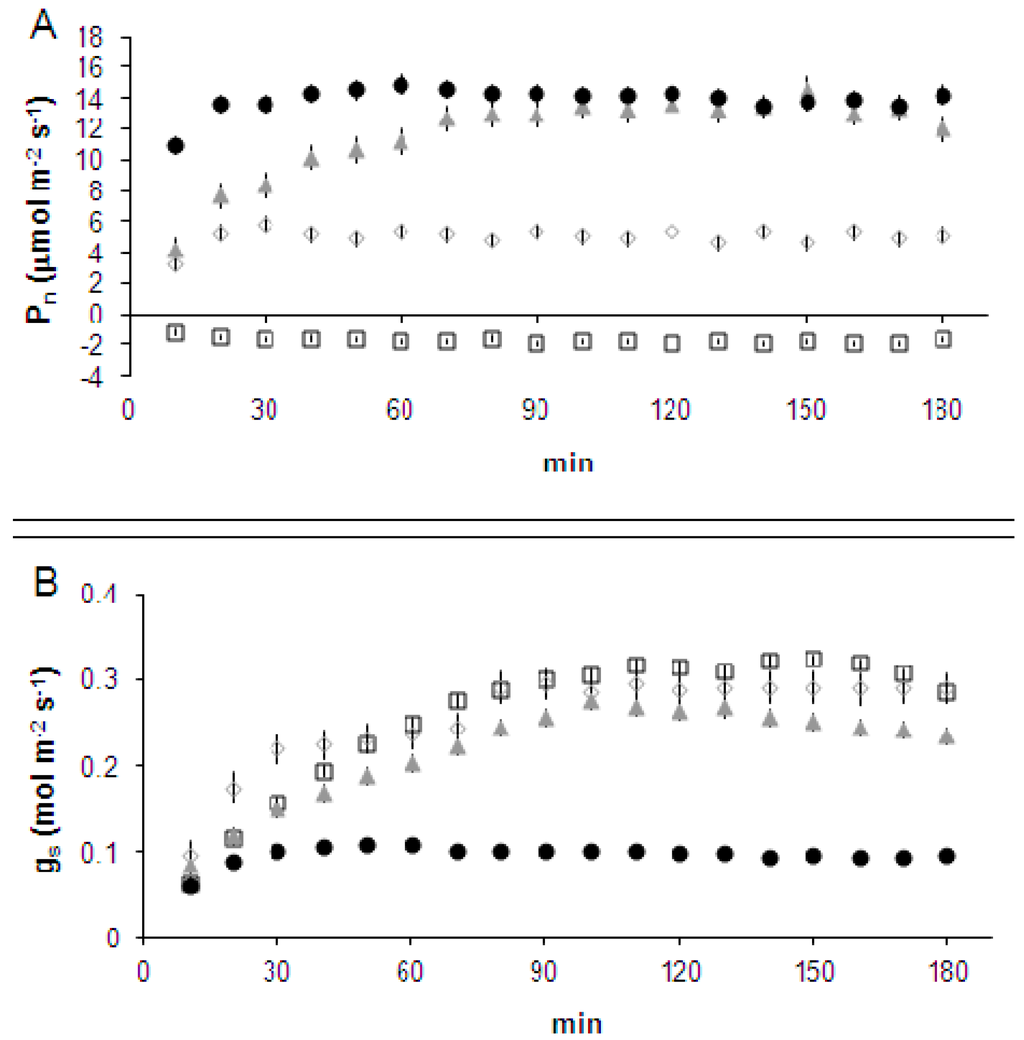 Figure 1
This is an open access article distributed under the
Creative Commons Attribution License
which permits unrestricted use, distribution, and reproduction in any medium, provided the original work is properly cited (CC BY 4.0).

Share & Cite This Article
MDPI and ACS Style
Secchi, F.; Schubert, A.; Lovisolo, C. Changes in Air CO2 Concentration Differentially Alter Transcript Levels of NtAQP1 and NtPIP2;1 Aquaporin Genes in Tobacco Leaves. Int. J. Mol. Sci. 2016, 17, 567.
Note that from the first issue of 2016, MDPI journals use article numbers instead of page numbers. See further details here.
Related Articles
Comments
[Return to top]