Stearoyl-CoA Desaturase-1 Protects Cells against Lipotoxicity-Mediated Apoptosis in Proximal Tubular Cells
1
Department of Medicine, Shiga University of Medical Science, Tsukinowa-cho, Seta, Otsu, Shiga 520-2192, Japan
2
Department of Internal Medicine, St. Marianna University School of Medicine, Kawasaki, Kanagawa 216-8511, Japan
*
Authors to whom correspondence should be addressed.
Academic Editors: Lu Cai, Yuehui Wang and Zhiguo Zhang
Received: 12 September 2016 / Revised: 31 October 2016 / Accepted: 3 November 2016 / Published: 9 November 2016
Abstract
Saturated fatty acid (SFA)-related lipotoxicity is a pathogenesis of diabetes-related renal proximal tubular epithelial cell (PTEC) damage, closely associated with a progressive decline in renal function. This study was designed to identify a free fatty acid (FFA) metabolism-related enzyme that can protect PTECs from SFA-related lipotoxicity. Among several enzymes involved in FFA metabolism, we identified stearoyl-CoA desaturase-1 (SCD1), whose expression level significantly decreased in the kidneys of high-fat diet (HFD)-induced diabetic mice, compared with non-diabetic mice. SCD1 is an enzyme that desaturates SFAs, converting them to monounsaturated fatty acids (MUFAs), leading to the formation of neutral lipid droplets. In culture, retrovirus-mediated overexpression of
SCD1
or MUFA treatment significantly ameliorated SFA-induced apoptosis in PTECs by enhancing intracellular lipid droplet formation. In contrast, siRNA against
SCD1
exacerbated the apoptosis. Both overexpression of
SCD1
and MUFA treatment reduced SFA-induced apoptosis via reducing endoplasmic reticulum stress in cultured PTECs. Thus, HFD-induced decrease in renal SCD1 expression may play a pathogenic role in lipotoxicity-induced renal injury, and enhancing SCD1-mediated desaturation of SFA and subsequent formation of neutral lipid droplets may become a promising therapeutic target to reduce SFA-induced lipotoxicity. The present study provides a novel insight into lipotoxicity in the pathogenesis of diabetic nephropathy.
View Full-Text
►

▼

Figures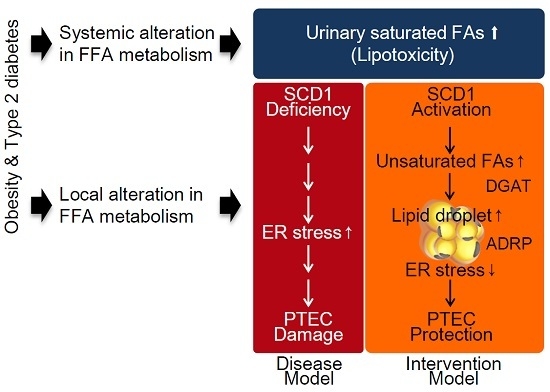 Graphical abstract
This is an open access article distributed under the
Creative Commons Attribution License
which permits unrestricted use, distribution, and reproduction in any medium, provided the original work is properly cited (CC BY 4.0).

Share & Cite This Article
MDPI and ACS Style
Iwai, T.; Kume, S.; Chin-Kanasaki, M.; Kuwagata, S.; Araki, H.; Takeda, N.; Sugaya, T.; Uzu, T.; Maegawa, H.; Araki, S.-I. Stearoyl-CoA Desaturase-1 Protects Cells against Lipotoxicity-Mediated Apoptosis in Proximal Tubular Cells. Int. J. Mol. Sci. 2016, 17, 1868.
Note that from the first issue of 2016, MDPI journals use article numbers instead of page numbers. See further details here.
Related Articles
Comments
[Return to top]