Ruthenium(III) Complexes of Heterocyclic Tridentate (ONN) Schiff Base: Synthesis, Characterization and its Biological Properties as an Antiradical and Antiproliferative Agent
Department of Chemistry, Faculty of Science and Agriculture, University of Fort Hare, P.B. X1314, Alice 5700, South Africa
*
Author to whom correspondence should be addressed.
Academic Editor: Nick Hadjiliadis
Received: 19 September 2015 / Revised: 11 November 2015 / Accepted: 13 November 2015 / Published: 4 January 2016
Abstract
The current work reports the synthesis, spectroscopic studies, antiradical and antiproliferative properties of four ruthenium(III) complexes of heterocyclic tridentate Schiff base bearing a simple 2′,4′-dihydroxyacetophenone functionality and ethylenediamine as the bridging ligand with RCHO moiety. The reaction of the tridentate ligands with RuCl
3
·3H
2
O lead to the formation of neutral complexes of the type [Ru(L)Cl
2
(H
2
O)] (where L = tridentate NNO ligands). The compounds were characterized by elemental analysis, UV-vis, conductivity measurements, FTIR spectroscopy and confirmed the proposed octahedral geometry around the Ru ion. The Ru(III) compounds showed antiradical potentials against 2,2-Diphenyl-1-Picrylhydrazyl (DPPH) and 2,2′-azinobis-(3-ethylbenzothiazoline-6-sulfonic acid) (ABTS) radicals, with DPPH scavenging capability in the order: [(PAEBOD)RuCl
2
] > [(BZEBOD)RuCl
2
] > [(MOABOD)RuCl
2
] > [Vit. C] > [rutin] > [(METBOD)RuCl
2
], and ABTS radical in the order: [(PAEBOD)RuCl
2
] < [(MOABOD)RuCl
2
] < [(BZEBOD)RuCl
2
] < [(METBOD)RuCl
2
]. Furthermore,
in vitro
anti-proliferative activity was investigated against three human cancer cell lines: renal cancer cell (TK-10), melanoma cancer cell (UACC-62) and breast cancer cell (MCF-7) by SRB assay.
View Full-Text
►

▼

Figures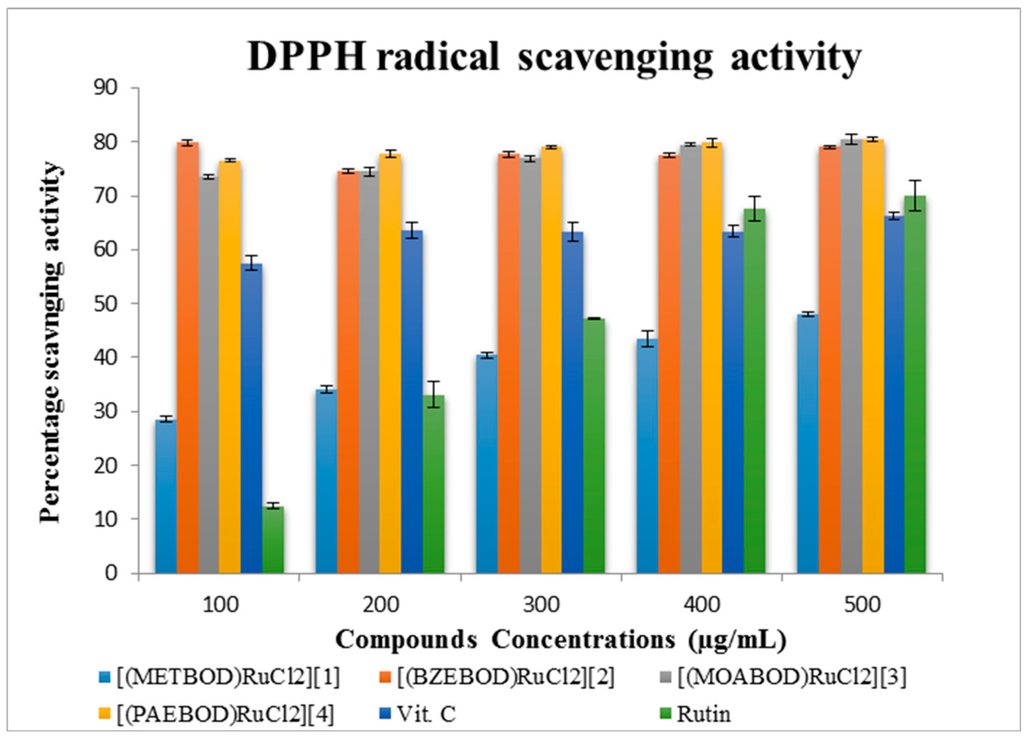 Figure 1
This is an open access article distributed under the
Creative Commons Attribution License
which permits unrestricted use, distribution, and reproduction in any medium, provided the original work is properly cited (CC BY 4.0).

Share & Cite This Article
MDPI and ACS Style
Ejidike, I.P.; Ajibade, P.A. Ruthenium(III) Complexes of Heterocyclic Tridentate (ONN) Schiff Base: Synthesis, Characterization and its Biological Properties as an Antiradical and Antiproliferative Agent. Int. J. Mol. Sci. 2016, 17, 60.
Note that from the first issue of 2016, MDPI journals use article numbers instead of page numbers. See further details here.
Related Articles
Comments
[Return to top]