Effect of Chromatin Structure on the Extent and Distribution of DNA Double Strand Breaks Produced by Ionizing Radiation; Comparative Study of hESC and Differentiated Cells Lines
Department of Radiology and Imaging Sciences, Clinical Center, National Institutes of Health, Bethesda, MD 20892, USA
*
Author to whom correspondence should be addressed.
Academic Editors: Terrence Piva and Pamela Lein
Received: 1 October 2015 / Revised: 27 November 2015 / Accepted: 24 December 2015 / Published: 2 January 2016
Abstract
Chromatin structure affects the extent of DNA damage and repair. Thus, it has been shown that heterochromatin is more protective against DNA double strand breaks (DSB) formation by ionizing radiation (IR); and that DNA DSB repair may proceed differently in hetero- and euchromatin regions. Human embryonic stem cells (hESC) have a more open chromatin structure than differentiated cells. Here, we study the effect of chromatin structure in hESC on initial DSB formation and subsequent DSB repair. DSB were scored by comet assay; and DSB repair was assessed by repair foci formation via 53BP1 antibody staining. We found that in hESC, heterochromatin is confined to distinct regions, while in differentiated cells it is distributed more evenly within the nuclei. The same dose of ionizing radiation produced considerably more DSB in hESC than in differentiated derivatives, normal human fibroblasts; and one cancer cell line. At the same time, the number of DNA repair foci were not statistically different among these cells. We showed that in hESC, DNA repair foci localized almost exclusively outside the heterochromatin regions. We also noticed that exposure to ionizing radiation resulted in an increase in heterochromatin marker H3K9me3 in cancer HT1080 cells, and to a lesser extent in IMR90 normal fibroblasts, but not in hESCs. These results demonstrate the importance of chromatin conformation for DNA protection and DNA damage repair; and indicate the difference of these processes in hESC.
View Full-Text
►

▼

Figures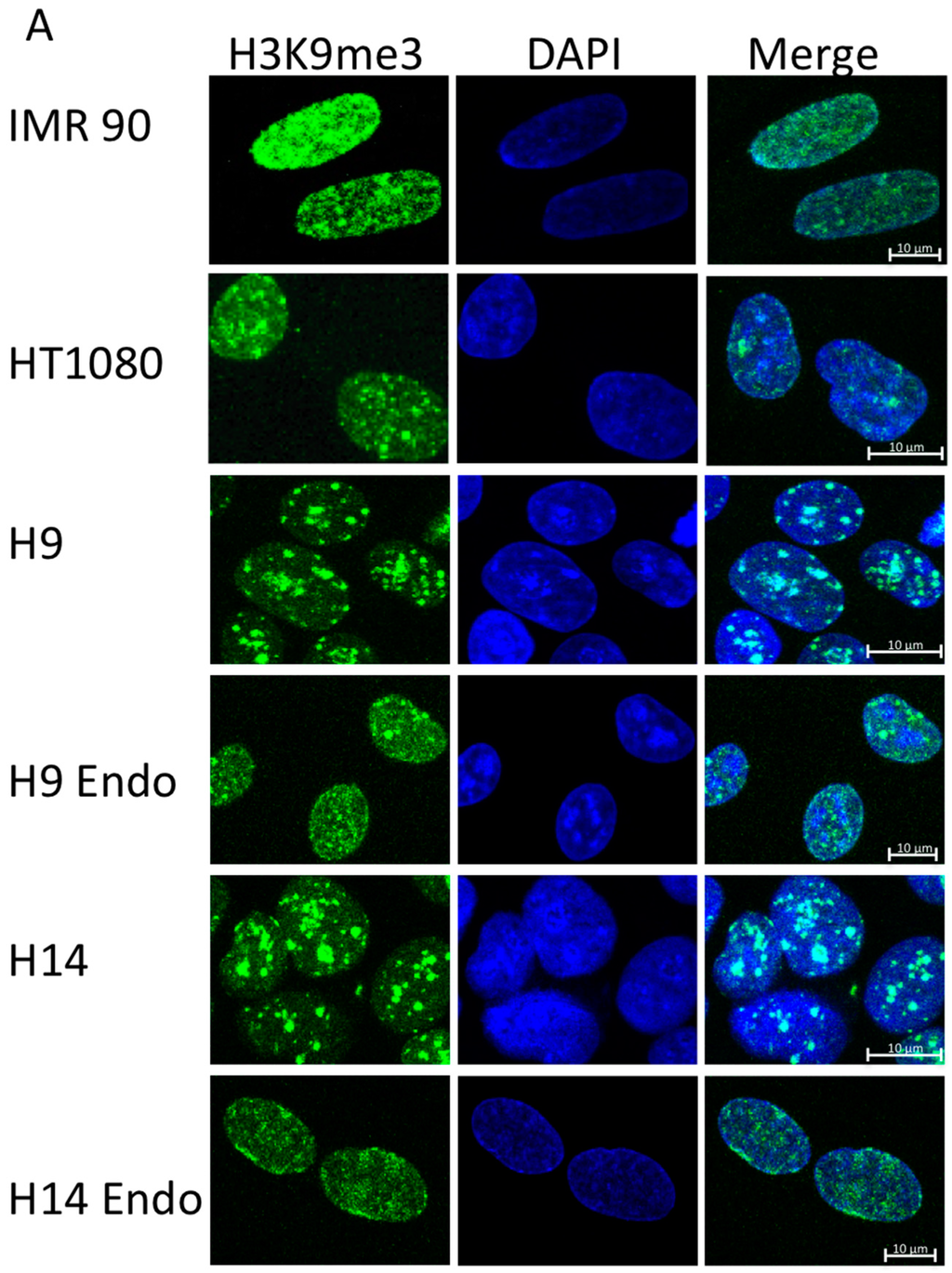 Figure 1
This is an open access article distributed under the
Creative Commons Attribution License
which permits unrestricted use, distribution, and reproduction in any medium, provided the original work is properly cited (CC BY 4.0).

Share & Cite This Article
MDPI and ACS Style
Venkatesh, P.; Panyutin, I.V.; Remeeva, E.; Neumann, R.D.; Panyutin, I.G. Effect of Chromatin Structure on the Extent and Distribution of DNA Double Strand Breaks Produced by Ionizing Radiation; Comparative Study of hESC and Differentiated Cells Lines. Int. J. Mol. Sci. 2016, 17, 58.
Note that from the first issue of 2016, MDPI journals use article numbers instead of page numbers. See further details here.
Related Articles
Comments
[Return to top]