Open Access This article is
freely available
re-usable
Article
Direct Analysis in Real Time (DART) of an Organothiophosphate at Ultrahigh Resolution by Fourier Transform Ion Cyclotron Resonance Mass Spectrometry and Tandem Mass Spectrometry
1
Center for Neuroscience Discovery, University of North Texas Health Science Center, 3500 Camp Bowie Boulevard, Fort Worth, TX 76107, USA
2
Department of Cell Biology, Microbiology, and Molecular Biology, University of South Florida, 4202 E. Fowler Ave., Tampa, FL 33620, USA
*
Author to whom correspondence should be addressed.
Academic Editor: Mateus Webba da Silva
Received: 29 November 2015 / Accepted: 8 January 2016 / Published: 16 January 2016
Abstract
: Direct analysis in real time (DART) is a recently developed ambient ionization technique for mass spectrometry to enable rapid and sensitive analyses with little or no sample preparation. After swab-based field sampling, the organothiophosphate malathion was analyzed using DART-Fourier transform ion cyclotron resonance (FT-ICR) mass spectrometry (MS) and tandem mass spectrometry (MS/MS). Mass resolution was documented to be over 800,000 in full-scan MS mode and over 1,000,000 for an MS/MS product ion produced by collision-induced dissociation of the protonated analyte. Mass measurement accuracy below 1 ppm was obtained for all DART-generated ions that belonged to the test compound in the mass spectra acquired using only external mass calibration. This high mass measurement accuracy, achievable at present only through FTMS, was required for unequivocal identification of the corresponding molecular formulae.
Keywords:
direct analysis in real time; mass spectrometry; Fourier transform ion cyclotron resonance; simulated chemical warfare agent; surface swabbing
Acknowledgments
This publication is based in part upon work supported by the US Army Edgewood Contracting Division under Contract No. W911SR-07-C-0050. The views and opinions and/or findings contained in this report are those of the authors and should not be construed as an official Department of Army position, policy or decision unless so designated by other documentation. Laszlo Prokai also acknowledges support from The Welch Foundation (endowment BK-0031). The authors appreciate the contribution of Maciej Kukula for making the swabbing tools.
Author Contributions
Laszlo Prokai conceived and designed the experiments; Laszlo Prokai and Stanley M. Stevens, Jr. performed the experiments; Laszlo Prokai analyzed the results and wrote the paper.
Conflicts of Interest
The authors declare no conflict of interest.
Abbreviations
CID

collision-induced dissociation

DART

direct analysis in real time

FT-ICR

Fourier transform ion cyclotron resonance

FTMS

Fourier transform mass spectrometry

FWHM

full width at half maximum

LTQ

linear trapping quadrupole

M

/Δ

M

mass resolution

MMA

mass measurement accuracy

MS

mass spectrometry

MS/MS

tandem mass spectrometry

TOF

time-of-flight
Appendix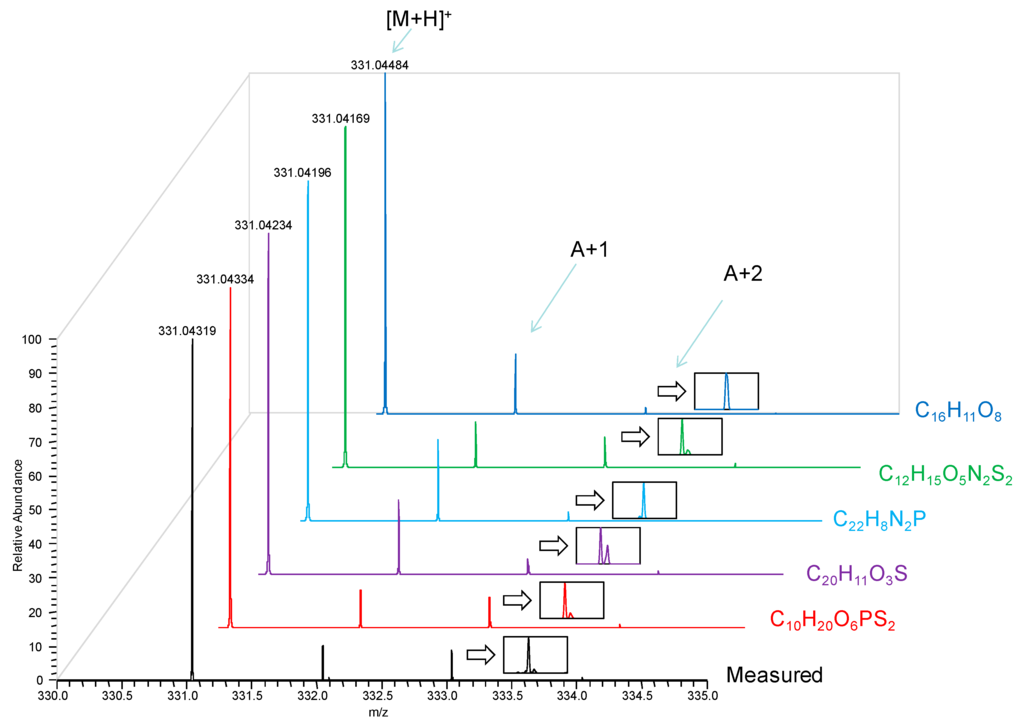 Figure A1.
Relative abundances of the measured A+1 and A+2 isotope peaks (bottom trace), as well as isotopic fine structure of the A+2 isotope peak (inset over the bottom trace labeled "Measured") for the protonated analyte also affords the best match with those predicted for C
10
H
20
O
6
PS
2
. The isotope peak abundances and isotopic fine structures for the indicated elemental compositions listed in
Table 1
a
(colored traces and insets, respectively) were predicted presuming
M
/Δ
M
of 120,000, FWHM.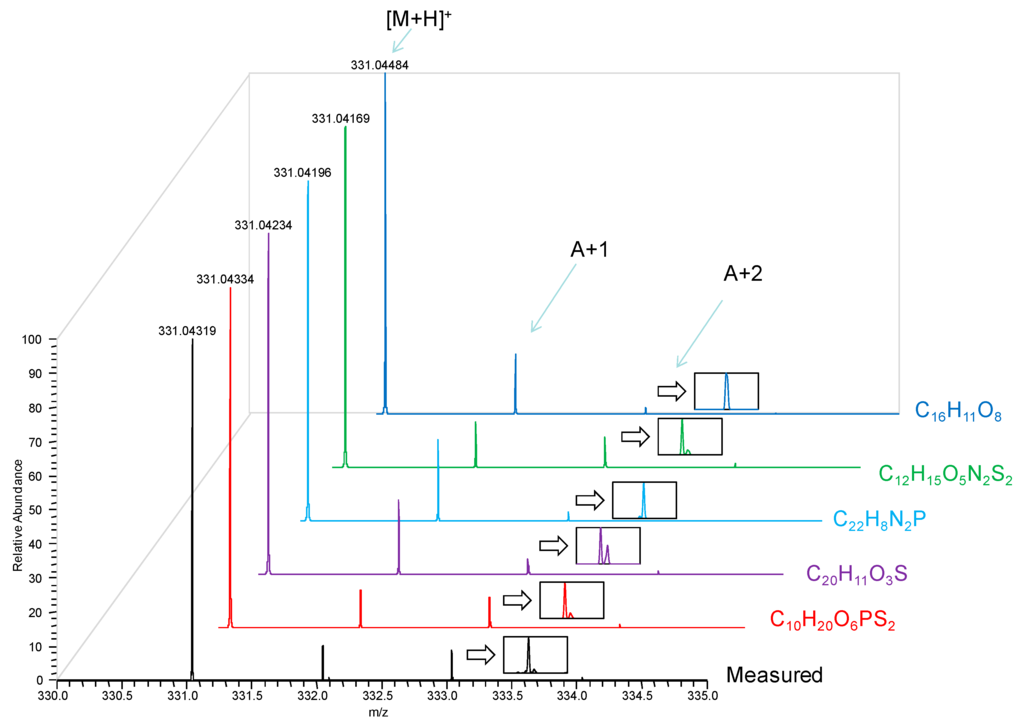 © 2016 by the authors; licensee MDPI, Basel, Switzerland. This article is an open access article distributed under the terms and conditions of the Creative Commons by Attribution (CC-BY) license (http://creativecommons.org/licenses/by/4.0/).