Calculated Third Order Rate Constants for Interpreting the Mechanisms of Hydrolyses of Chloroformates, Carboxylic Acid Halides, Sulfonyl Chlorides and Phosphorochloridates
Chemistry Unit, Grove Building, School of Medicine, Swansea University, Swansea SA2 8PP, Wales, UK
Academic Editor: Malcolm D'Souza
Received: 7 April 2015 / Revised: 29 April 2015 / Accepted: 30 April 2015 / Published: 8 May 2015
Abstract
Hydrolyses of acid derivatives (e.g., carboxylic acid chlorides and fluorides, fluoro- and chloroformates, sulfonyl chlorides, phosphorochloridates, anhydrides) exhibit pseudo-first order kinetics. Reaction mechanisms vary from those involving a cationic intermediate (S
N
1) to concerted S
N
2 processes, and further to third order reactions, in which one solvent molecule acts as the attacking nucleophile and a second molecule acts as a general base catalyst. A unified framework is discussed, in which there are two reaction channels—an S
N
1-S
N
2 spectrum and an S
N
2-S
N
3 spectrum. Third order rate constants (
k
3
) are calculated for solvolytic reactions in a wide range of compositions of acetone-water mixtures, and are shown to be either approximately constant or correlated with the Grunwald-Winstein
Y
parameter. These data and kinetic solvent isotope effects, provide the experimental evidence for the S
N
2-S
N
3 spectrum (e.g.,
for chloro- and fluoroformates,
chloroacetyl
chloride,
p
-nitrobenzoyl
p
-toluenesulfonate, sulfonyl chlorides). Deviations from linearity lead to U- or V-shaped plots, which assist in the identification of the point at which the reaction channel changes from S
N
2-S
N
3 to S
N
1-S
N
2 (e.g.,
for
benzoyl chloride).
View Full-Text
►

▼

Figures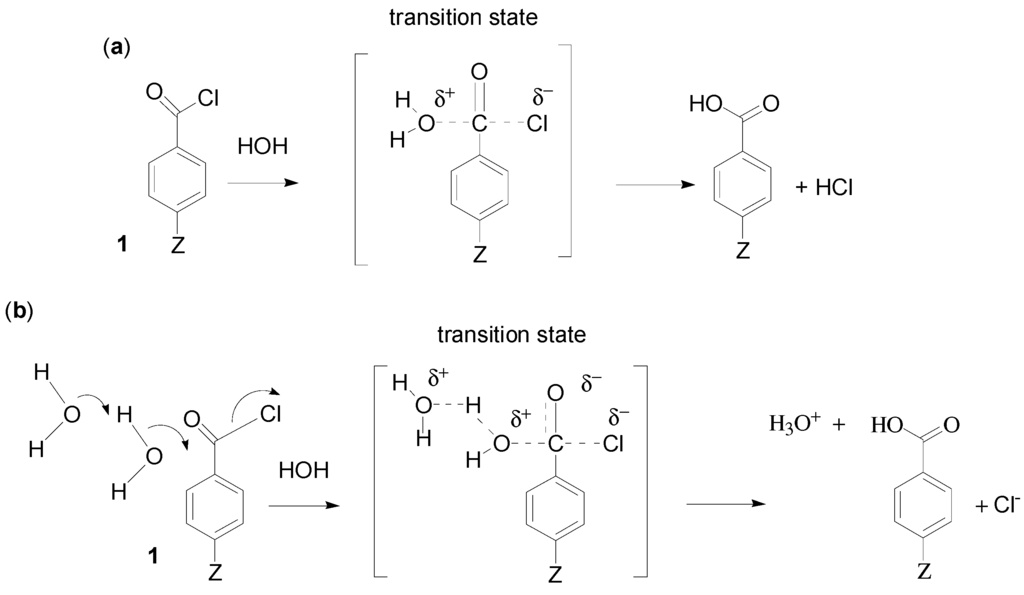 Figure 1
This is an open access article distributed under the
Creative Commons Attribution License
which permits unrestricted use, distribution, and reproduction in any medium, provided the original work is properly cited (CC BY 4.0).

Share & Cite This Article
MDPI and ACS Style
Bentley, T.W. Calculated Third Order Rate Constants for Interpreting the Mechanisms of Hydrolyses of Chloroformates, Carboxylic Acid Halides, Sulfonyl Chlorides and Phosphorochloridates. Int. J. Mol. Sci. 2015, 16, 10601-10623.
Related Articles
Comments
[Return to top]