Eicosapentaenoic Acid Protects against Palmitic Acid-Induced Endothelial Dysfunction via Activation of the AMPK/eNOS Pathway
1
Department of Microbiology, School of Medicine, China Medical University, 40402 Taichung, Taiwan
2
Department of Physical Therapy and Graduate Institute of Rehabilitation Science, China Medical University, 40402 Taichung, Taiwan
*
Author to whom correspondence should be addressed.
Received: 16 February 2014 / Revised: 12 May 2014 / Accepted: 22 May 2014 / Published: 10 June 2014
Abstract
Recent studies have shown that free fatty acids are associated with chronic inflammation, which may be involved in vascular injury. The intake of eicosapentaenoic acid (EPA) can decrease cardiovascular disease risks, but the protective mechanisms of EPA on endothelial cells remain unclear. In this study, primary human umbilical vein endothelial cells (HUVECs) treated with palmitic acid (PA) were used to explore the protective effects of EPA. The results revealed that EPA attenuated PA-induced cell death and activation of apoptosis-related proteins, such as caspase-3, p53 and Bax. Additionally, EPA reduced the PA-induced increase in the generation of reactive oxygen species, the activation of NADPH oxidase, and the upregulation of inducible nitric oxide synthase (iNOS). EPA also restored the PA-mediated reduction of endothelial nitric oxide synthase (eNOS) and AMP-activated protein kinase (AMPK) phosphorylation. Using AMPK siRNA and the specific inhibitor compound C, we found that EPA restored the PA-mediated inhibitions of eNOS and AKT activities via activation of AMPK. Furthermore, the NF-κB signals that are mediated by p38 mitogen-activated protein kinase (MAPK) were involved in protective effects of EPA. In summary, these results provide new insight into the possible molecular mechanisms by which EPA protects against atherogenesis via the AMPK/eNOS-related pathway.
View Full-Text
►

▼

Figures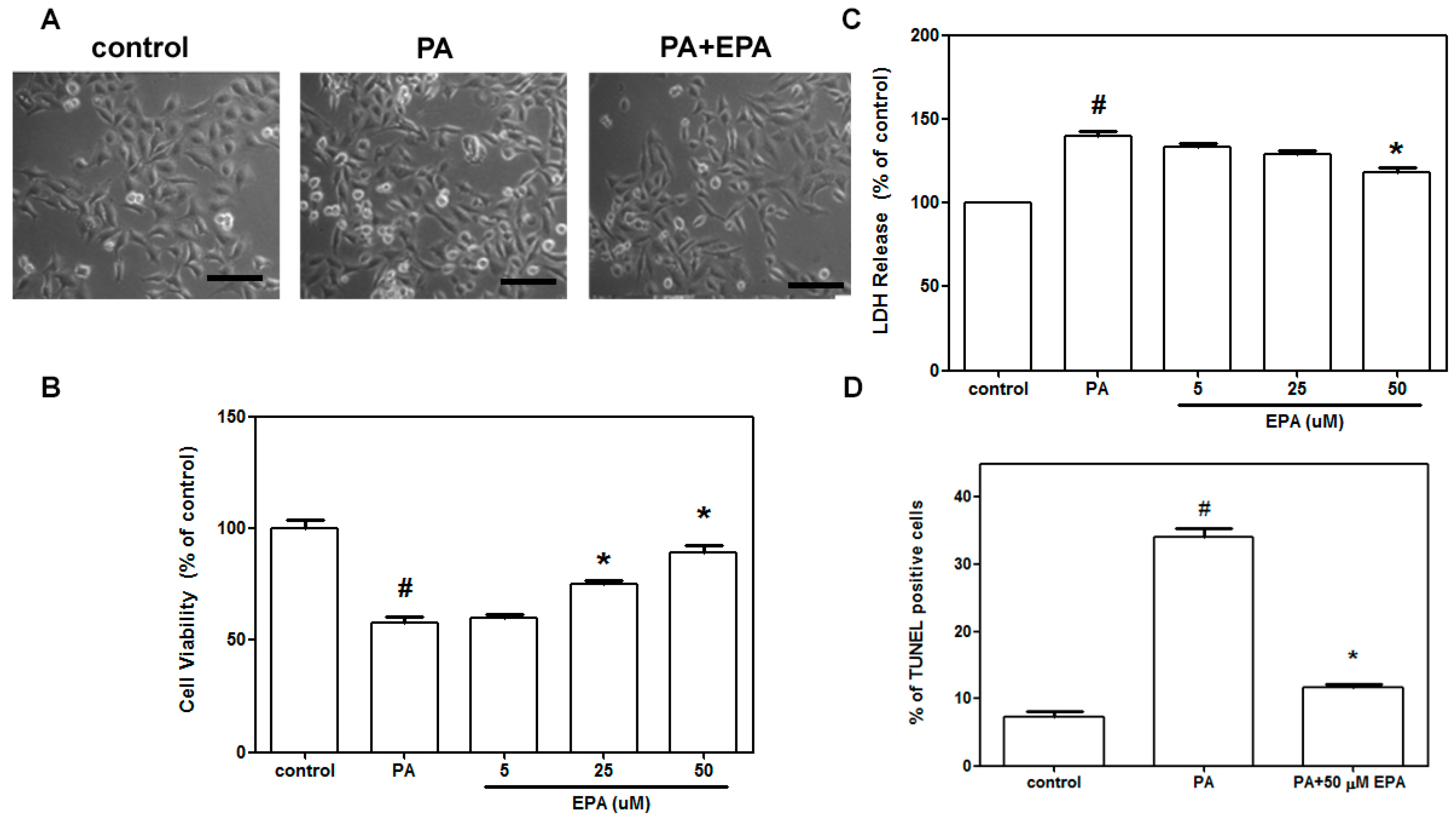 Figure 1

Share & Cite This Article
MDPI and ACS Style
Lee, C.-H.; Lee, S.-D.; Ou, H.-C.; Lai, S.-C.; Cheng, Y.-J. Eicosapentaenoic Acid Protects against Palmitic Acid-Induced Endothelial Dysfunction via Activation of the AMPK/eNOS Pathway. Int. J. Mol. Sci. 2014, 15, 10334-10349.
Related Articles
Comments
[Return to top]