A Rapid and Efficient Immunoenzymatic Assay to Detect Receptor Protein Interactions: G Protein-Coupled Receptors
1
Department of Pharmacy, University of Pisa, 56126 Pisa, Italy
2
Department of Pharmacological and Biomolecular Sciences, University of Milan, 20133 Milan, Italy
*
Author to whom correspondence should be addressed.
Received: 27 January 2014 / Revised: 10 March 2014 / Accepted: 1 April 2014 / Published: 11 April 2014
Abstract
G protein-coupled receptors (GPCRs) represent one of the largest families of cell surface receptors, and are the target of at least one-third of the current therapeutic drugs on the market. Along their life cycle, GPCRs are accompanied by a range of specialized GPCR-interacting proteins (GIPs), which take part in receptor proper folding, targeting to the appropriate subcellular compartments and in receptor signaling tasks, and also in receptor regulation processes, such as desensitization and internalization. The direction of protein-protein interactions and multi-protein complexes formation is crucial in understanding protein function and their implication in pathological events. Although several methods have been already developed to assay protein complexes, some of them are quite laborious, expensive, and, more important, they do not generate fully quantitative results. Herein, we show a rapid immunoenzymatic assay to quantify GPCR interactionswith its signaling proteins. The recently de-orphanized GPCR, GPR17, was chosen as a GPCR prototype to optimize the assay. In a GPR17 transfected cell line and primary oligodendrocyte precursor cells, GPR17 interaction with proteins involved in the typical GPCR regulation, such as desensitization and internalization machinery, was investigated. The obtained results were validated by co-immunoprecipitation experiments, confirming this new method as a rapid and quantitative assay to study protein-protein interactions.
View Full-Text
►

▼

Figures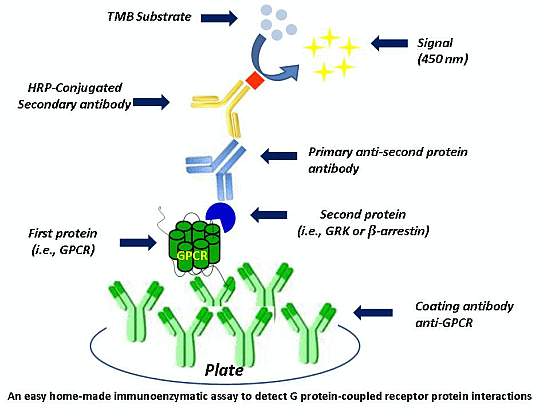 Graphical abstract

Share & Cite This Article
MDPI and ACS Style
Zappelli, E.; Daniele, S.; Abbracchio, M.P.; Martini, C.; Trincavelli, M.L. A Rapid and Efficient Immunoenzymatic Assay to Detect Receptor Protein Interactions: G Protein-Coupled Receptors. Int. J. Mol. Sci. 2014, 15, 6252-6264.
Related Articles
Comments
[Return to top]