Evaluation of a Method for Nitrotyrosine Site Identification and Relative Quantitation Using a Stable Isotope-Labeled Nitrated Spike-In Standard and High Resolution Fourier Transform MS and MS/MS Analysis
1
Department of Cell Biology, Microbiology, and Molecular Biology, University of South Florida, 4202 E. Fowler Ave., Tampa, FL 33620, USA
2
Training Institute, Thermo Fisher Scientific, 1400 Northpoint Parkway, Ste 10., West Palm Beach, FL 33407, USA
*
Author to whom correspondence should be addressed.
†
Current address: Center for Drug Discovery and Innovation, Proteomics Facility, University of South Florida, 3720 Spectrum Blvd., Tampa, FL 33612, USA
Received: 30 January 2014 / Revised: 22 March 2014 / Accepted: 24 March 2014 / Published: 14 April 2014
Abstract
The overproduction of reactive oxygen and nitrogen species (ROS and RNS) can have deleterious effects in the cell, including structural and possible activity-altering modifications to proteins. Peroxynitrite is one such RNS that can result in a specific protein modification, nitration of tyrosine residues to form nitrotyrosine, and to date, the identification of nitrotyrosine sites in proteins continues to be a major analytical challenge. We have developed a method by which
15
N-labeled nitrotyrosine groups are generated on peptide or protein standards using stable isotope-labeled peroxynitrite (O
15
NOO
−
), and the resulting standard is mixed with representative samples in which nitrotyrosine formation is to be measured by mass spectrometry (MS). Nitropeptide MS/MS spectra are filtered using high mass accuracy Fourier transform MS (FTMS) detection of the nitrotyrosine immonium ion. Given that the nitropeptide pair is co-isolated for MS/MS fragmentation, the nitrotyrosine immonium ions (at
m
/
z
= 181 or 182) can be used for relative quantitation with negligible isotopic interference at a mass resolution of greater than 50,000 (FWHM, full width at half-maximum). Furthermore, the standard potentially allows for the increased signal of nitrotyrosine-containing peptides, thus facilitating selection for MS/MS in a data-dependent mode of acquisition. We have evaluated the methodology in terms of nitrotyrosine site identification and relative quantitation using nitrated peptide and protein standards.
View Full-Text
►

▼

Figures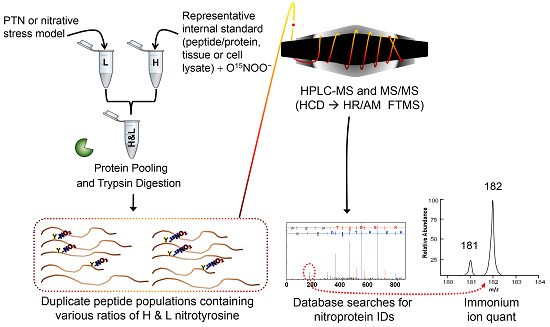 Graphical abstract

Share & Cite This Article
MDPI and ACS Style
Seeley, K.W.; Fertig, A.R.; Dufresne, C.P.; Pinho, J.P.C.; Jr., S.M.S. Evaluation of a Method for Nitrotyrosine Site Identification and Relative Quantitation Using a Stable Isotope-Labeled Nitrated Spike-In Standard and High Resolution Fourier Transform MS and MS/MS Analysis. Int. J. Mol. Sci. 2014, 15, 6265-6285.
Related Articles
Comments
[Return to top]