Use of Physcion to Improve Atopic Dermatitis-Like Skin Lesions through Blocking of Thymic Stromal Lymphopoietin
1
Department of Pharmacology, College of Korean Medicine, Kyung Hee University, Seoul 02447, Korea
2
Center for Converging Humanities, Kyung Hee University, Seoul 02447, Korea
3
Department of Science in Korean Medicine, Graduate School, Kyung Hee University, Seoul 02447, Korea
4
Department of Food Science & Technology and Research Institute for Basic Science, Hoseo University, Chungnam 31499, Korea
*
Authors to whom correspondence should be addressed.
†
They contributed equally to this work.
Received: 28 March 2019 / Revised: 12 April 2019 / Accepted: 15 April 2019 / Published: 15 April 2019
Abstract
Physcion is well known for the treatment of carcinoma. However, the therapeutic effect of physcion on atopic dermatitis (AD) through the inhibition of thymic stromal lymphopoietin (TSLP) level remains largely unknown. In this study, we investigated the anti-AD effect of physcion using HMC-1 cells, splenocytes, and a murine model. Treatment with physcion decreased production and mRNA expression levels of TSLP, IL-6, TNF-α, and IL-1β in activated HMC-1 cells. Physcion reduced the expression levels of RIP2/caspase-1 and phospho (p)ERK/pJNK/pp38 in activated HMC-1 cells. Physcion suppressed the expression levels of pIKKβ/NF-κB/pIkBα in activated HMC-1 cells. Moreover, physcion attenuated the production levels of TSLP, IL-4, IL-6, TNF-α, and IFN-γ from activated splenocytes. Oral administration of physcion improved the severity of 2,4-dinitrochlorobenzene-induced AD-like lesional skin through reducing infiltration of inflammatory cells and mast cells, and the protein and mRNA levels of TSLP, IL-4, and IL-6 in the lesional skin tissues. Physcion attenuated histamine, IgE, TSLP, IL-4, IL-6, and TNF-α levels in serum. In addition, physcion inhibited caspase-1 activation in the lesional skin tissues. These findings indicate that physcion could ameliorate AD-like skin lesions by inhibiting TSLP levels via caspase-1/MAPKs/NF-kB signalings, which would provide experimental evidence of the therapeutic potential of physcion for AD.
View Full-Text
►

▼

Figures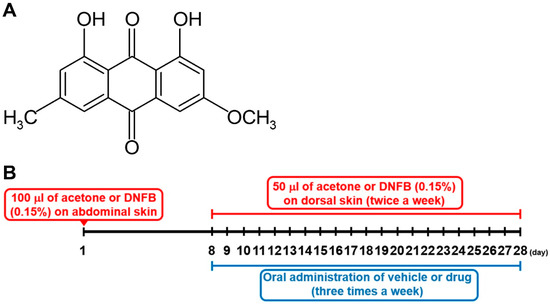 Figure 1
This is an open access article distributed under the
Creative Commons Attribution License
which permits unrestricted use, distribution, and reproduction in any medium, provided the original work is properly cited (CC BY 4.0).

Share & Cite This Article
MDPI and ACS Style
Moon, P.-D.; Han, N.-R.; Lee, J.S.; Hong, S.; Yoo, M.-S.; Kim, H.-J.; Kim, J.-H.; Kang, S.; Jee, H.-W.; Kim, H.-M.; Jeong, H.-J. Use of Physcion to Improve Atopic Dermatitis-Like Skin Lesions through Blocking of Thymic Stromal Lymphopoietin. Molecules 2019, 24, 1484.
Note that from the first issue of 2016, MDPI journals use article numbers instead of page numbers. See further details here.
Related Articles
Comments
[Return to top]