Development of a Potential Gallium-68-Labelled Radiotracer Based on DOTA-Curcumin for Colon-Rectal Carcinoma: From Synthesis to In Vivo Studies
1
Department of Chemical and Geological Sciences, University of Modena and Reggio Emilia, via G. Campi 103, 41125 Modena, Italy
2
Department of Cancer Systems Imaging, The University of Texas MD Anderson Cancer Center, 1881 East Road, Houston, TX 77054, USA
3
Radiopharmaceutical Chemistry Unit, Oncologic and High Technologies Department, Azienda USL-IRCCS, via Amendola 2, 42122 Reggio Emilia, Italy
4
Department of Chemistry "Ugo Schiff", Università di Firenze, via della Lastruccia 3-13, 50019 Sesto Fiorentino, Italy
*
Author to whom correspondence should be addressed.
Academic Editor: Anne Roivainen
Received: 2 January 2019 / Revised: 1 February 2019 / Accepted: 6 February 2019 / Published: 12 February 2019
Full-Text
|
PDF
[2321 KB, uploaded 12 February 2019]
|
|

Review Reports
Abstract
Colorectal cancer is the third most commonly occurring cancer in men and the second most commonly occurring cancer in women worldwide. We have recently reported that curcuminoid complexes labelled with gallium-68 have demonstrated preferential uptake in HT29 colorectal cancer and K562 lymphoma cell lines compared to normal human lymphocytes. In the present study, we report a new gallium-68-labelled curcumin derivative (
68
Ga-DOTA-C21) and its initial validation as marker for early detection of colorectal cancer. The precursor and non-radioactive complexes were synthesized and deeply characterized by analytical methods then the curcuminoid was radiolabelled with gallium-68. The in vitro stability, cell uptake, internalization and efflux properties of the probe were studied in HT29 cells, and the in vivo targeting ability and biodistribution were investigated in mice bearing HT29 subcutaneous tumour model.
68
Ga-DOTA-C21 exhibits decent stability (57 ± 3% after 120 min of incubation) in physiological media and a curcumin-mediated cellular accumulation in colorectal cancer cell line (121 ± 4 KBq of radiotracer per mg of protein within 60 min of incubation). In HT29 tumour-bearing mice, the tumour uptake of
68
Ga-DOTA-C21 is 3.57 ± 0.3% of the injected dose per gram of tissue after 90 min post injection with a tumour to muscle ratio of 2.2 ± 0.2. High amount of activity (12.73 ± 1.9% ID/g) is recorded in blood and significant uptake of the radiotracer occurs in the intestine (13.56 ± 3.3% ID/g), lungs (8.42 ± 0.8% ID/g), liver (5.81 ± 0.5% ID/g) and heart (4.70 ± 0.4% ID/g). Further studies are needed to understand the mechanism of accumulation and clearance; however,
68
Ga-DOTA-C21 provides a productive base-structure to develop further radiotracers for imaging of colorectal cancer.
View Full-Text
►

▼

Figures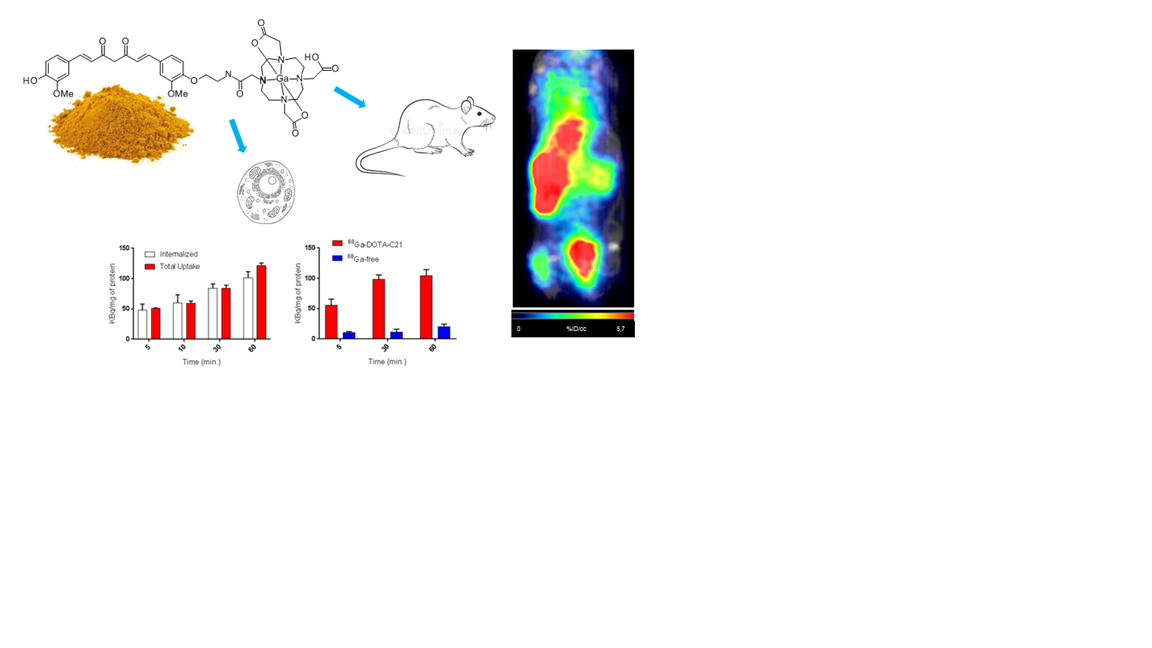 Graphical abstract
This is an open access article distributed under the
Creative Commons Attribution License
which permits unrestricted use, distribution, and reproduction in any medium, provided the original work is properly cited (CC BY 4.0).

Share & Cite This Article
MDPI and ACS Style
Orteca, G.; Pisaneschi, F.; Rubagotti, S.; Liu, T.W.; Biagiotti, G.; Piwnica-Worms, D.; Iori, M.; Capponi, P.C.; Ferrari, E.; Asti, M. Development of a Potential Gallium-68-Labelled Radiotracer Based on DOTA-Curcumin for Colon-Rectal Carcinoma: From Synthesis to In Vivo Studies. Molecules 2019, 24, 644.
Note that from the first issue of 2016, MDPI journals use article numbers instead of page numbers. See further details here.
Related Articles
Comments
[Return to top]