Total Phenols from Grape Leaves Counteract Cell Proliferation and Modulate Apoptosis-Related Gene Expression in MCF-7 and HepG2 Human Cancer Cell Lines
1
Department of Applied Biology, University Larbi Tébessi Tebessa, 12000 Tebessa, Algeria
2
Department of Biomedical Sciences, University of Sassari, Viale San Pietro 43/B, 07100 Sassari, Italy
3
Laboratoire d'Obtention de Substances Thérapeutiques (L.O.S.T.), Département de Biologie Animale, Université Des Frères Mentouri-Constantine, 25000 Constantine, Algeria
4
Institute of Sciences of Food Production, National Research Council, Traversa la Crucca, 3. Loc Baldinca Li Punti, 07100 Sassari, Italy
5
Institute of Biomolecular Chemistry, National Research Council, Traversa La Crucca, 3. Località Baldinca Li Punti, 07100 Sassari, Italy
6
Istituto di Ricerca Genetica e Biomedica, Consiglio Nazionale delle Ricerche (CNR), Monserrato, 09042 Cagliari, Italy
7
National Laboratory of Molecular Biology and Stem Cell Engineering-National Institute of Biostructures and Biosystems-Eldor Lab, at Innovation Accelerators, CNR, 40129 Bologna, Italy
8
Center for Developmental Biology and Reprogramming-CEDEBIOR, Department of Biomedical Sciences, University of Sassari, Viale San Pietro 43/B, 07100 Sassari, Italy
*
Author to whom correspondence should be addressed.
Academic Editor: Roberto Fabiani
Received: 18 December 2018 / Revised: 4 February 2019 / Accepted: 5 February 2019 / Published: 10 February 2019
Full-Text
|
PDF
[1603 KB, uploaded 10 February 2019]
|
|

Review Reports
Abstract
Grape leaves influence several biological activities in the cardiovascular system, acting as antioxidants. In this study, we aimed at evaluating the effect of ethanolic and water extracts from grape leaves grown in Algeria, obtained by accelerator solvent extraction (ASE), on cell proliferation. The amount of total phenols was determined using the modified Folin-Ciocalteu method, antioxidant activities were evaluated by the 2,2-diphenyl-l-picrylhydrazyl free radical (DPPH*) method and
·
OH radical scavenging using electron paramagnetic resonance (EPR) spectroscopy methods. Cell proliferation of HepG2 hepatocarcinoma, MCF-7 human breast cancer cells and vein human umbilical (HUVEC) cells, as control for normal cell growth, was assessed by 3-(4,5-dimethylthiazol-2-yl)-2,5-diphenyltetrazolium bromide reduction assay (MTT). Apoptosis- related genes were determined by measuring Bax and Bcl-2 mRNA expression levels. Accelerator solvent extractor yield did not show significant difference between the two solvents (ethanol and water) (
p
> 0.05). Total phenolic content of water and ethanolic extracts was 55.41 ± 0.11 and 155.73 ± 1.20 mg of gallic acid equivalents/g of dry weight, respectively. Ethanolic extracts showed larger amounts of total phenols as compared to water extracts and interesting antioxidant activity. HepG2 and MCF-7 cell proliferation decreased with increasing concentration of extracts (0.5, 1, and 2 mg/mL) added to the culture during a period of 1–72 h. In addition, the expression of the pro-apoptotic gene Bax was increased and that of the anti-apoptotic gene Bcl-2 was decreased in a dose-dependent manner, when both MCF-7 and HepG2 cells were cultured with one of the two extracts for 72 h. None of the extracts elicited toxic effects on vein umbilical HUVEC cells, highlighting the high specificity of the antiproliferative effect, targeting only cancer cells. Finally, our results suggested that ASE crude extract from grape leaves represents a source of bioactive compounds such as phenols, with potential antioxidants activity, disclosing a novel antiproliferative effect affecting only HepG2 and MCF-7 tumor cells.
View Full-Text
►

▼

Figures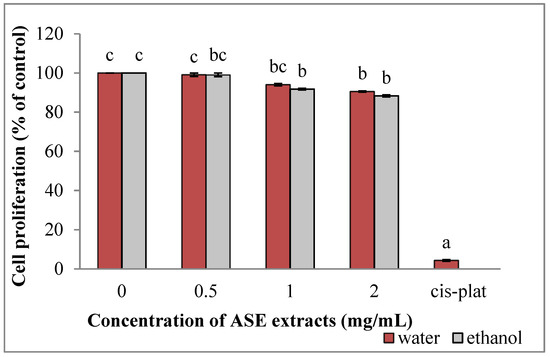 Figure 1
This is an open access article distributed under the
Creative Commons Attribution License
which permits unrestricted use, distribution, and reproduction in any medium, provided the original work is properly cited (CC BY 4.0).

Share & Cite This Article
MDPI and ACS Style
Ferhi, S.; Santaniello, S.; Zerizer, S.; Cruciani, S.; Fadda, A.; Sanna, D.; Dore, A.; Maioli, M.; D'hallewin, G. Total Phenols from Grape Leaves Counteract Cell Proliferation and Modulate Apoptosis-Related Gene Expression in MCF-7 and HepG2 Human Cancer Cell Lines. Molecules 2019, 24, 612.
Note that from the first issue of 2016, MDPI journals use article numbers instead of page numbers. See further details here.
Related Articles
Comments
[Return to top]