Synthesis and Biochemical Evaluation of Lid-Open D-Amino Acid Oxidase Inhibitors
1
Medicinal Chemistry Research Group, Research Centre for Natural Sciences, Hungarian Academy of Sciences, Magyar tudósok krt. 2, H-1117 Budapest, Hungary
2
Directorate of Drug Substance Development, Egis Pharmaceuticals Plc., P.O. Box 100, H-1475 Budapest, Hungary
3
Plasma Chemistry Research Group, Research Centre for Natural Sciences, Hungarian Academy of Sciences, Magyar tudósok krt. 2, H-1117 Budapest, Hungary
*
Authors to whom correspondence should be addressed.
Received: 8 December 2018 / Revised: 7 January 2019 / Accepted: 10 January 2019 / Published: 14 January 2019
Abstract
Most of the known inhibitors of D-amino acid oxidase (DAAO) are small polar molecules recognized by the active site of the enzyme. More recently a new class of DAAO inhibitors has been disclosed that interacts with loop 218−224 at the top of the binding pocket. These compounds have a significantly larger size and more beneficial physicochemical properties than most reported DAAO inhibitors, however, their structure-activity relationship is poorly explored. Here we report the synthesis and evaluation of this type of DAAO inhibitors that open the lid over the active site of DAAO. In order to collect relevant SAR data we varied two distinct parts of the inhibitors. A systematic variation of the pendant aromatic substituents according to the Topliss scheme resulted in DAAO inhibitors with low nanomolar activity. The activity showed low sensitivity to the substituents investigated. The variation of the linker connecting the pendant aromatic moiety and the acidic headgroup revealed that the interactions of the linker with the enzyme were crucial for achieving significant inhibitory activity. Structures and activities were analyzed based on available X-ray structures of the complexes. Our findings might support the design of drug-like DAAO inhibitors with advantageous physicochemical properties and ADME profile.

►

▼

Figures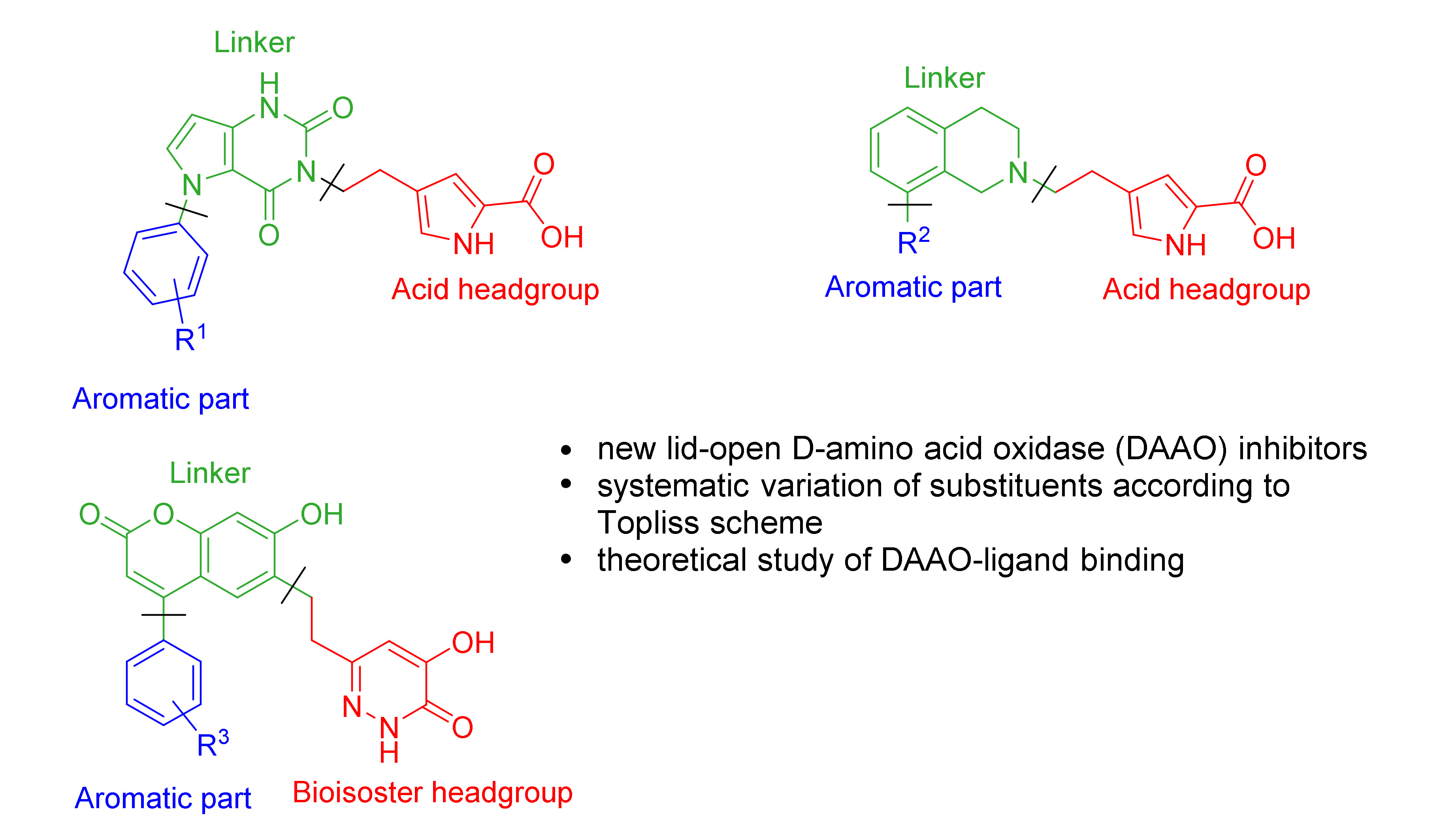 Graphical abstract
This is an open access article distributed under the
Creative Commons Attribution License
which permits unrestricted use, distribution, and reproduction in any medium, provided the original work is properly cited (CC BY 4.0).

Share & Cite This Article
MDPI and ACS Style
Szilágyi, B.; Hargitai, C.; Kelemen, Á.A.; Rácz, A.; Ferenczy, G.G.; Volk, B.; Keserű, G.M. Synthesis and Biochemical Evaluation of Lid-Open D-Amino Acid Oxidase Inhibitors. Molecules 2019, 24, 290.
Note that from the first issue of 2016, MDPI journals use article numbers instead of page numbers. See further details here.
Related Articles
Comments
[Return to top]