Efflux Inhibitor Bicalutamide Increases Oral Bioavailability of the Poorly Soluble Efflux Substrate Docetaxel in Co-Amorphous Anti-Cancer Combination Therapy
1
Department of Pharmacy, University of Copenhagen, 2100 Copenhagen, Denmark
2
Laboratory of Pharmaceutical Nanotechnology and Drug Delivery Systems, School of Pharmacy, Federal University of Goiás, Goiânia 74605-170, Brazil
*
Author to whom correspondence should be addressed.
Received: 26 November 2018 / Revised: 7 January 2019 / Accepted: 8 January 2019 / Published: 11 January 2019
Abstract
Many anti-cancer drugs are difficult to formulate into an oral dosage form because they are both poorly water-soluble and show poor permeability, the latter often as a result of being an intestinal efflux pump substrate. To obtain a more water-soluble formulation, one can take advantage of the higher solubility of the amorphous form of a given drug, whereas to increase permeability, one can make use of an efflux pump inhibitor. In this study, a combination of these two strategies was investigated using the co-amorphous approach, forming an amorphous mixture of two anti-cancer drugs, docetaxel (DTX) and bicalutamide (BIC). The efflux substrate, DTX, was combined with the efflux inhibitor, BIC, and prepared as a single phase co-amorphous mixture at a 1:1 molar ratio using vibrational ball milling. The co-amorphous formulation was tested in vitro and in vivo for its dissolution kinetics, supersaturation properties and pharmacokinetics in rats. The co-amorphous formulation showed a faster in vitro dissolution of both drugs compared to the control groups, but only DTX showed supersaturation (1.9 fold) compared to its equilibrium solubility. The findings for the co-amorphous formulation were in agreement with the pharmacokinetics data, showing a quicker onset in plasma concentration as well as a higher bioavailability for both DTX (15-fold) and BIC (3-fold) compared to the crystalline drugs alone. Furthermore, the co-amorphous formulation remained physically stable over 1.5 years at 4 °C under dry conditions.
View Full-Text
►

▼

Figures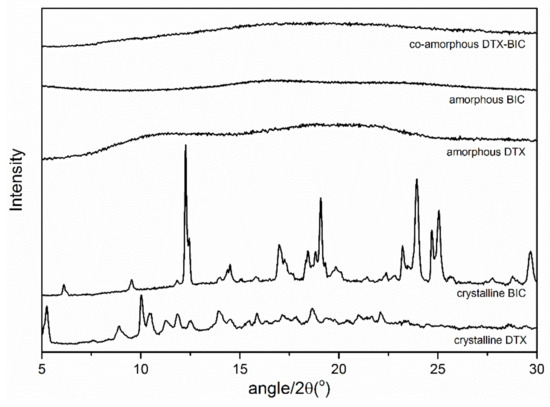 Figure 1
This is an open access article distributed under the
Creative Commons Attribution License
which permits unrestricted use, distribution, and reproduction in any medium, provided the original work is properly cited (CC BY 4.0).

Share & Cite This Article
MDPI and ACS Style
Bohr, A.; Nascimento, T.L.; Harmankaya, N.; Weisser, J.J.; Wang, Y.; Grohganz, H.; Rades, T.; Löbmann, K. Efflux Inhibitor Bicalutamide Increases Oral Bioavailability of the Poorly Soluble Efflux Substrate Docetaxel in Co-Amorphous Anti-Cancer Combination Therapy. Molecules 2019, 24, 266.
Note that from the first issue of 2016, MDPI journals use article numbers instead of page numbers. See further details here.
Related Articles
Comments
[Return to top]