Fusion of Lysostaphin to an Albumin Binding Domain Prolongs Its Half-Life and Bactericidal Activity in the Systemic Circulation
1
N. F. Gamaleya National Research Center of Epidemiology and Microbiology, Ministry of Health of the Russian Federation, 123098 Moscow, Russia
2
All-Russia Research Institute of Agricultural Biotechnology, 127550 Moscow, Russia
3
MIREA Russian Technological University, 119048 Moscow, Russia
4
Vernadsky Institute of Geochemistry and Analytical Chemistry, Russian Academy of Sciences, 119991 Moscow, Russia
5
Mental Health Research Center, 115522 Moscow, Russia
6
A. N. Belozersky Institute of Physico-Chemical Biology, M.V. Lomonosov Moscow State University, 119992 Moscow, Russia
*
Author to whom correspondence should be addressed.
Academic Editor: Seung Seo Lee
Received: 10 July 2019 / Revised: 3 August 2019 / Accepted: 7 August 2019 / Published: 9 August 2019
Abstract
Antibacterial lysins are promising proteins that are active against both antibiotic-susceptible and antibiotic-resistant bacterial strains. However, a major limitation of antibacterial lysins is their fast elimination from systemic circulation. PEGylation increases the plasma half-life of lysins but renders them inactive. Here we report the construction of a fusion protein of lysostaphin, a potent anti-staphylococcal lysin, and an albumin-binding domain from streptococcal protein G. The resulting fusion protein was less active than the parent enzyme lysostaphin, but it still retained significant antibacterial activity even when bound to serum albumin. The terminal half-life of the fusion protein in rats was five-fold greater than that of lysostaphin (7.4 vs. 1.5 h), and the area under the curve increased more than 115 times. Most importantly, this increase in systemic circulation time compensated for the decrease in activity. The plasma from rats that received an injection of the fusion protein retained bactericidal activity for up to 7 h, while plasma from rats that received plain lysostaphin lacked any detectable activity after 4 h. To the best of our knowledge, this is the first report of an antibacterial lysin with both improved pharmacokinetic parameters and prolonged bactericidal activity in the systemic circulation.
View Full-Text
►

▼

Figures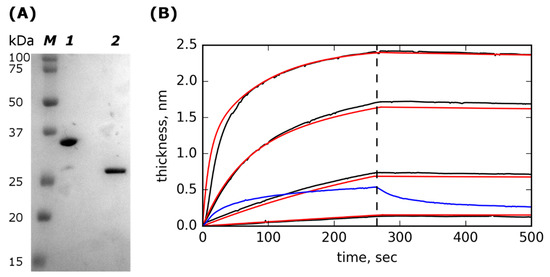 Figure 1
This is an open access article distributed under the
Creative Commons Attribution License
which permits unrestricted use, distribution, and reproduction in any medium, provided the original work is properly cited (CC BY 4.0).

Share & Cite This Article
MDPI and ACS Style
Grishin, A.V.; Shestak, N.V.; Lavrova, N.V.; Lyashchuk, A.M.; Popova, L.I.; Strukova, N.V.; Generalova, M.S.; Ryazanova, A.V.; Polyakov, N.B.; Galushkina, Z.M.; Soboleva, L.A.; Boksha, I.S.; Karyagina, A.S.; Lunin, V.G. Fusion of Lysostaphin to an Albumin Binding Domain Prolongs Its Half-Life and Bactericidal Activity in the Systemic Circulation. Molecules 2019, 24, 2892.
Note that from the first issue of 2016, MDPI journals use article numbers instead of page numbers. See further details here.
Related Articles
Comments
[Return to top]