Polysaccharide from Okra (
Abelmoschus esculentus

(L.) Moench) Improves Antioxidant Capacity via PI3K/AKT Pathways and Nrf2 Translocation in a Type 2 Diabetes Model

1

School of Traditional Chinese Material Medical, Shenyang Pharmaceutical University, Wenhua Road 103, Shenyang 110016, China

2

School of Functional Food and Wine, Shenyang Pharmaceutical University, Wenhua Road 103, Shenyang 110016, China

3

Wuya College of Innovation, Shenyang Pharmaceutical University, Wenhua Road 103, Shenyang 110016, China

4

School of Pharmacy, Shenyang Pharmaceutical University, Wenhua Road 103, Shenyang 110016, China

*

Author to whom correspondence should be addressed.

Received: 23 April 2019 / Revised: 12 May 2019 / Accepted: 16 May 2019 / Published: 17 May 2019
Abstract
Polysaccharide extracted from okra (
Abelmoschus esculentus
(L.) Moench), a traditional functional food, is a biologically active substance reported to possess hypoglycemic and anti-oxidative qualities. However, it is unknown which polysaccharides play a role and have the potential mechanism. This present study is to assess the possible impacts of a novel polysaccharide isolated from okra (OP) on mice fed with a high-fat diet (HFD) combined with an intraperitoneal injection (
i.p.
) of 100 mg/kg streptozotocin (STZ) twice, to induce type 2 diabetes mellitus (T2DM). We found that an eight-week administration of OP at 200 or 400 mg/kg body weight significantly alleviated the symptoms, with elevations in blood glucose, triglyceride (TG), total cholesterol (TC) and low-density lipoprotein cholesterol (LDL-C), as well as reducing high-density lipoprotein cholesterol (HDL-C), body weight, food, and water consumption. The OP treatment increased the hepatic glycogen and decreased the mussy hepatic cords and liver fibrosis in the T2DM mice. The decreases of ROS and MDA and the increases of SOD, GSH-Px and CAT in liver were observed after administration of OP. OP alleviated the T2DM characteristics through the activation of the phosphoinositide 3-kinase (PI3K)/protein kinase B (AKT)/glycogen synthase kinase 3 beta (GSK3β) pathway, and enhanced the nuclear factor erythroid-2 (Nrf2) expression and promoted Nrf2-medicated heme oxygenase-1(HO-1) and superoxide dismutase 2 (SOD2) expression. OP also relieved mitochondrial dysfunction by inhibiting NOX2 activation. Taken together, these findings suggest that a polysaccharide isolated from okra exerts anti-T2DM effects partly by modulating oxidative stress through PI3K/AKT/GSK3β pathway-medicated Nrf2 transport. We have determined that a polysaccharide possesses hypoglycemic activity, as well as its underlying mechanism.
View Full-Text
►

▼

Figures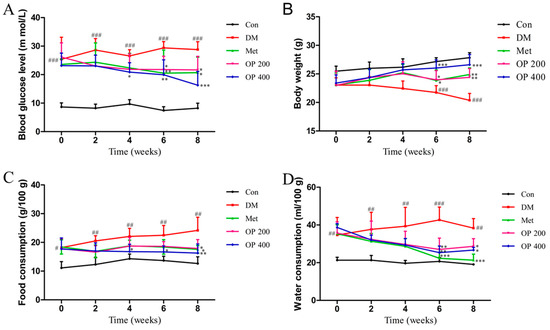 Figure 1
This is an open access article distributed under the
Creative Commons Attribution License
which permits unrestricted use, distribution, and reproduction in any medium, provided the original work is properly cited (CC BY 4.0).

Share & Cite This Article
MDPI and ACS Style
Liao, Z.; Zhang, J.; Liu, B.; Yan, T.; Xu, F.; Xiao, F.; Wu, B.; Bi, K.; Jia, Y. Polysaccharide from Okra (Abelmoschus esculentus (L.) Moench) Improves Antioxidant Capacity via PI3K/AKT Pathways and Nrf2 Translocation in a Type 2 Diabetes Model. Molecules 2019, 24, 1906.
Note that from the first issue of 2016, MDPI journals use article numbers instead of page numbers. See further details here.
Related Articles
Comments
[Return to top]