Antileishmanial Activity of 2-Methoxy-4H-spiro-[naphthalene-1,2′-oxiran]-4-one (Epoxymethoxy-lawsone): A Promising New Drug Candidate for Leishmaniasis Treatment
1
Laboratório de Biologia Molecular e Doenças Endêmicas, Instituto Oswaldo Cruz-Fundação Oswaldo Cruz, Avenida Brasil, 4365, Manguinhos, Rio de Janeiro 21040-900, RJ, Brasil
2
Laboratório de Imunoparasitologia, Instituto Oswaldo Cruz-Fundação Oswaldo Cruz, Avenida Brasil, 4365, Manguinhos, Rio de Janeiro 21040-900, RJ, Brasil
3
Laboratório de Ultraestrutura Celular, Instituto Oswaldo Cruz-Fundação Oswaldo Cruz, Avenida Brasil, 4365, Manguinhos, Rio de Janeiro 21040-900, RJ, Brasil
4
Laboratório de Imunologia Clínica, Instituto Oswaldo Cruz-Fundação Oswaldo Cruz, Avenida Brasil, 4365, Manguinhos, Rio de Janeiro 21040-900, RJ, Brasil
5
Laboratório de Biologia Estrutural, Instituto Oswaldo Cruz-Fundação Oswaldo Cruz, Avenida Brasil 4365, Rio de Janeiro 21040-900, RJ, Brasil
6
Laboratório de Interação Celular e Molecular-LICEM, Departamento de Biologia Celular e Molecular, Universidade Federal Fluminense, Niterói 24020-141, RJ, Brazil
7
Departamento de Tecnologia Farmacêutica, Faculdade de Farmácia, Universidade Federal Fluminense, Niterói 24241-002, RJ, Brasil
*
Author to whom correspondence should be addressed.
Received: 7 March 2018 / Revised: 3 April 2018 / Accepted: 5 April 2018 / Published: 10 April 2018
Abstract
Epoxymethoxylawsone is a naphthoquinone derivative promising as drug candidate for the treatment of leishmaniases. In the present work the effectiveness of epoxymethoxylawsone, and meglumine antimoniate on
Leishmania
(
Leishmania
)
amazonensis
parasites and on mice paw lesions of infected BALB/c mice was assessed. In an intracellular amastigotes assay, the half-maximal inhibitory concentration (IC
50
) value for epoxymethoxylawsone was slightly higher (1.7-fold) than that found for meglumine antimoniate. The efficacy of both drugs became more evident after 48 h of exposure when either the oxirane compound and reference drug reached 18-fold and 7.4-fold lower IC
50
values (0.40 ± 0.001 µM and 0.60 ± 0.02 µM), respectively. Promastigotes were also affected by epoxymethoxylawsone after 24 h of incubation (IC
50
= 45.45 ± 5.0 µM), but with IC
50
6-fold higher than those found for intracellular amastigotes. Cytotoxicity analysis revealed that epoxymethoxylawsone (CC
50
= 40.05 ± µM) has 1.7-fold higher effects than meglumine antimoniate (CC
50
= 24.14 ± 2.6 µM). Treatment of the paw lesion in infected BALB/c mice with epoxymethoxy-lawsone led to a significant 27% reduction (
p
< 0.05) of the lesion size, for all administrated doses, compared to the control group. Lesion reduction was also detected after mice treatment with meglumine antimoniate, reaching 31.0% (0.23 mg of Sb(V)/Kg/day and 2.27 mg of Sb(V)/Kg/day) and 64.0% (22.7 mg of Sb(V)/Kg/day). In addition, mice lesion ultrastructural changes were evidenced in amastigotes. The set of data gathered here indicate that epoxymethoxylawsone has pronounced effects on parasites and merits furthering to the preclinical stage.
View Full-Text
►

▼

Figures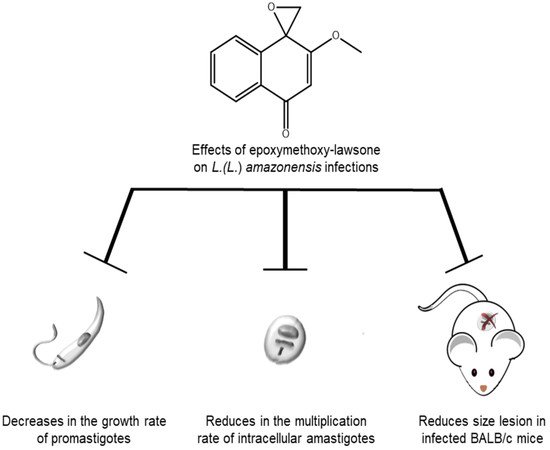 Graphical abstract
This is an open access article distributed under the
Creative Commons Attribution License
which permits unrestricted use, distribution, and reproduction in any medium, provided the original work is properly cited (CC BY 4.0).

Share & Cite This Article
MDPI and ACS Style
Oliveira, L.F.G.; Souza-Silva, F.; De Castro Côrtes, L.M.; Cysne-Finkelstein, L.; De Souza Pereira, M.C.; De Oliveira Junior, F.O.; Pinho, R.T.; Corte Real, S.; Bourguignon, S.C.; Ferreira, V.F.; Alves, C.R. Antileishmanial Activity of 2-Methoxy-4H-spiro-[naphthalene-1,2′-oxiran]-4-one (Epoxymethoxy-lawsone): A Promising New Drug Candidate for Leishmaniasis Treatment. Molecules 2018, 23, 864.
Note that from the first issue of 2016, MDPI journals use article numbers instead of page numbers. See further details here.
Related Articles
Comments
[Return to top]