Visible Light-Cured Glycol Chitosan Hydrogel Containing a Beta-Cyclodextrin-Curcumin Inclusion Complex Improves Wound Healing In Vivo
1
Department of Orthopedic Surgery, Research Institute of Clinical Medicine of Chonbuk National University-Biomedical Research Institute of Chonbuk National University Hospital, Jeonju 54907, Korea
2
Department of Biomedical Sciences, Chonnam National University Medical School, Gwangju 61469, Korea
3
Department of Oral and Maxillofacial Surgery, Kyung Hee University Dental Hospital at Gangdong, Kyung Hee University, Seoul 05278, Korea
4
Institute of Cell and Tissue Engineering, College of Medicine, The Catholic University of Korea, Seoul 06591, Korea
*
Author to whom correspondence should be addressed.
Received: 30 July 2017 / Revised: 7 September 2017 / Accepted: 8 September 2017 / Published: 10 September 2017
Abstract
Scarless wound healing is ideal for patients suffering from soft tissue defects. In this study, we prepared a novel wet dressing (β-CD-ic-CUR/GC) based on the visible light-cured glycol chitosan (GC) hydrogel and inclusion complex between beta-cyclodextrin (β-CD) and curcumin (CUR). We also evaluated its efficacy in the acceleration of wound healing as compared to that of CUR-loaded GC (CUR/GC). The conjugation of glycidyl methacrylate (GM) to GC for photo-curing was confirmed by
1
H-NMR measurement, and the photo-cured GC hydrogel was characterized by the analyses of rheology, swelling ratio, SEM and degradation rate. After visible light irradiation, the surface/cross-sectional morphologies and storage (G′)/loss (G′′) moduli revealed the formation of hydrogel with interconnected porosity. The dressing β-CD-ic-CUR/GC exhibited a controlled release of 90% CUR in a sustained manner for 30 days. On the other hand, CUR/GC showed CUR release of 16%. β-CD acted as an excipient in improving the water-solubility of CUR and affected the release behavior of CUR. The in vivo animal tests including measurement of the remaining unhealed wound area and histological analyses showed that β-CD-ic-CUR/GC may have potential as a wet dressing agent to enhance soft tissue recovery in open fractures.
View Full-Text
►

▼

Figures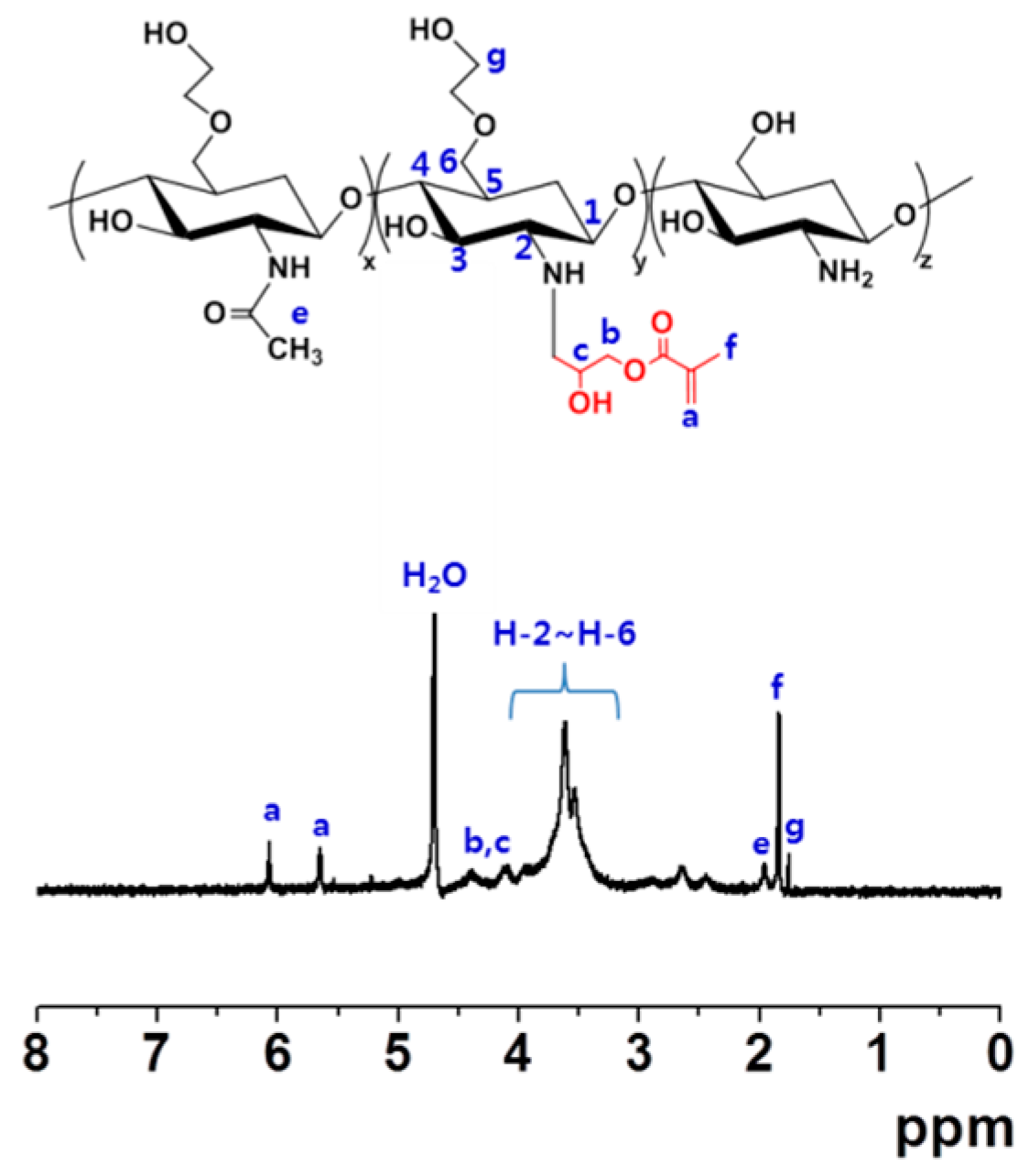 Figure 1
This is an open access article distributed under the
Creative Commons Attribution License
which permits unrestricted use, distribution, and reproduction in any medium, provided the original work is properly cited (CC BY 4.0).

Share & Cite This Article
MDPI and ACS Style
Yoon, S.-J.; Hyun, H.; Lee, D.-W.; Yang, D.H. Visible Light-Cured Glycol Chitosan Hydrogel Containing a Beta-Cyclodextrin-Curcumin Inclusion Complex Improves Wound Healing In Vivo. Molecules 2017, 22, 1513.
Note that from the first issue of 2016, MDPI journals use article numbers instead of page numbers. See further details here.
Related Articles
Comments
[Return to top]