Comparative Transcriptome Analysis Reveals Adaptive Evolution of
Notopterygium

i

ncisum

and Notopterygium f

ranchetii

, Two High-Alpine Herbal Species Endemic to China

Key Laboratory of Resource Biology and Biotechnology in Western China, Ministry of Education, College of Life Sciences, Northwest University, Xi'an 710069, China

*

Author to whom correspondence should be addressed.

Received: 8 June 2017 / Revised: 7 July 2017 / Accepted: 7 July 2017 / Published: 11 July 2017
Abstract
The extreme conditions (e.g., cold, low oxygen, and strong ultraviolet radiation) of the high mountains provide an ideal natural laboratory for studies on speciation and the adaptive evolution of organisms. Up to now, few genome/transcriptome-based studies have been carried out on how plants adapt to conditions at extremely high altitudes.
Notopterygium incisum
and Notopterygium
franchetii
(
Notopterygium
, Apiaceae) are two endangered high-alpine herbal plants endemic to China. To explore the molecular genetic mechanisms of adaptation to high altitudes, we performed high-throughput RNA sequencing (RNA-seq) to characterize the transcriptomes of the two species. In total, more than 130 million sequence reads, 81,446 and 63,153 unigenes with total lengths of 86,924,837 and 62,615,693 bp, were generated for the two herbal species, respectively. OrthoMCL analysis identified 6375 single-copy orthologous genes between
N. incisum
and
N. franchetii
. In total, 381 positively-selected candidate genes were identified for both plants by using estimations of the non-synonymous to synonymous substitution rate. At least 18 of these genes potentially participate in RNA splicing, DNA repair, glutathione metabolism and the plant–pathogen interaction pathway, which were further enriched in various functional gene categories possibly responsible for environment adaptation in high mountains. Meanwhile, we detected various transcription factors that regulated the material and energy metabolism in N. incisum and N. franchetii, which probably play vital roles in the tolerance to stress in surroundings. In addition, 60 primer pairs based on orthologous microsatellite-containing sequences between the both Notopterygium species were determined. Finally, 17 polymorphic microsatellite markers (SSR) were successfully characterized for the two endangered species. Based on these candidate orthologous and SSR markers, we detected that the adaptive evolution and species divergence of N. incisum and N. franchetii were significantly associated with the extremely heterogeneous environments and climatic oscillations in high-altitude areas. This work provides important insights into the molecular mechanisms of adaptation to high-altitudes in alpine herbal plants.
View Full-Text
►

▼

Figures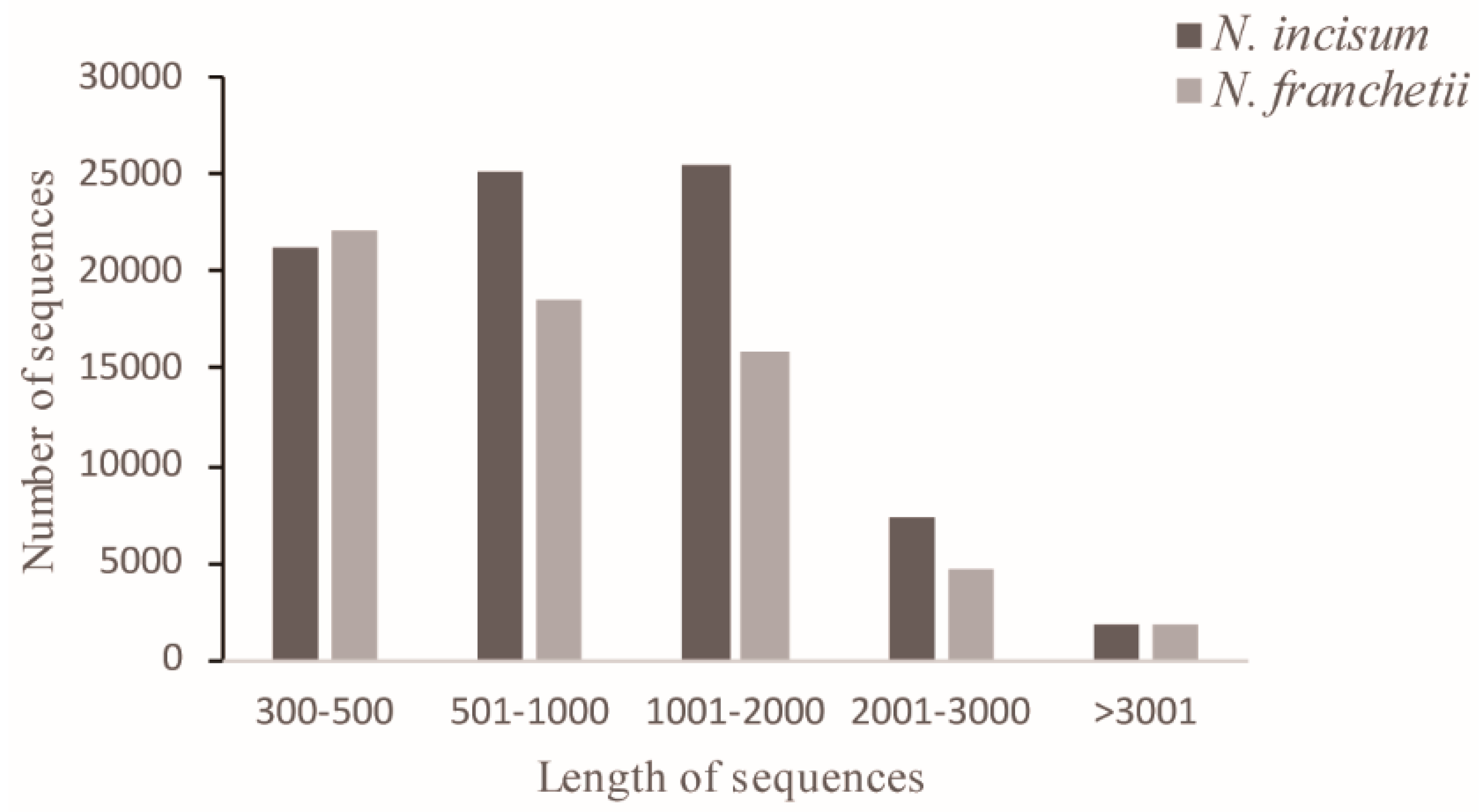 Figure 1
This is an open access article distributed under the
Creative Commons Attribution License
which permits unrestricted use, distribution, and reproduction in any medium, provided the original work is properly cited (CC BY 4.0).

Share & Cite This Article
MDPI and ACS Style
Jia, Y.; Liu, M.-L.; Yue, M.; Zhao, Z.; Zhao, G.-F.; Li, Z.-H. Comparative Transcriptome Analysis Reveals Adaptive Evolution of Notopterygium incisum and Notopterygium franchetii, Two High-Alpine Herbal Species Endemic to China. Molecules 2017, 22, 1158.
Note that from the first issue of 2016, MDPI journals use article numbers instead of page numbers. See further details here.
Related Articles
Comments
[Return to top]