Synthesis and Biological Evaluation of New Substituted Hantzsch Thiazole Derivatives from Environmentally Benign One-Pot Synthesis Using Silica Supported Tungstosilisic Acid as Reusable Catalyst
1
Laboratory of Applied Organic Chemistry, Faculty of Chemistry, University of Science and Technology Houari Boumediene, BP 32, El Alia, 16111 Bab Ezzouar, Algiers, Algeria
2
Laboratory of Cellular and Molecular Biology, Faculty of Biological Sciences, USTHB, BP 32, El Alia, 16111 Bab Ezzouar, Algiers, Algeria
3
Laboratoire BioCIS, UMR CNRS8076, Chimie des Substances Naturelles, IPSIT and LabEx LERMIT, CNRS, Université Paris-Saclay, Université Paris-Sud, Faculté de Pharmacie, 5, rue Jean-Baptiste Clément, 92296 Châtenay-Malabry CEDEX, France
4
Laboratoire de chimie macromoléculaire et catalyse organique, Institut de Chimie (B6a), Université de Liège, Quartier Agora, Allée du 6 Août, 4000 Liège (Sart-Tilman), Belgique
*
Author to whom correspondence should be addressed.
Academic Editors: Diego Muñoz-Torrero, Rodolfo Lavilla and Christopher Hulme
Received: 10 March 2017 / Revised: 2 May 2017 / Accepted: 4 May 2017 / Published: 7 May 2017
Abstract
An efficient and green method has been developed for the synthesis of new substituted Hantzsch thiazole derivatives in 79%–90% yield, via the one-pot multi-component procedure, by the reaction of 3-(bromoacetyl)-4-hydroxy-6-methyl-2
H
-pyran-2-one, thiourea and substituted benzaldehydes in the presence of silica supported tungstosilisic acid, as a reusable catalyst, under conventional heating or under ultrasonic irradiation. The catalyst is recoverable by a simple filtration and can be reused in the subsequent reactions. Most of the thiazoles exhibited significant antibacterial activity compared toamoxicillin and ciprofloxacin as positive controls. In addition, the new compounds showed moderate to good antioxidant (DPPH) radical scavenging activity.
View Full-Text
►

▼

Figures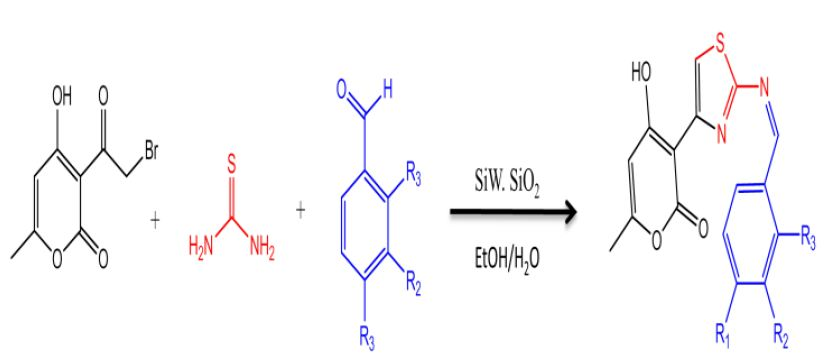 Graphical abstract
This is an open access article distributed under the
Creative Commons Attribution License
which permits unrestricted use, distribution, and reproduction in any medium, provided the original work is properly cited (CC BY 4.0).

Share & Cite This Article
MDPI and ACS Style
Bouherrou, H.; Saidoun, A.; Abderrahmani, A.; Abdellaziz, L.; Rachedi, Y.; Dumas, F.; Demenceau, A. Synthesis and Biological Evaluation of New Substituted Hantzsch Thiazole Derivatives from Environmentally Benign One-Pot Synthesis Using Silica Supported Tungstosilisic Acid as Reusable Catalyst. Molecules 2017, 22, 757.
Note that from the first issue of 2016, MDPI journals use article numbers instead of page numbers. See further details here.
Related Articles
Comments
[Return to top]