AM-2201 Inhibits Multiple Cytochrome P450 and Uridine 5′-Diphospho-Glucuronosyltransferase Enzyme Activities in Human Liver Microsomes
1
Drug Metabolism and Bioanalysis Laboratory, College of Pharmacy, The Catholic University of Korea, 43 Jibong-ro, Wonmi-gu, Bucheon 14662, Korea
2
Forensic Chemistry Laboratory, Forensic Science Division, Supreme Prosecutor's Office, 157 Banpo-daero, Seocho-gu, Seoul 06590, Korea
*
Author to whom correspondence should be addressed.
Academic Editor: Diego Muñoz-Torrero
Received: 22 February 2017 / Accepted: 8 March 2017 / Published: 10 March 2017
Abstract
AM-2201 is a synthetic cannabinoid that acts as a potent agonist at cannabinoid receptors and its abuse has increased. However, there are no reports of the inhibitory effect of AM-2201 on human cytochrome P450 (CYP) or uridine 5′-diphospho-glucuronosyltransferase (UGT) enzymes. We evaluated the inhibitory effect of AM-2201 on the activities of eight major human CYPs (1A2, 2A6, 2B6, 2C8, 2C9, 2C19, 2D6, and 3A4) and six major human UGTs (1A1, 1A3, 1A4, 1A6, 1A9, and 2B7) enzymes in pooled human liver microsomes using liquid chromatography–tandem mass spectrometry to investigate drug interaction potentials of AM-2201. AM-2201 potently inhibited CYP2C9-catalyzed diclofenac 4′-hydroxylation, CYP3A4-catalyzed midazolam 1′-hydroxylation, UGT1A3-catalyzed chenodeoxycholic acid 24-acyl-glucuronidation, and UGT2B7-catalyzed naloxone 3-glucuronidation with IC50 values of 3.9, 4.0, 4.3, and 10.0 μM, respectively, and showed mechanism-based inhibition of CYP2C8-catalyzed amodiaquine N-deethylation with a Ki value of 2.1 μM. It negligibly inhibited CYP1A2, CYP2A6, CYP2B6, CYP2C19, CYP2D6, UGT1A1, UGT1A4, UGT1A6, and UGT1A9 activities at 50 μM in human liver microsomes. These in vitro results indicate that AM-2201 needs to be examined for potential pharmacokinetic drug interactions in vivo due to its potent inhibition of CYP2C8, CYP2C9, CYP3A4, UGT1A3, and UGT2B7 enzyme activities.
View Full-Text
►

▼

Figures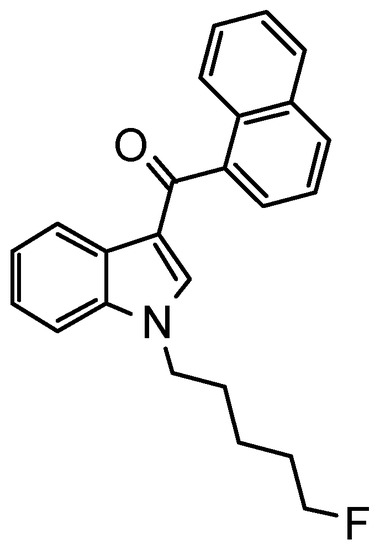 Figure 1
This is an open access article distributed under the
Creative Commons Attribution License
which permits unrestricted use, distribution, and reproduction in any medium, provided the original work is properly cited (CC BY 4.0).

Share & Cite This Article
MDPI and ACS Style
Kim, J.-H.; Kwon, S.-S.; Kong, T.Y.; Cheong, J.C.; Kim, H.S.; In, M.K.; Lee, H.S. AM-2201 Inhibits Multiple Cytochrome P450 and Uridine 5′-Diphospho-Glucuronosyltransferase Enzyme Activities in Human Liver Microsomes. Molecules 2017, 22, 443.
Note that from the first issue of 2016, MDPI journals use article numbers instead of page numbers. See further details here.
Related Articles
Comments
[Return to top]