9,10-Dihydrophenanthrene with Two Spiro(dibenzocycloheptatriene) Units: A Highly Strained Caged Hydrocarbon Exhibiting Reversible Electrochromic Behavior
Department of Chemistry, Faculty of Science, Hokkaido University, Sapporo 060-0810, Japan
*
Authors to whom correspondence should be addressed.
Received: 19 October 2017 / Revised: 3 November 2017 / Accepted: 3 November 2017 / Published: 4 November 2017
Abstract
The title dispiro hydrocarbon 1 was designed as a new electrochromic material. This multiply clamped hexaphenylethane-type electron donor was prepared from 2,2'-diiodobiphenyl via biphenyl-2,2'-diylbis(dibenzotropylium)
2
2+
salt. X-ray analysis of
1
revealed a highly strained structure as reflected by an elongated "ethane" bond [bond length: 1.6665(17) Å] and nearly eclipsed conformation. The weakened bond was cleaved upon two-electron oxidation to regenerate the deeply colored dication
2
2+
. The reversible interconversion between
1
and
2
2+
is accompanied not only by a drastic color change but also by C–C bond formation/cleavage. Thus, the voltammogram showed a pair of well-separated redox waves, which is characteristic of "dynamic redox (dyrex)" behavior. The tetrahydro derivative of
1
with two units of spiro(dibenzocycloheptadiene), which suffers from more severe steric congestion, was also prepared. The crystallographically determined bond length for the central C–C bond [1.705(4) Å] is greatest among the values reported for 9,9,10,10-tetraaryl-9,10-dihydrophenanthrene derivatives.
View Full-Text
►

▼

Figures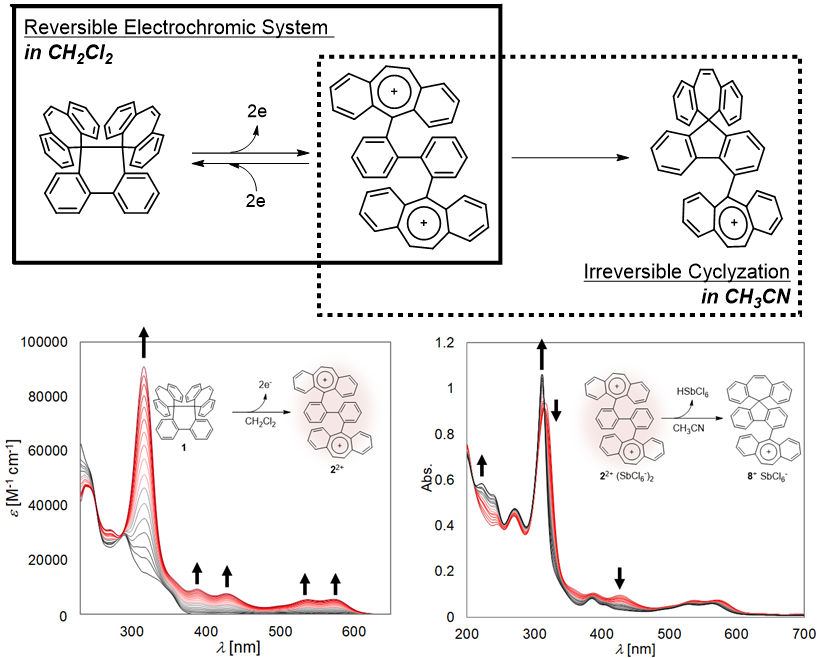 Graphical abstract
This is an open access article distributed under the
Creative Commons Attribution License
which permits unrestricted use, distribution, and reproduction in any medium, provided the original work is properly cited (CC BY 4.0).

Share & Cite This Article
MDPI and ACS Style
Ishigaki, Y.; Hayashi, Y.; Sugawara, K.; Shimajiri, T.; Nojo, W.; Katoono, R.; Suzuki, T. 9,10-Dihydrophenanthrene with Two Spiro(dibenzocycloheptatriene) Units: A Highly Strained Caged Hydrocarbon Exhibiting Reversible Electrochromic Behavior. Molecules 2017, 22, 1900.
Note that from the first issue of 2016, MDPI journals use article numbers instead of page numbers. See further details here.
Related Articles
Comments
[Return to top]