Forsythoside A Controls Influenza A Virus Infection and Improves the Prognosis by Inhibiting Virus Replication in Mice
Department of Traditional Chinese Medicine, School of Medicine, Jinan University, Guangzhou 510632, China
*
Authors to whom correspondence should be addressed.
†
These authors contributed equally to this work.
Academic Editor: Norbert Latruffe
Received: 20 January 2016 / Revised: 8 April 2016 / Accepted: 16 April 2016 / Published: 26 April 2016
Abstract
Objective
: The objective of this study was to observe the effects of forsythoside A on controlling influenza A virus (IAV) infection and improving the prognosis of IAV infection.
Methods
: Forty-eight SPF C57BL/6j mice were randomly divided into the following four groups: Group A: normal control group (
normal con
); Group B: IAV control group (
V con
); Group C: IAV+ oseltamivir treatment group (
V oseltamivir
; 0.78 mg/mL, 0.2 mL/mouse/day); Group D: IAV+ forsythoside A treatment group (
V FTA
; 2 μg/mL, 0.2 mL/mouse/day). Real-time fluorescence quantitative PCR (RT-qPCR) was used to measure mRNA expression of the TLR7, MyD88, TRAF6, IRAK4 and NF-κB p65 mRNA in TLR7 signaling pathway and the virus replication level in lung. Western blot was used to measure TLR7, MyD88 and NF-κB p65 protein. Flow cytometry was used to detect the proportion of the T cell subsets Th1/Th2 and Th17/Treg.
Results
: The body weight began to decrease after IAV infection, while FTA and oseltamivir could reduce the rate of body weight loss. The pathological damages in the FTA and oseltamivir group were less serious. TLR7, MyD88, TRAF6, IRAK4 and NF-κB p65 mRNA were up-regulated after virus infection (
p
< 0.01) while down-regulated after oseltamivir and FTA treatment (
p
< 0.01). The results of TLR7, MyD88 and NF-κB p65 protein consisted with correlative mRNA. Flow cytometry showed the Th1/Th2 differentiated towards Th2, and the Th17/Treg cells differentiated towards Treg after FTA treatment.
Conclusions
: Our study suggests forsythoside A can control influenza A virus infection and improve the prognosis of IAV infection by inhibiting influenza A virus replication.
View Full-Text
►

▼

Figures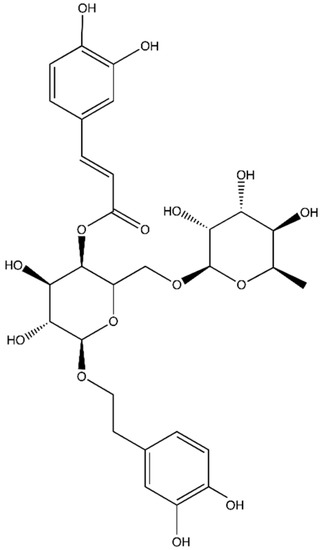 Figure 1
This is an open access article distributed under the
Creative Commons Attribution License
which permits unrestricted use, distribution, and reproduction in any medium, provided the original work is properly cited (CC BY 4.0).

Share & Cite This Article
MDPI and ACS Style
Deng, L.; Pang, P.; Zheng, K.; Nie, J.; Xu, H.; Wu, S.; Chen, J.; Chen, X. Forsythoside A Controls Influenza A Virus Infection and Improves the Prognosis by Inhibiting Virus Replication in Mice. Molecules 2016, 21, 524.
Note that from the first issue of 2016, MDPI journals use article numbers instead of page numbers. See further details here.
Related Articles
Comments
[Return to top]