Synthesis and In Vitro Cytotoxic Properties of Polycarbo-Substituted 4-(Arylamino)quinazolines
1
Department of Chemistry, College of Science, Engineering and Technology, University of South Africa, Private Bag X06, Florida 1710, South Africa
2
Department of Life and Consumer Sciences, College of Agriculture and Environmental Sciences, University of South Africa, Private Bag X06, Florida 1710, South Africa
*
Author to whom correspondence should be addressed.
Academic Editor: Philippe Belmont
Received: 30 August 2016 / Revised: 30 September 2016 / Accepted: 6 October 2016 / Published: 14 October 2016
Abstract
Herein, we describe the synthesis of novel unsymmetrical polycarbo-substituted 4-anilinoquinazolines derived from the 2-aryl-6-bromo-8-iodoquinazolines via one-pot three-step reaction sequences involving initial amination and subsequent double cross-coupling (bis-Suzuki, Sonogashira/Stille or Sonogashira/Suzuki-Miyaura) reactions with different cross coupling partners for the two carbon–carbon bond formation steps. The 4-anilinoquinazolines were evaluated for potential cytotoxicity against three cancer cell lines, namely, human breast adenocarcinoma (MCF-7) cells, human cervical cancer (HeLa) and human lung cancer (A549) cells. The most active compounds,
2b
,
2c
,
3c
,
4a
,
4c
and
5a
, were found to be more selective against the MCF-7 and HeLa cell lines than the human lung carcinoma (A549) cells. We selected compounds
2c
,
3c
and
7a
as representatives for further evaluation for potential to induce apoptosis and/or necrotic properties in the three cancer cell lines. Compound
2c
induced apoptosis of MCF-7 cells through cell membrane alteration. Treatment of Hela and A549 cell lines with compounds
3c
and
7a
, respectively, led to caspase-3 activation in both cell lines. Compound
3c
, on the other hand, caused more necrosis than apoptosis induction in the membrane alteration assay.
View Full-Text
►

▼

Figures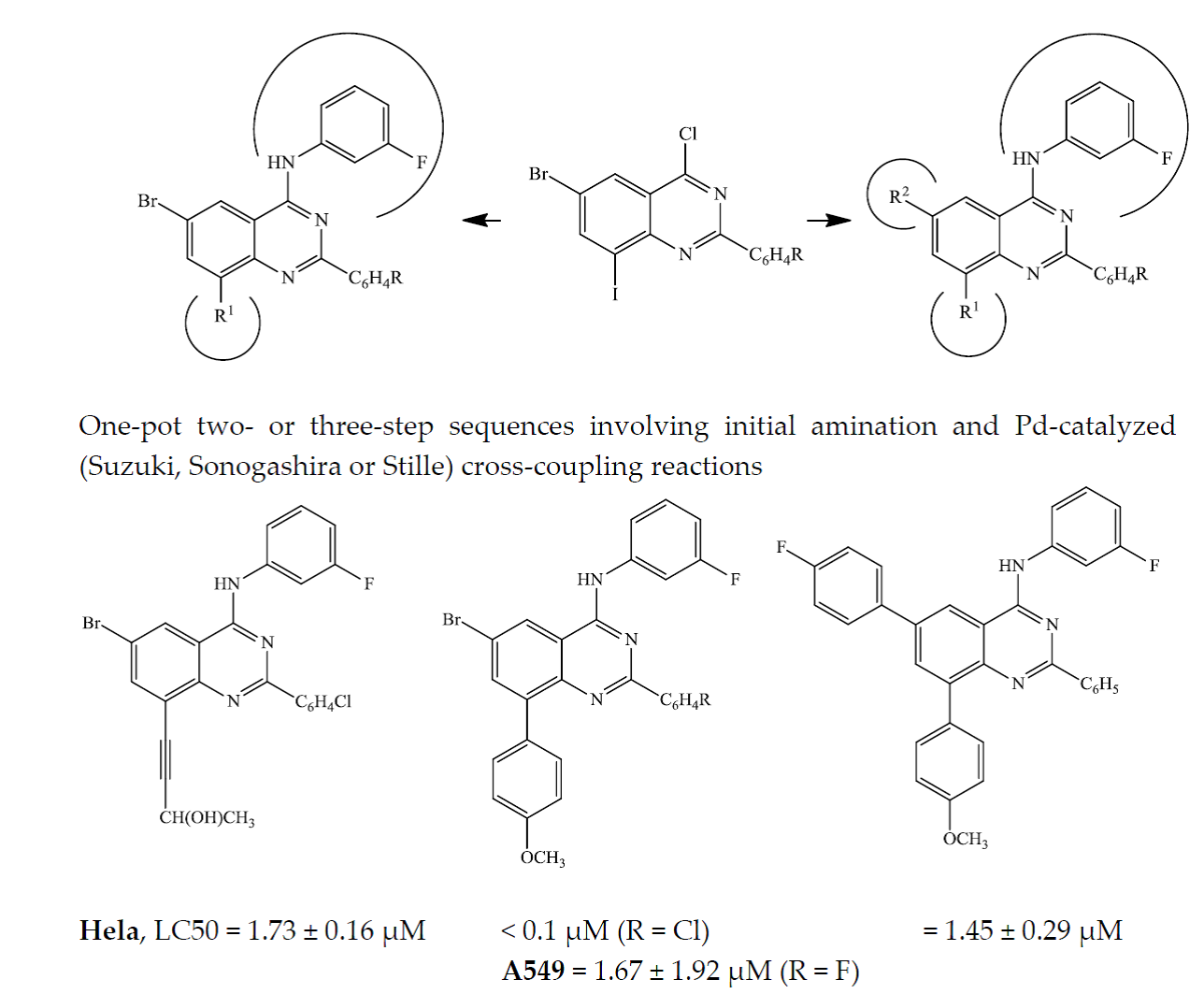 Graphical abstract
This is an open access article distributed under the
Creative Commons Attribution License
which permits unrestricted use, distribution, and reproduction in any medium, provided the original work is properly cited (CC BY 4.0).

Share & Cite This Article
MDPI and ACS Style
Paumo, H.K.; Makhafola, T.J.; Mphahlele, M.J. Synthesis and In Vitro Cytotoxic Properties of Polycarbo-Substituted 4-(Arylamino)quinazolines. Molecules 2016, 21, 1366.
Note that from the first issue of 2016, MDPI journals use article numbers instead of page numbers. See further details here.
Related Articles
Comments
[Return to top]