Multifaceted Strategy for the Synthesis of Diverse 2,2'-Bithiophene Derivatives
1
Institute of Chemistry, Faculty of Mathematics, Physics and Chemistry, University of Silesia, Szkolna 9, Katowice 40-007, Poland
2
Institute of Physics, Faculty of Mathematics, Physics and Chemistry, University of Silesia, Uniwersytecka 4, Katowice 40-007, Poland
3
Polish Academy of Science, Institute of Organic Chemistry Kasprzaka 44/52, PO Box 58, Warsaw 01-224, Poland
4
Electrotechnical Institute, Division of Electrotechnology and Materials Science, M. Skłodowskiej-Curie 55/61, Wrocław 50-369, Poland
*
Author to whom correspondence should be addressed.
Academic Editor: Derek J. McPhee
Received: 13 January 2015 / Revised: 22 February 2015 / Accepted: 26 February 2015 / Published: 12 March 2015
Abstract
New catalytically or high pressure activated reactions and routes, including coupling, double bond migration in allylic systems, and various types of cycloaddition and dihydroamination have been used for the synthesis of novel bithiophene derivatives. Thanks to the abovementioned reactions and routes combined with non-catalytic ones, new acetylene, butadiyne, isoxazole, 1,2,3-triazole, pyrrole, benzene, and fluoranthene derivatives with one, two or six bithiophenyl moieties have been obtained. Basic sources of crucial substrates which include bithiophene motif for catalytic reactions were 2,2'-bithiophene, gaseous acetylene and 1,3-butadiyne.
View Full-Text
►

▼

Figures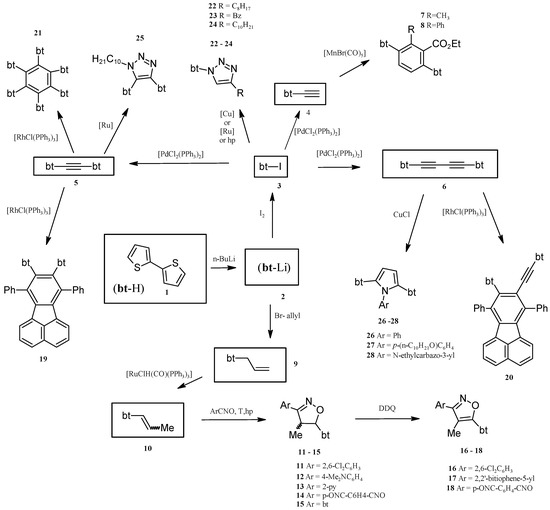 Figure 1
This is an open access article distributed under the
Creative Commons Attribution License
which permits unrestricted use, distribution, and reproduction in any medium, provided the original work is properly cited (CC BY 4.0).

Share & Cite This Article
MDPI and ACS Style
Krompiec, S.; Filapek, M.; Grudzka-Flak, I.; Slodek, A.; Kula, S.; Malecki, J.G.; Malarz, J.; Szafraniec-Gorol, G.; Penkala, M.; Schab-Balcerzak, E.; Paluch, M.; Mierzwa, M.; Matussek, M.; Szlapa, A.; Pajak, M.; Blach, D.; Marcol, B.; Danikiewicz, W.; Boharewicz, B.; Iwan, A. Multifaceted Strategy for the Synthesis of Diverse 2,2'-Bithiophene Derivatives. Molecules 2015, 20, 4565-4593.
Related Articles
Comments
[Return to top]