Standardized
Salvia miltiorrhiza

Extract Suppresses Hepatic Stellate Cell Activation and Attenuates Steatohepatitis Induced by a Methionine-Choline Deficient Diet in Mice

1

Natural Products Research Institute, College of Pharmacy, Seoul National University, 1 Gwanak-ro, Gwanak-gu, Seoul 151-742, Korea

2

Research Center, Samil Pharmaceutical Co. Ltd., 216 Sandan-ro, Danwon-gu, Ansan 425-852, Korea

3

Department of Pathology, University of Ulsan College of Medicine, Asan Medical Center, 88 Olympic-ro 43-gil, Songpa-gu, Seoul 138-736, Korea

*

Authors to whom correspondence should be addressed.

Received: 6 May 2014 / Revised: 5 June 2014 / Accepted: 11 June 2014 / Published: 17 June 2014
Abstract
The aim of this study was to examine the effect of standardized extract of
Salvia miltiorrhiza
(SME) on gene and protein expression of non-alcoholic steatohepatitis (NASH)-related factors in activated human hepatic stellate cells (HSC), and in mice with steatohepatitis induced by a methionine-choline deficient (MCD) diet. Male C57BL/6J mice were placed on an MCD or control diet for 8 weeks and SME (0, 0.1, 0.5 and 1 mg/kg body weight) was administered orally every other day for 4 or 6 weeks. HSCs from the LX-2 cell line were treated with transforming growth factor β-1 (TGF-β1) or TGF-β1 plus SME (0.1–10 μg/mL). To investigate the effect of SME on reactive oxygen species (ROS)-induced condition, LX-2 cells were treated with hydrogen peroxide (H
2
O
2
) or H
2
O
2
plus SME (0.1–100 μg/mL). MCD administration for 12 weeks increased mRNA expression of tumor necrosis factor (TNF-α), TGF-β1, interleukin-1β (IL-1β), C-reactive protein (CRP), α-smooth muscle actin (α-SMA), type I collagen, matrix metalloproteinase-2 (MMP-2) and MMP-9. TGF-β1-induced LX-2 cells exhibited similar gene expression patterns. SME treatment significantly reduced the mRNA and protein expression of NASH-related factors in the mouse model and HSCs. Histopathological liver analysis showed improved non-alcoholic fatty liver disease (NAFLD) activity and fibrosis score in SME-treated mice. The
in vivo
studies showed that SME had a significant effect at low doses. These results suggest that SME might be a potential therapeutic candidate for NAFLD treatment.
View Full-Text
►

▼

Figures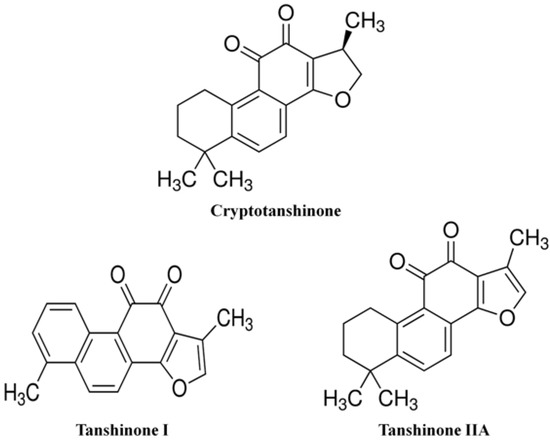 Figure 1

Share & Cite This Article
MDPI and ACS Style
Lee, H.S.; Son, W.-C.; Ryu, J.-E.; Koo, B.A.; Kim, Y.S. Standardized Salvia miltiorrhiza Extract Suppresses Hepatic Stellate Cell Activation and Attenuates Steatohepatitis Induced by a Methionine-Choline Deficient Diet in Mice. Molecules 2014, 19, 8189-8211.
Related Articles
Comments
[Return to top]